Influence of Prosthesis Use
Influence of prosthesis use on cortical activation and movement variability
Objective: To determine the influence of using a prosthesis on neural activation patterns of the primary motor cortex and motor performance in children with unilateral congenital upper-limb reductions.
The development of prostheses for children is complex due to their rapid and continuous growth. Up to 58% of children with upperlimb reductions reject or abandon their prosthesis due to excessive weight, lack of visual appeal, limited function and complexity of control.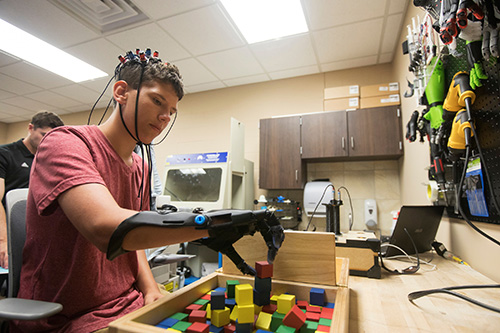 Theoretically, the use of a prosthesis may lead to an enlargement of the primary neuronal networks located in the cortical area involved with motor control of the affected limb. Ultimately, this might lead to a larger repertoire of motor strategies and integration of the prosthesis into the motor control of the child facilitating prosthesis acceptance.
Inquire about participating in upper limb 3D printed prosthetics.