School of Music voice students have record-breaking day
Students shatter a record in annual singing competition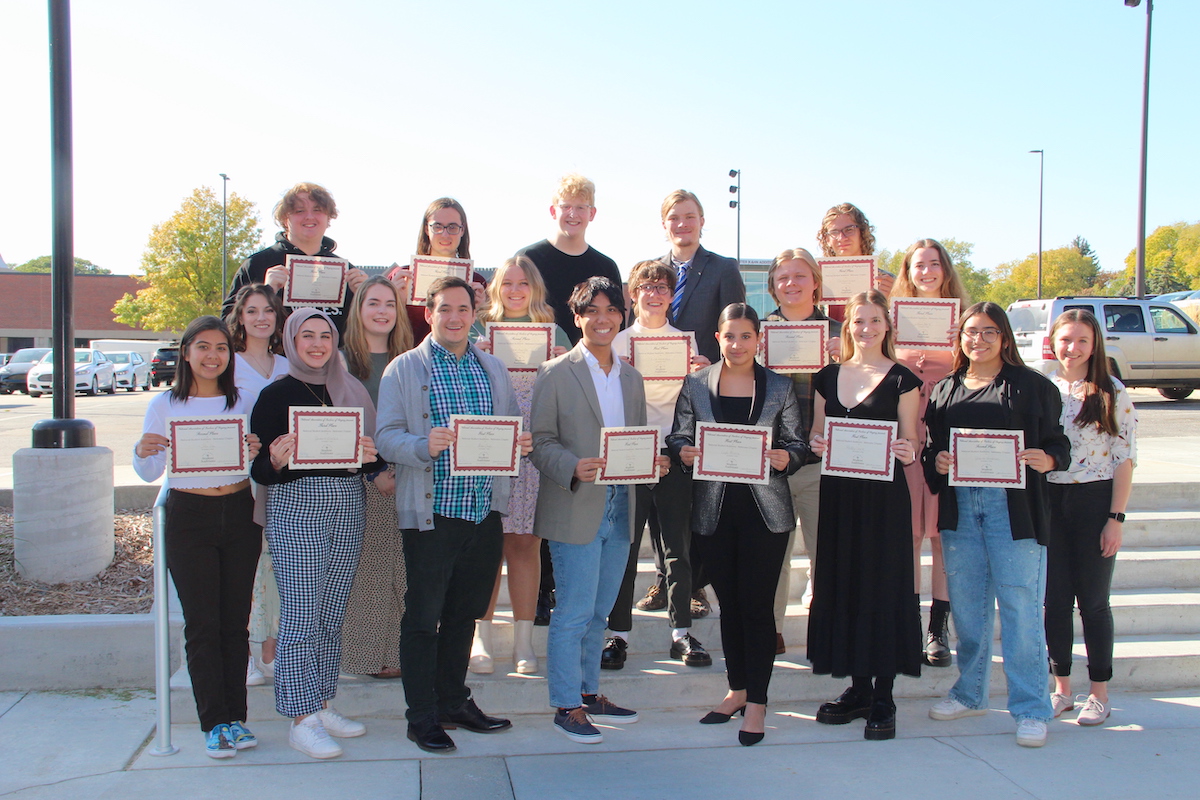 UNO Voice students' experienced a record-breaking day at the National Association of the Teachers of Singing Nebraska NATS Student Signing Auditions held on Friday, October 7, 2022.
Each fall the Nebraska Chapter of The National Association of Singing holds vocal performance auditions. The auditions have categories of entry for students ranging in levels of training from High School to Graduate Schools in both Classical (opera and art song) and Musical Theatre solo vocal performances.
For the first time in the history of this annual singing competition, UNO voice students won more undergraduate college/university awards than any other participating institution. UNO students won 23 recognitions for their auditions: 6 category winners, 5 second place category awards, 5 third place category awards, plus an additional 7 students were recognized as finalists in their categories. Categories of entry are determined by the singing student's age and level of training.
This resulted in a record-breaking honor for UNO's voice students, their voice instructors (Shelby Van Nordstrand Head of UNO's Voice Area, Alisa Belflower Interim Head of UNO's Voice Area, Alexandria Plumb, and Amanda DeBoer Bartlett) and the team of professional pianists that played their auditions. Their pianists included John Bennett, Yulia Kalashnikova, Janka Krajciova, Liz Stinman, John Gawf, and Jennifer Novak Haar. Collectively, these students with their pianists performed 76 solos in the course of this competition.
The UNO voice students will be traveling to regional levels of NATS National Student Audition competition hosted at Colorado State University on November 3-5, 2022. The final levels of this competition will be held in San Diego, California in July 2023.
The National Association of Teachers of Singing (NATS) is a professional organization for singing teachers and professors and is the largest association of its kind in the world. Founded in the Unites States in 1944, NATS more than 6,500 members now extend internationally around the world. UNO is proud that all of their instructors of voice are members of this organization.

2022 Nebraska NATS Student Singing Auditions Results
MUSICAL THEATRE FRESHMEN TREBLE VOICES
1st Layla Rivera*
2nd Yolanda Henderson**
CLASSICAL SOPHOMORE TREBLE VOICES
FINALIST Isa Gott*
MUSICAL THEATRE SOPHOMORE TREBLE VOICES
2nd Isa Gott*

CLASSICAL FRESHMEN TENOR-BARITONE-BASS VOICES
3rd Christian Vihstadt*
MUSICAL THEATRE FRESHMEN TENOR-BARITONE-BASS VOICES
1st Erik Nordstrom*
3rd Eli Shane*
FINALIST Austin Meyer*
CLASSICAL SOPHOMORE TENOR-BARITONE-BASS VOICES
2nd Jack Cline*
MUSICAL THEATRE SOPHOMORE TENOR-BARITONE-BASS VOICES
1st Will Keller**
CLASSICAL JUNIOR TREBLE VOICES
3rd Jill Stark*
FINALIST Yasmine Elrefaie*
MUSICAL THEATRE JUNIOR TREBLE VOICES
2nd Sam Howdle*
TIED 3rd Yasmine Elrefaie*
TIED 3rd Jill Stark*
CLASSICAL SENIOR TREBLE VOICES
FINALIST Julia Campbell***
FINALIST Jill Galvin*
FINALIST Maddy Stark*
MUSICAL THEATRE SENIOR TREBLE VOICES
1st Maddy Stark*
CLASSICAL SENIOR TENOR-BARITONE-BASS VOICES
1st John Lim*
MUSICAL THEATER SENIOR TENOR-BARITONE-BASS VOICES
1st Alex Crooks****
2nd John Lim*
FINALIST Matthew Kischer*
* Student of Alisa Belflower
** Student of Alexandria Plumb
*** Student of Amanda DeBoer Bartlett