Howard Paine Earns Alumni Outstanding Teaching Award
Fall Faculty Honors Convocation, October 15, 2020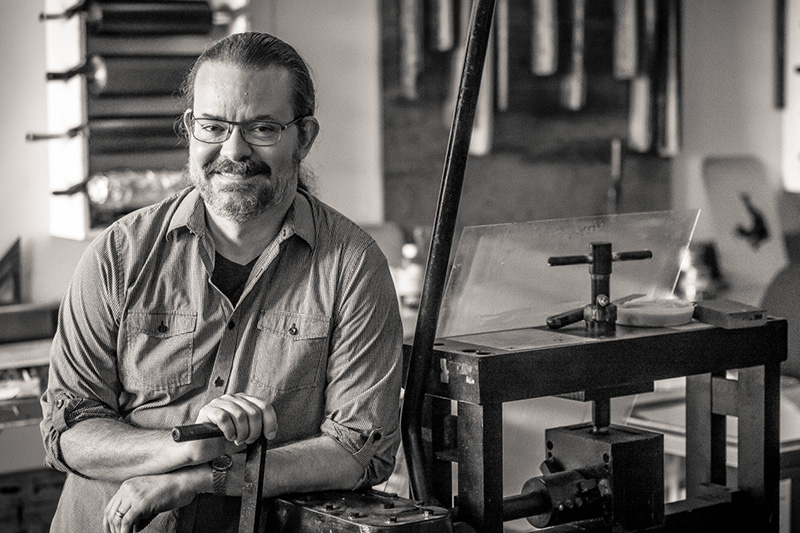 Associate Professor Howard Paine is the College of Communication, Fine Arts and Media's recipient for the 2020 Alumni Outstanding Teacher Award. Peer committees from CFAM carefully chose this year's awardee from their research, scholarship, creative activity, teaching, and service. This honor emphasizes the work that Mr. Paine has exhibited throughout his years as a teacher and mentor to students. 
His primary research interests are the combination of digital and traditional forms of printmaking. Thematically, his work investigates the ideas of mortality, memory, and the physical body that is left at the end of life. Botanical and insect forms are used as proxies representing passing from life to death and what remains. These forms are observed over a period of months and years, drawing and photographing them again and again, watching them change, decay, and transform. Mr. Paine has exhibited both nationally and internationally, speaking about his work in Beihai, China in 2019. 
Mr. Paine is currently teaching Intro to Printmaking as well as Digital Printmaking. He looks at the current world and asks how printmaking as a medium could challenge or be used to investigate new concepts and ideas. He is particularly fond of reduction relief, which is a method in printmaking where all colors are printed from the same block. The block is carved again and again, "reducing" it from one color to the next. The artist carves out the white areas and prints the lightest color, then carves out the areas that will remain the lightest, until the process is complete. 
When asked what he enjoys most about teaching, he says, "The challenge of thinking on your feet. No matter how prepared I think I am, the students will come up with new questions, methods of investigation, or new technical issues. It is new every day." 
His best advice for art students is to not be afraid. "Don't be afraid to make mistakes or unsuccessful works," Mr. Paine says. "It means that you are challenging yourself as an artist to grow, learn, and adapt." 
Contact Us
If you have a story idea or inquiry please contact:
Randy Mattley, Communications Specialist, College of Communication, Fine Arts and Media
rgmattley@unomaha.edu • 402.554.3216