Dr. Mary Perkinson and Dr. Matthew Brooks present at the ASTA National Conference
And other news from the summer in the School of Music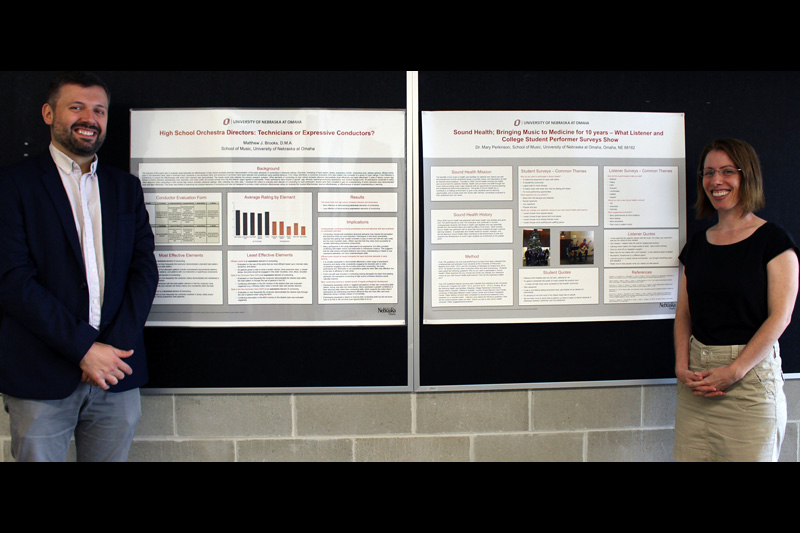 Dr. Mary Perkinson, Assistant Professor and Coordinator of String Area, and Dr. Matthew Brooks, Director of Orchestras, were each invited to share their research at the American String Teachers Association (ASTA) National Conference in Albuquerque, NM. They shared with a number of interested string teachers, orchestra conductors, university faculty and students in this peer-reviewed poster session. Aside from their national presence, both Dr. Perkinson and Dr. Brooks serve statewide on the board for the Nebraska Chapter of ASTA.
OTHER SCHOOL OF MUSIC NEWS
Kappa Iota Chapter of Kappa Kappa Psi attend National Convention
Members of UNO's Kappa Iota Chapter of Kappa Kappa Psi attended the ΚΚΨ & TBΣ National Convention at Oklahoma State University in Stillwater, Oklahoma. Held every two years, UNO's chapter attended several workshops, including ones on leadership and outreach, as well as a mental health workshop. Speakers at the convention included Dr. Tim Lautzenheiser of Attitude Concepts for Today, composer Jocelyn Hagen, and former Kappa Kappa Psi national president and University of South Carolina Professor of Political Science, Dr. Kirk Randazzo. Members also had the opportunity to visit the national headquarters in Stillwater.
Kappa Kappa Psi is a co-educational fraternal organization that advances college and university bands for the benefit of its members and society through dedicated service and support to bands, encouragement of musical growth, lifelong educational experiences, leadership opportunities, and recognition. The Kappa Iota Chapter serves the UNO Bands in many ways through their musicianship and service work.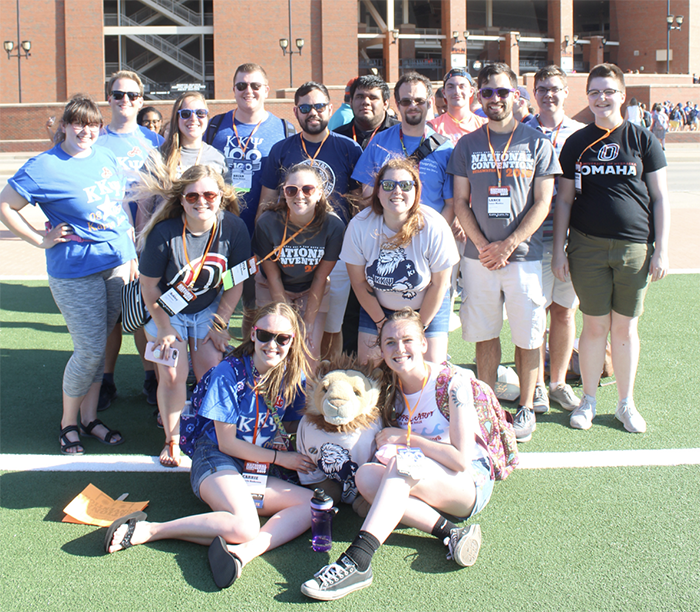 Patrick Brown Served on Faculty at Cannon Music Camp
Dr. Patrick Brown, UNO Coordinator of Woodwind Studies and Instructor of Saxophone, served on faculty at Cannon Music Camp at Appalachian State University. At CMC, he taught applied saxophone and directed the Cannon Saxophone Quartet.
A three-week music-filled retreat in the Blue Ridge Mountains of North Carolina, Cannon Music Camp offers the most comprehensive course of musical instruction in the Southeast, with intensive college preparatory work in performance and music theory.
UNO sophomore flute performance major Dakota Valle participated in the XI Festival Internacional de Flautas de Costa Rica
In July, UNO sophomore flute performance major Dakota Valle had the privilege of participating in the XI Festival Internacional de Flautas de Costa Rica. The festival brought in numerous world-renowned guest artists – including Michel Bellavance (Switzerland), Matej Grahek (Slovenia), Christopher Lee (Canada), Carla Rees (UK), Milica Milojevich (Serbia), Horacio Massone (Argentina), Carlos Feller (Brazil), Joel Tse (China/USA), and American flutists Regina Helcher Yost, Sheryl Cohen, Francesca Arnone, Zawa! (Claudia Anderson and Jill Felber), Eldred Spell, and UNO's flute professor, Christine Erlander Beard – to give masterclasses and perform in faculty recitals. During the week-long festival, Dakota attended classes and  performed in  a masterclass to receive  feedback from the former principal flautist of Brazil's national orchestra, RogerioWolf.
Dakota also joined over 150 flute students from Central America who participated in the festival flute choir conducted by AngelitaFloyd (University of Northern Iowa). The flute orchestra performed a variety of pieces ranging from the ever-popular Pavane (Fauré) to the contemporary style of Lamasery Jigsaw (McLearnon).

Contact Us
If you have a story idea or inquiry please contact:
Randy Mattley, Communications Specialist, College of Communication, Fine Arts and Media
rgmattley@unomaha.edu • 402.554.3216