School of Music Students Perform at Prestigious Peabody Institute
The duo opened a recital during the institutions annual Peabody Piano Week.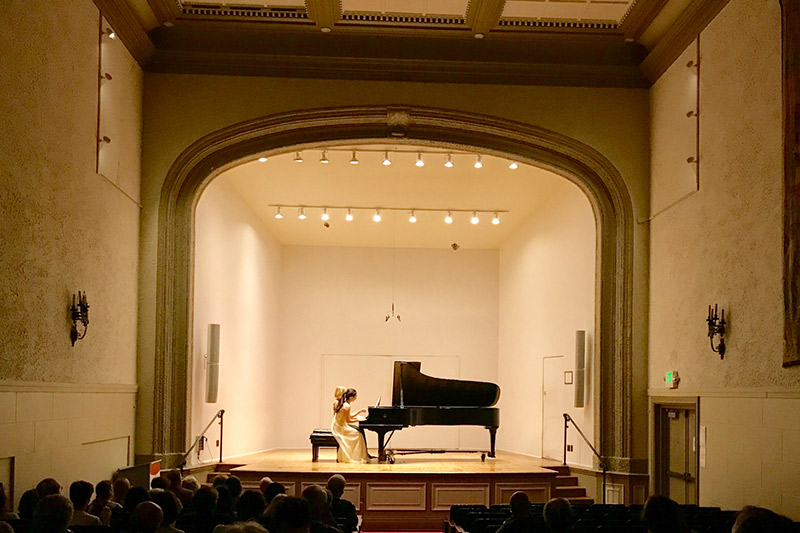 University of Nebraska at Omaha (UNO) students Marissa Mathia and Yimeng Xu recently performed at the 2019 Peabody Piano Week in Baltimore, Maryland.
Mathia and Xu are sophomore piano majors within UNO's School of Music. Together, they opened the recital performing Schubert's Fantasy in f minor, D. 940 followed by Washington Garcia, director of the School of Music, who performed works by Chopin and Liszt.
"This was the first time I've performed with Marissa as a duet outside of Nebraska," said Xu. "The experience has not only given us a deeper understanding of Schubert's works but it has also greatly improved the cooperation between the both of us."
The event took place at the Peabody Institute, a division of Johns Hopkins University in Baltimore, which specializes in music and dance. Their current faculty boasts Guggenheim fellows, Fulbright grantees, Pulitzer Prize winners and other distinguished composers.
Garcia says Mathia and Xu's performance was well received by audience members, including festival participants as well as faculty from the Peabody Institute.
In pervious years, there has only ever been one other UNO student to have performed at the institute.
Mathia and Xu study applied piano with Garcia and collaborative piano with Stacie Haneline, lecturer for the School of Music. Both Garcia and Haneline coach Mathia and Xu on piano duets.
"I am beyond grateful that Dr. Garcia provided such an excellent performance opportunity at one of the most prestigious conservatories in the country." said Mathia, "We are also grateful to Professor Haneline for preparing us so thoroughly."
Contact Us
If you have a story idea or inquiry please contact:
Randy Mattley, Communications Specialist, College of Communication, Fine Arts and Media
rgmattley@unomaha.edu • 402.554.3216