A Sale That's Music To Your Ears
The School of Music is hosting the annual piano and stringed instrument sale June 27-29
date: 06/27/19 - 06/29/19
time: 12:00 AM - 5:00 PM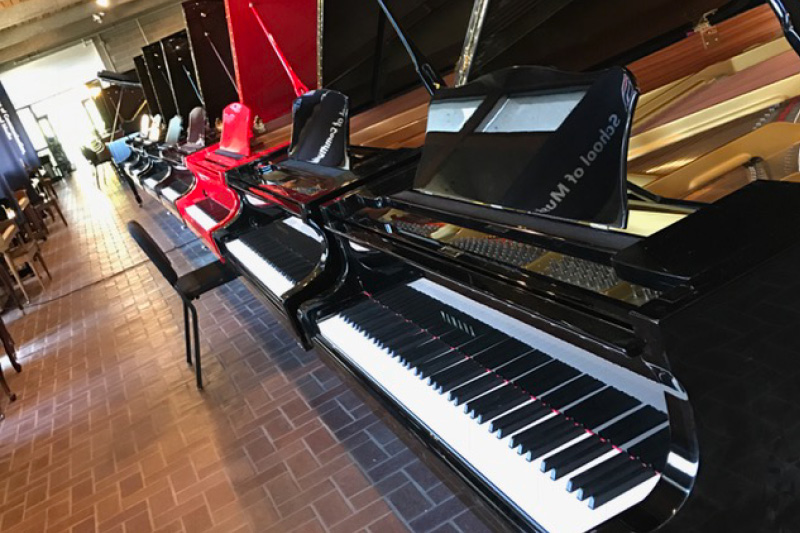 Pianos, Digital Pianos & Violins Available for Public Purchase Thursday, Friday & Saturday, June 27-29, 2019.
The School of Music is hosting their annual piano and stringed instrument sale with with the Rockley Family Foundation. The School of Music has had the use of new first-class pianos and digital pianos on a no-cost basis donated annually since 2009. This arrangement has been provided through a partnership with the Rockley Family Foundation, recognized as a 501(c)(3) organization. These instruments, along with others previously owned by private parties and other institutions, will be sold.
A large selection of grands, baby grands, digital player grands, vertical (upright) pianos, digital pianos, keyboards, orchestral strings will be available.
The sale will feature instruments from Steinway & Sons, Yamaha, Pramberger, Seiler, Knabe, Roland, Stravari Fine Violins and others. Most instruments are less than one-year old, include a new factory warranty, significantly discounted from brand new retail price, are tuned, and ready to go. Delivery and special no-interest financingis available on site. Moreover, if your purchase exceeds the Fair Market Value of the instrument, it could be considered as a charitable contribution to the Rockley Family Foundation and may be TAX DEDUCTIBLE. You should consult with your own tax adviser as to the individual deductibility of any contribution.
Two ways to view and purchase:

BY APPOINTMENT
To secure your time call: 402-676-2451

NO APPOINTMENT
June 29 from 2- 5pm
Contact Us
If you have a story idea or inquiry please contact:
Randy Mattley, Communications Specialist, College of Communication, Fine Arts and Media
rgmattley@unomaha.edu • 402.554.3216