Celebrating two of our best graduates.
Mike Burns earns 2019 Dean's Award. Sophie Clark's work featured at Honors Student Symposium.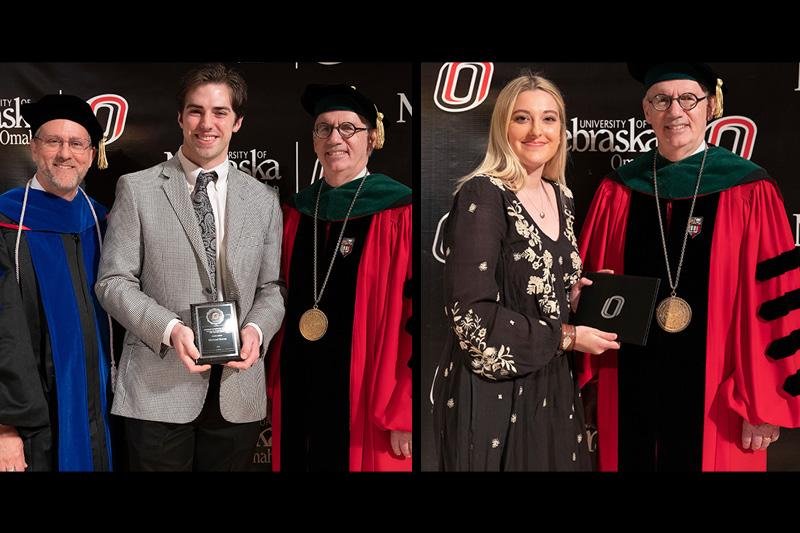 Mike Burns earns 2019 Dean's Award
Each year, UNO recognizes excellence and student achievement at its Student Honors Convocation.
Not only are students from each department and school recognized, but a select number are also chosen for college-wide and campus-wide awards. This year, 14 different students were selected for these awards not only their academic achievements but also their contributions to the university and community.
As a college Freshman, 'All the world's a stage' initially meant nothing to Mike Burns. Just months later, thanks to a suggestions from a professor to get involved with UNO Theatre to help with his screenwriting class, he became familiar face on stage on and off campus.
Mike, who graduated magna cum laude with a BA in theatre in December 2018, appeared in many UNO theatre productions, including Dracula, Shakespeare's Dog, Marat/Sade, and The Clearing. He also worked at SNAP! Productions, Omaha Community Playhouse and Benson Theatre.
"Even from the very beginning, UNO felt like home and totally embraced me with open arms," he says. "To receive the CFAM Outstanding Student Award is amazing. It is a very humbling experience and means that all the hours of hard work and dedication it took to the very end has paid off."
Since graduating, the Omaha native has been recognized nationally by the Broadcast Education Association for his original radio drama "A Dark Night in Arkham" and his voiceover work for UNO MavRadio's "Haunted Heartland;" he also participated in a tour with the Stella Adler: Art of Acting Conservatory in Los Angeles. His future plans include performing in "The Woodsman" this summer at the Bluebarn Theatre and shooting a new local film called "CHIT."
Mike says he has very simple advice for current and future students:
"You are enough. You have something special that no one else on the face of the planet has. Don't try to change yourself to fit what someone else wants. Trust yourself."
Learn more about the School of the Arts Theatre opportunities.
---
Sophie Clark's work featured at 2019 Honors Symposium
Any author will tell you that to craft a great piece of literature requires time and a passion for the written word, which is exactly why Sophie Clark has dedicated her academic career at UNO to writing every opportunity she had - culminating in a collection of 25 poems she calls "Sunday Dinners" that she presented at this year's Honors Symposium.
"At the start of Fall 2018, Dr. Morrison encouraged me to build my Honors thesis off of my poems in the form of a creative introduction and individual analyses. Therefore, using my English/nonfiction skills, I've written a creative introduction to the work--highlighting overall themes--and also analyzed each poem to examine how it connects to other poems and fits into the collection as a whole."
A double major earning degrees in Creative Writing and English, Sophie was involved with "13th Floor Magazine," UNO's literary magazine since she was a freshman. During that time she has served as an intern, poetry editor and editor-in-chief. In fact, she even helped design a course where students could help produce the magazine each semester.
"Above anything else, I wanted to use my college experience not only to learn how to write and write well, but to expand my creative horizons and read others' works. UNO's Writer's Workshop is unique in that it allows students a safe space to develop their creative work and gain valuable feedback."
After graduation, Sophie plans to pursue either graduate school or a job in marketing or advertising, thanks to her experience as an intern in Union Pacific's Corporate Relations Department. Her advice to future students? Don't hesitate to reach out for help if you need it.
"The Honors Program is there to guide you to success. Keep up with the requirements and take as many courses as you can, because I have experienced nothing but wonderful discussions and connections with other students. I am proud to graduate from the Honors program, my parents are proud and am so glad I stuck with it."
The UNO Honor Symposium celebrates the scholarly and creative work of University Honors Program students for the past 50-plus years.
Learn more about the School of the Arts Writer's Workshop opportunities.
Contact Us
If you have a story idea or inquiry please contact:
Randy Mattley, Communications Specialist, College of Communication, Fine Arts and Media
rgmattley@unomaha.edu • 402.554.3216