ISSUED: (Friday, March 13, 2020 17:00 PM)
CAMPUS ANNOUNCEMENT
UNO campus remains open; classes moving to remote learning mode March 30.
More Information
CLOSE

X
MavRadio Wins 2019 Broadcast Education Association Awards
MavRadio students earn Broadcast Education Association's Festival of Media Arts Awards.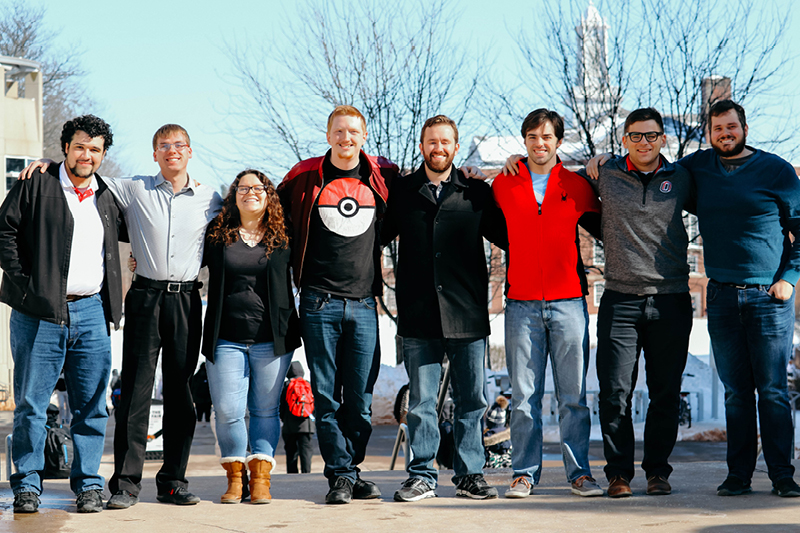 The University of Nebraska at Omaha's college radio station, MavRadio.FM, earned top honors in five categories in the 2019 Broadcast Education Association's international digital media and broadcast competition.
The Festival of Media Arts competition received more than 1500 entries from around the world including 300 colleges and universities.
MavRadio.FM General Manager Gabby Kesterson said the staff keeps pushing each other out of their comfort zones in order to improve the quality of their production and overall educational experience. "All this hard work, school days, weekends, nights and holidays; it's paying off," said Kesterson. "Being recognized for their excellence is exactly what this staff deserves."
This year's award winners are:
Award of Excellence / Faculty Radio Station Promo, PSA Commercial
Jodeane Brownlee & Michael Burns
First Place / Radio Comedy or Drama
Michael Burns
Award of Excellence / Radio Comedy or Drama
Devon Maline
First Place / Radio Specialty Program
Ben Phillips, Harrison Popp, Anna Rodriguez, Simon Ristow
Award of Excellence / Television Promotional
Lyle Kwiatkowski, Drew Roberts, Ryan Hollst
To learn more, contact
Jodeane Brownlee, MavRadio Faculty Adviser
402-554-3129
jbrownlee@unomaha.edu
All this hard work, school days, weekends, nights and holidays; it's paying off
- Gabby Kesterson, MavRadio.FM General Manager
The mission of MavRadio KVNO HD-2 is to provide UNO students the opportunity to gain professional radio experience to pursue a career in the broadcast industry. The student-operated radio station strives to provide college programming and sports play-by-play that isn't available in the Omaha market. MavRadio.FM is a dynamic source of college radio talent merged with Top 100 hit music, cutting-edge production and exclusive coverage of Omaha men's and women's soccer, volleyball and baseball. We are an inclusive team focused on raising the professionalism of radio to the next level by adding live, local and regional bands, comedians, movie producers, Monday Night at the Movies, College World Series coverage, College Radio Day participation, and arena football. Our station can be heard streaming on MavRadio.FM, the TuneIn app, or on KVNO 90.7 HD2
Contact Us
If you have a story idea or inquiry please contact:
Randy Mattley, Communications Specialist, College of Communication, Fine Arts and Media
rgmattley@unomaha.edu • 402.554.3216