BLUEBARN Production Features Strong UNO Ties
published: 2019/02/08
contact: Charley Steed - University Communications
email: cdreed@unomaha.edu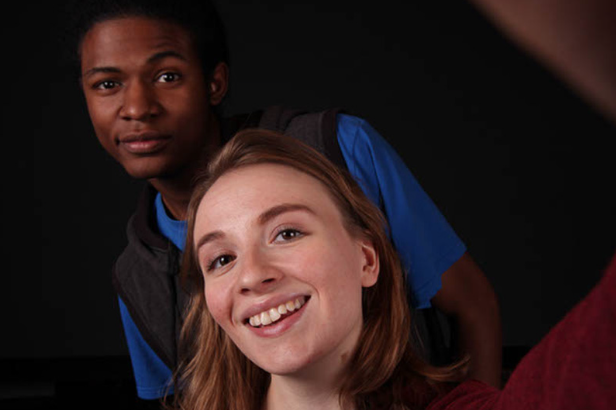 For nearly a century, UNO students have been taking to the stage both on campus and across the country. 
While UNO Theatre regularly performs their own productions each semester, many students and alumni make an impact by performing locally at one of the many metro area theatres. However, very rarely does an entire production have such strong UNO ties.

On Jan. 31, the BLUEBARN Theatre launched its first production of the year, "I and You," by Lauren Gunderson, the story of students who come together while completing a book report on Walt Whitman's "Leaves of Grass." The two-person play, directed by Barry Carman, features performances by Anna Jordan, a 2015 UNO Theatre graduate, and Jordan Smith, a former UNO School of Music student.
---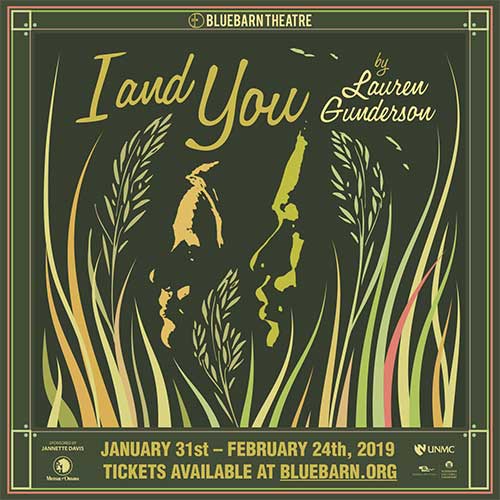 ---

Jordan says her time at UNO was vital to becoming the actor she is today.
"I had the opportunity to work on projects of many genres in classwork, on stage, and as a director. UNO Theatre is truly a family, and I can't imagine what my college experience would have been without it."
I love seeing younger actors come through the program who have made the decision to build their theatre life at home in Omaha and to further the professional arts scene here. It makes me feel a fun sense of Maverick pride to see that happening.
- Ashley Spessard, BLUEBARN Director of Patron Services, UNO Alumna
During her time at UNO, Jordan was involved in performances both as part of UNO Theatre as well as part of Nebraska Shakespeare's local Shakespeare on the Green series and a regional tour. She also served as a director or assistant director for five shows.
"I was really intimidated when I was in 'The 25th Annual Putnam County Spelling Bee,' but I gained confidence and skills when I had always been afraid of singing before. I also had the opportunity to play the title character in Hedda Gabler my senior year, which was challenging in ways I couldn't have anticipated. I also co-produced a student-directed festival and directed 'The Vagina Monologues,' which was my first opportunity to direct a fully mounted production. That taught me so many lessons in collaboration, communication, how to use my voice is as an artist, and how I want to elevate others' voices and their stories."
For Smith, his time at UNO provided him valuable experiences and connections.
"I believe that a music major is one of the hardest majors at UNO; it was defintely challenging," he says. "I didn't continue school all the way through but everything I learned at UNO has taught me something valuable, whether about people, or music, or jazz, or life."
Smith says that he encourages current students to follow their dreams, no matter what it is. 
"Nothing will bring you more joy than to have a career in what you love."
This sentiment is echoed by another UNO alumna, Ashley Spessard, who serves as BLUEBARN Theatre's director of patron services and earned a theatre degree from UNO in 2007.
"I've always been very proud of my time working at UNO and grateful for the professional development it provided me," she says. "I love seeing younger actors come through the program who have made the decision to build their theatre life at home in Omaha and to further the professional arts scene here. It makes me feel a fun sense of Maverick pride to see that happening."
In "I and You," she says both Jordan and Smith have the opportunity to take on challenging roles.
"This story is simple, yet messy. Complicated, but real. This production seems to be connecting with our youngest audiences yet since I started a year ago, and I love that the team is telling a story that appeals to an audience that might not typically see a production."
One thing both Jordan and Spessard agree on is that any current or future UNO Theatre student should take advantage of as many opportunities as they can while part of the program:
"Take chances on classes you wouldn't think would interest you," Jordan says. "Directing really scared me at first, and I didn't plan on taking an advanced directing class until my professor D. Scott Glasser encouraged me to. That semester was when I discovered my interest in directing, self producing, and my goal to artistic direct someday. If you don't think you can do anything technical, take a technical class. If you don't think you can or you don't want to act, take an acting class. This is the time to explore every avenue in theatre in a space where it's okay to fail and learn and try again."

"My primary interest in college was acting – but I also found a love for dramaturgy during my time there, and cultivated my administration skills," Spessard adds. "I lived in Chicago a few years ago and the preparation I had to work in Arts Administration landed me a wonderful job with an amazing company as a front of house manager. Within a year of moving back to Omaha, a position opened up here at the BLUEBARN that fit in that niche very well. Had I not been encouraged to look at my skill set as an entire individual, I might have not found these opportunities."
Performances of "I and You" run through Feb. 24.
Contact Us
If you have a story idea or inquiry please contact:
Randy Mattley, Communications Specialist, College of Communication, Fine Arts and Media
rgmattley@unomaha.edu • 402.554.3216