MavRadio Wins 2018 National Spirit of College Radio Award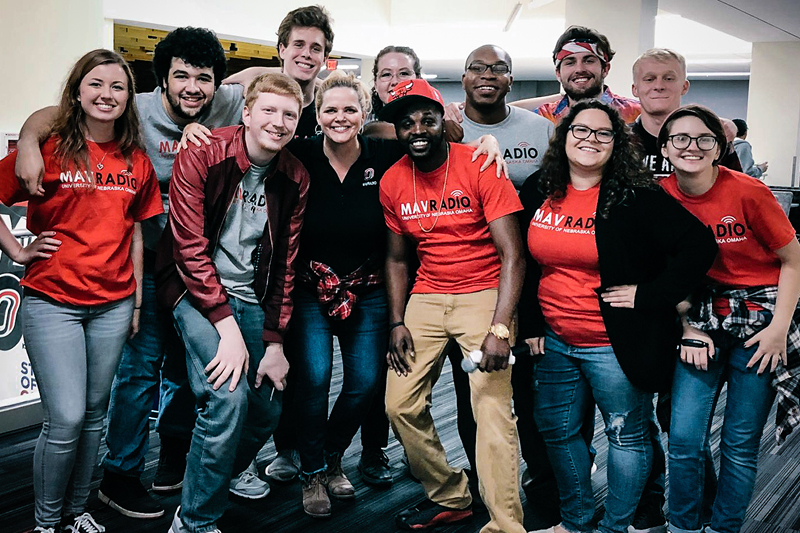 The University of Nebraska at Omaha's college radio station, MavRadio.FM earned the College Radio Foundation top honors for their participation in College Radio Day held on October 5, 2018.

The Spirit of College Radio Award recognizes the nation's "truly outstanding and spirited efforts" among more than 470 participating college radio stations across the nation and worldwide.
The College Radio Day Task Force, whose mission is to "seek to shine a spotlight on a station that not only go above and beyond to celebrate the annual College Radio Day event, but also embody the passion and mission of college radio," chose MavRadio.FM because of the amount of time and effort the students put into creating awareness for the day that is dedicated to the powerful voice of college students.
College Radio Day, organized by the non-profit College Radio Foundation, is an annual event that celebrates college radio stations and those that staff them. Founded in 2011, College Radio Day unites hundreds of college stations for the day.
MavRadio.FM highlighted this year's theme, "When All Else Fails, College Radio Speaks," by inviting three of the region's top artists, Grace Titus, State Disco and DJ GriG to perform. The staff of MavRadio.FM, led by General Manager Gabby Kesterson, organized the first of its kind concert on UNO's campus.
With the help of a Cultural Enrichment Grant and UNO's director of spirit and tradition, MavRadio.FM secured funding to host the free event.
The sheer amount of hours and personal money involved in hosting a College Radio Day event of this magnitude represented the passion and dedication of the MavRadio.FM team of "radio junkies," MavRadio.FM Faculty Advisor Jodeane Brownlee said. "I can attest that they are proof that radio is not only alive in 2018, it is thriving."
MavRadioFM is a student-run radio station that broadcasts from the campus of the University of Nebraska at Omaha. The studio is located in CPACS 106 B. MavRadio.FM strives to enrich not only the students, faculty and staff of UNO but also the Omaha community by engaging, informing and entertaining through means that go beyond just programming. The station can be heard on 90.7 HD-2, the TuneIn app or www.MavRadio.FM