Looking Back at Fashion's Future
Art History major John Orozco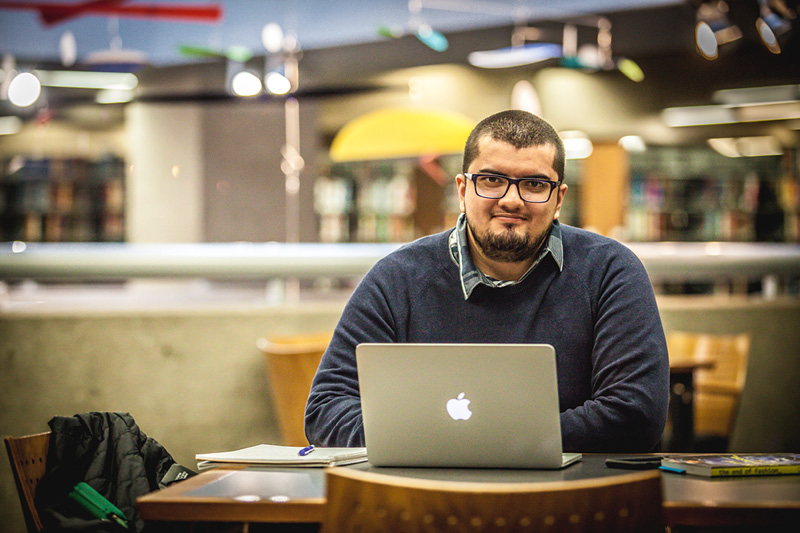 Weber Fine Arts – Kelsey Bee sat down recently with Art History major Jonathan Orozco.
Tell us a little bit about yourself.
JO: I was born in Los Angeles, but grew up in Mexico. When I was four, my family moved to Omaha, so I consider Omaha to be my hometown. I'm the first one to go to college in my family. My parents encouraged me to try really hard in my academic life so I can succeed. Since they're immigrants, they didn't really have many opportunities in Mexico, and I want to take all the opportunities I can.
I'm really into fashion history and fashion design. That's really where I've been gravitating to and studying this past year. Focusing on 1960s designers and reading JCPenney catalogues from a long time ago. It often ends up turning into research for future projects. I also like to cycle, and though the weather isn't really permitting me right now, I like to do it all the time during the summer.

Are there other areas of art history you enjoy studying?
JO: Social justice or art that deals with identity politics. You can always wonder, who creates artwork about their identity, about a group identity? I care about that. I really like contemporary art, and I'm not a huge fan classical or ancient artwork. I think ancient art can often reflect white supremacy, so I don't enjoy it. Whenever I'm at a museum with an ancient statue, I like to face swap with it on my phone.

How has art impacted your personal and academic development?
JO: Art taught me how to write well. Art history is interdisciplinary—it's history, it's sociology, it's anthropology, it's Black studies, it's English, it can even be science and math if you get into technical analysis and conservation. In my other classes outside of this program, I can always tie art back to what's being discussed.

Why is studying Art & Art History at UNO a good idea?
JO: The art history faculty are very supportive. They've told me about their struggles from when they were studying, so they kind of pamper us. But in all seriousness, you can approach them, talk with them, and they'll give you advice about which scholarships to apply for or what to research if you're interested in careers in the art field. And it's not just the art history faculty, but also the drawing and painting faculty, too. A lot of them have also been influential.
Regarding my classmates, everyone is so nice. If you need something, or if you missed a day, you can just ask them for notes and they'll share them with you. What I really like is that everyone is sort of independent, but we're still a community that is helpful to one another.
What do you like most about Omaha as a place to live, work and study the arts?
JO: It's not huge like New York City or Los Angeles. There's not a patronizing attitude towards the arts. The art institutions here—the Joslyn, the Bemis, and all the other galleries—let you explore what's happening all over the place. People here are nice, and if they have criticisms or suggestions about your craft, they don't try to hurt you. They don't sugarcoat it either, but you know they're giving you criticism for good reasons.
Kelsey Bee has a Master's degree in English, is pursuing an MFA in creative writing and works as a staff assistant in the CFAM Dean's office. She has generously shared her talents with the School of the Arts as an interviewer and guest writer.