Strauss Concert Hall to be named in honor of Christensens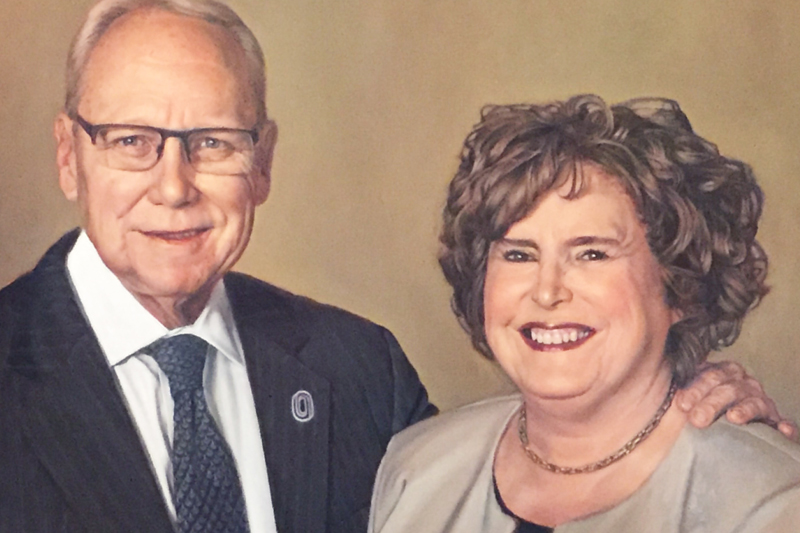 The newly renovated concert hall within the Janet A. and Willis S. Strauss Performing Arts Center at the University of Nebraska at Omaha (UNO) will be named in honor of Chancellor Emeritus John Christensen and his wife, Jan Christensen, pending approval by the University of Nebraska Board of Regents on Dec. 4.
John Christensen led UNO for a decade as its chancellor from 2007 to 2017.
Originally built in 1973, the Strauss Performing Arts Center has undergone a complete renovation and the construction of a 25,000-square-foot addition to the facility. The center is home to UNO's School of Music and has hosted hundreds of public performances for more than 40 years while serving as a learning and practice facility for students.
Alumni and longtime University of Nebraska benefactors Ruth and Bill Scott of Omaha provided a leadership gift to the University of Nebraska Foundation, which along with state and university funds, made the $18.3 million project possible.
The Scotts said honoring the Christensens with the naming of the concert hall is a fitting tribute to them, as they dedicated more than 40 years to the growth and prosperity of UNO and to its positive impact on the Omaha community.
"John Christensen has had a profound impact on UNO over many years," Ruth Scott said. "This project was a priority for him during the final years of his tenure as chancellor. Because John and his wife, Jan, are a great team, it seems appropriate that we recognize the leadership and devotion they have provided to UNO."
Under John Christensen's leadership at UNO, the campus experienced significant investments in student and academic programs, as well as in facilities such as Baxter Arena; the Barbara Weitz Community Engagement Center; the College of Public Affairs and Community Service; Roskens Hall, home to the College of Education; Mammel Hall, home to the College of Business Administration; and the Biomechanics Research Building. Christensen garnered private financial support and community engagement which led to the success of these projects. Ruth and Bill Scott supported these projects and Christensen's vision for UNO.
John Christensen said that he and Jan are touched by this tribute.
"This honor is especially meaningful to Jan and me because of our love for the University of Nebraska at Omaha," he said. "It was a privilege to lead the campus and to witness the extraordinary generosity and humility of its philanthropic supporters, especially that of Ruth and Bill Scott and the entire Scott family."
UNO Chancellor Jeffrey P. Gold, M.D., called the naming a very fitting tribute to Jan and John Christensen.
"Having their names adorn one of Omaha's most beloved venues is a great way to honor their legacy," he said. "UNO and the greater Omaha area as a whole owe a great debt to the Christensens for their longstanding leadership in service, education and community engagement."
The center's concert hall was renovated with several updates to improve its acoustical sound.
Additionally, its lighting system and entryway were updated, and the hall was made handicapped-accessible. The center's new addition includes a recital hall, practice rooms, teaching spaces including studios for the keyboard, brass, percussion and technology areas, and a recording studio.
The new building addition to the center will be finalized in February 2019; the university is planning a celebration event on April 18, 2019.
About John and Jan Christensen
John Christensen was named interim chancellor of UNO on Sept. 12, 2006, and was named chancellor on May 8, 2007. However, his first interaction with the university dates back to the 1970s when he received a Master of Science in special education and speech pathology from UNO.
Christensen began his tenure at the university in 1978 as a faculty member in the College of Education's Department of Special Education and Communication Disorders. He subsequently served as chair of the department, dean of the College of Education, as well as vice chancellor for academic and student affairs. He served as chancellor for a decade, stepping down from the position on May 8, 2017.
Jan Christensen is a longtime teacher and education administrator with Omaha Public Schools.
John and Jan Christensen married in 1972 and have three sons, all of whom are UNO graduates, and several grandchildren.
About the University of Nebraska Foundation

The University of Nebraska Foundation grows relationships and resources that enable the University of Nebraska to change lives and save lives. Among U.S. public universities, total annual gifts in support of the University of Nebraska and its affiliates rank in the top 15, and its $1.7 billion total endowment is in the top 25. Ninety-nine percent of all assets are restricted by donors to a specific use by the university. The foundation was named to America's Favorite Charities in 2018 by the Chronicle of Philanthropy. More information is at nufoundation.org.
About the University of Nebraska at Omaha
Located in one of America's best cities to live, work and learn, the University of Nebraska at Omaha (UNO) is Nebraska's premier metropolitan university. With more than 15,000 students enrolled in 200-plus programs of study, UNO is recognized nationally for its online education, graduate education, military friendliness and community engagement efforts. Founded in 1908, UNO has served learners of all backgrounds for more than 100 years and is dedicated to another century of excellence both in the classroom and in the community.
Become a fan of UNO on Facebook and follow UNO's Twitter updates. You can also keep up to date on important UNO News by following the UNO News CenterTwitter account.