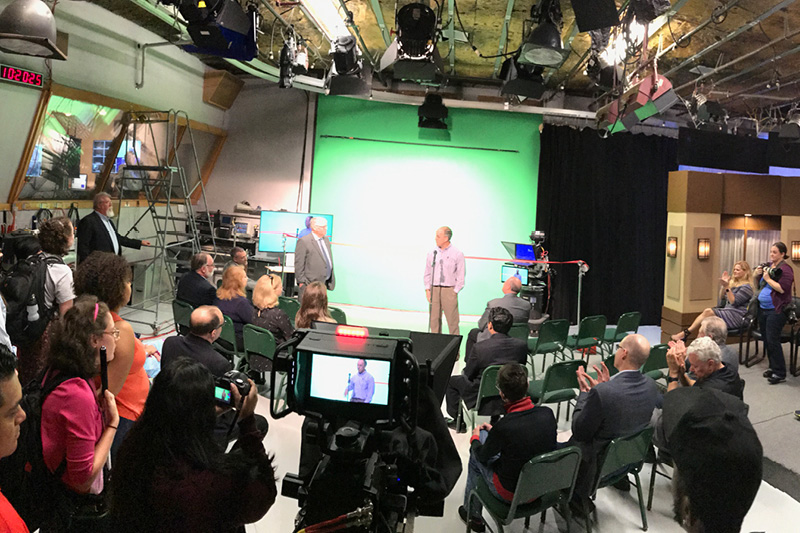 UNO Television dedicated its new 4K studio recently.
The studio updates decades-old equipment that allowed students to produce programs only in the old standard-definition television format. Programs produced in the old format typically have "pillars" on either side of the picture to fill out the screen.
The conversion was made possible by grants from the Nebraska Broadcasters Association; The Knowledge Network, a coalition of five Omaha-area schools that airs programming on Cox and Century Link channels; and the Corporation for Public Broadcasting.
Chris Allen, general manager of UNO Television and professor in the School of Communication, said the conversion cost about $130,000. Due to the grants, no state money was spent on the new equipment.
"It shows how important the support of our friends is," he said. "This would not have been possible otherwise."
The Nebraska Broadcasters Association provided a $50,000 grant to the UNO School of Communication, which includes UNO Television, last year. The Knowledge Network chipped in another $30,000, and the remainder of the money came from the Corporation for Public Broadcasting, through an in-kind grant arrangement with Nebraska Educational Telecommunications.
"Students are at the pinnacle of all this effort. This studio is a teaching studio, and now UNO students are learning on the very newest equipment."
The new equipment includes three new Black Magic 4K studio cameras and HD lenses, two smaller "rafter cam" cameras, a Black Magic video switcher, Ross Video System Expression graphics system, and Ross Inception newsroom management and scripting system.
"It makes UNO Television the most up-to-date studio on Omaha," Allen said.
UNO Television produces two programs that are seen statewide through the NET system. In addition, UNO Television regularly supplies web-based "uplinks" – for Fox News, CNBC, ABC and other networks.
Contact Us
If you have a story idea or inquiry please contact:
Randy Mattley, Communications Specialist, College of Communication, Fine Arts and Media
rgmattley@unomaha.edu • 402.554.3216
Our Campus. Otherwise Known as Omaha.
The University of Nebraska does not discriminate based on race, color, ethnicity, national origin, sex, pregnancy, sexual orientation, gender identity, religion, disability, age, genetic information, veteran status, marital status, and/or political affiliation in its programs, activities, or employment. Learn more about Equity, Access and Diversity.
scroll to top of page