Jody Boyer Recognized In Iowa Art Exhibition
Iowa Lt. Governor Kim Reynolds recently honored UNO Art Instructor Jody Boyer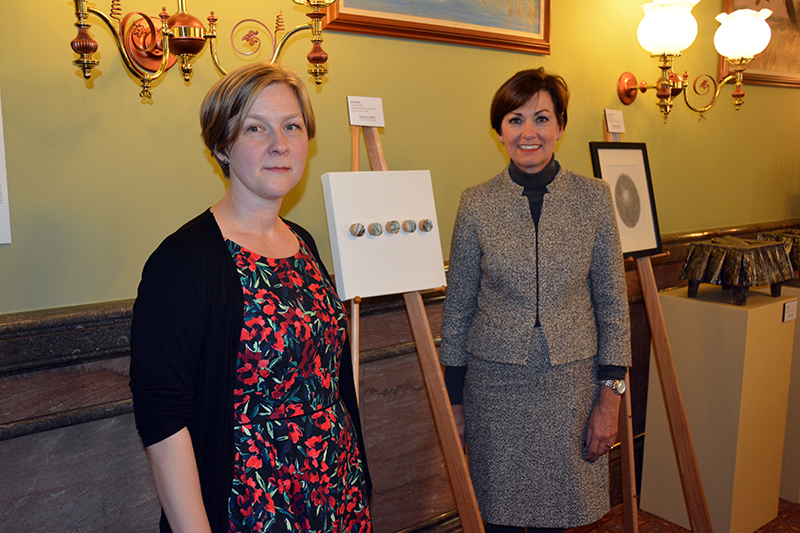 Iowa Lt. Governor Kim Reynolds recently honored UNO Art Instructor Jody Boyer, along with two others, during a reception, December 20, 2016, for the Iowa Women's Art Exhibition.
The work is on display in Reynolds' formal office where the exhibition will be displayed through June 2017. It features artworks from Jody Boyer of Council Bluffs, Jane Gilmor of Cedar Rapids and Rachel Merrill of Des Moines.
In a series called "Forest for the Trees," each small piece includes a portion of a photograph that has been edited in Photoshop, mounted on oak or purple heartwood, and layered with wax-based and oil paint – a technique known as encaustic painting.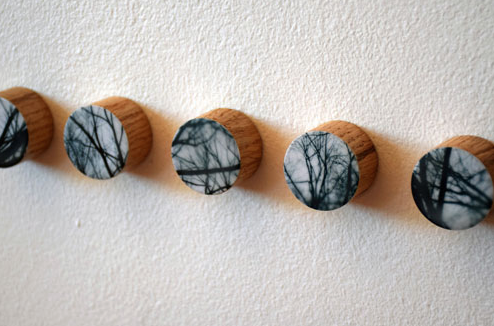 Forest for the Trees
"The woods are designed for inlays in woodworking so the richness of it is really beautiful," she says. "Conceptually, each piece creates an impression that we're looking through a vignette, or a window, or a lens.''
"This body of work has given me this inner strength to (see) what else I can discover. They remind me so much of looking out a window – just that peace you can have, and I'm trying to keep up with that and see where it goes."
As a photographer, Jody uses everything from paints and pens, hammers and heat guns, antiquated and digital cameras, toys and electric trains and computers to transform her photos into more involved pieces.
Conceptually, each piece creates an impression that we're looking through a vignette, or a window, or a lens.
Jody Boyer of Council Bluffs is a visual artist and arts educator originally from Portland, Oregon. In her studio practice, she explores the broad interdisciplinary possibilities of traditional and new media with a specific interest in personal memory, cinema, landscape and a sense of place.
She received her Bachelor of Arts in Studio Arts from Reed College, her Master of Arts in Intermedia and Video Art from the University of Iowa, and her K-12 teaching certificate from the University of Nebraska at Omaha. Her artwork has been shown nationally, including at the Des Moines Art Center and the Bemis Center for Contemporary Arts and in publications such as Review and Art in America. 
She currently teaches studio art at the University of Nebraska at Omaha and visual arts at Norris Middle School. In 2014, she received the Caucus of Social Theory in Art Education's Social Theory in Practice Award for K-12 Art teachers and was selected 2014 Nebraska Middle School Art Educator of the Year by the Nebraska Art Teacher Association.
Contact Us
If you have a story idea or inquiry please contact:
Randy Mattley, Communications Specialist, College of Communication, Fine Arts and Media
rgmattley@unomaha.edu • 402.554.3216
Our Campus. Otherwise Known as Omaha.
The University of Nebraska does not discriminate based on race, color, ethnicity, national origin, sex, pregnancy, sexual orientation, gender identity, religion, disability, age, genetic information, veteran status, marital status, and/or political affiliation in its programs, activities, or employment. Learn more about Equity, Access and Diversity.
scroll to top of page