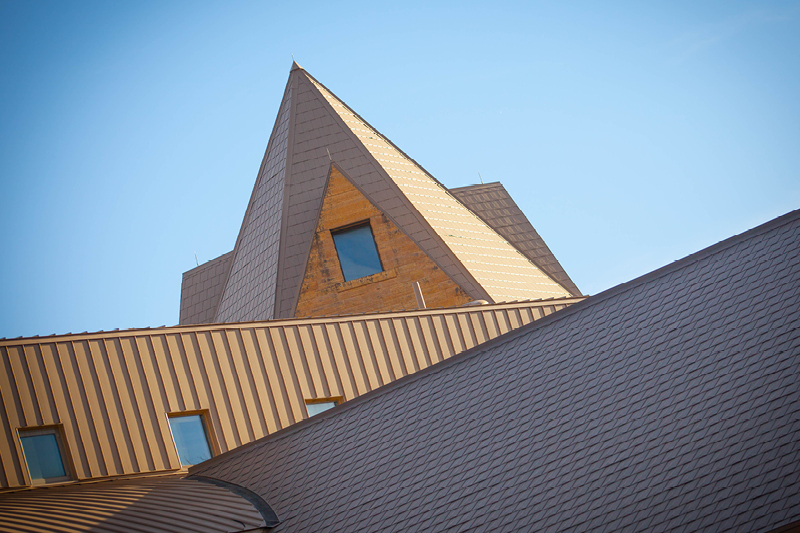 "Our Town"
By Thornton Wilder
A timeless portrait of life in the mythical village of Grover's Corners, Our Town has become an American classic with universal appeal. This beloved Pulitzer Prize winner has been produced throughout the world.  A simple story of a love affair is constantly rediscovered because it asks timeless questions about the meaning of the circle of life.
The play's success across cultural borders around the world attests to its being something much greater than an American play: it is a play that captures the universal experience of being alive.  - Playwright Donald Margulies
Sept. 27-30 and Oct. 4-7
/
  Shows 7:30
pm
---
"Spring Awakening"
By Steven Sate (book and lyrics) & Duncan Sheik (music)
A dynamic rock musical - A dozen young people making their way through the thrilling, complicated and mysterious time of sexual awakening. Tony Award-winner for Best Musical is based on the highly controversial and oft-censored 1891 play by Frank Wedekind.
Winner of 8 TONY Awards, including BEST MUSICAL, Spring Awakening celebrates the unforgettable journey from youth to adulthood with a power, poignancy, and passion that you will never forget.
Adapted from Frank Wedekind's 1891 expressionist play about the trials, tears, and exhilaration of the teen years, this play was hailed "Best Musical of the Year" by the New York Times, New York Post, Star Ledger, Journal News, New York Observer, and USA Today.
Adult language and themes, sexual situations. 
Nov. 15-18, 29-30 and Dec. 1-2  /  Shows 7:30pm
---
"The Revolutionists"
By Lauren Gunderson
The Revolutionists - a revolutionary dream fugue - Lauren Gunderson's ethereal comedy quartet takes us inside the mind of a feminist playwright during the French Revolution's Reign of Terror, as she wrestles with what it means to make art that matters. A testament to solidarity between women, The Revolutionists is a love song to the theatre, reminding us that "just because it's fiction, that doesn't mean it's fake"
Four beautiful, badass women lose their heads in this irreverent, girl-powered comedy set during the French Revolution. At the height of the Reign of Terror, playwright Olympe de Gouges, assassin Charlotte Corday, activist Marianne Angelle and former queen Marie Antoinette hang out, plot murder and try to beat back extremist insanity in Paris. A fantasia by one of the country's most exciting young playwrights considers how we actually go about changing the world. Advisory: These four women may wear corsets and wigs, but they have a distinctly modern (and hilarious) sensibility when it comes to very strong adult language and ousting political tyrants.
Feb. 21-24 and Mar 1-3, 2018  /  Shows 7:30pm
---
"Marat/Sade - The Persecution and Assassination of Jean-Paul Marat as Performed by the Inmates of the Asylum of Charenton Under the Direction of the Marquis de Sade"
By Peter Weiss
Total theatre that engages the eye, the ear and the mind.  Two historical truths: the infamous Marquis de Sade was confined in the lunatic asylum of Charenton, where he staged plays; and the revolutionary Jean-Paul Marat was stabbed in a bathtub by Charlotte Corday at the height of the Terror during the French Revolution. All the forces and elements possible to the stage are fused in one overwhelming experience. The play is about revolution - Are the same things true for the masses and for their leaders? And where, in modern times, lie the borderlines of sanity?  And what if, in these modern/post-modern/pre-collapse times, the play isn't really set in an insane asylum in France in 1808, but in a maximum-security US prison in 2018, enacted by prisoners for their "recreation, entertainment, and education"?
Apr 11-14 and 18-21, 2018  /  Shows 7:30pm
Contact Us
If you have a story idea or inquiry please contact:
Randy Mattley, Communications Specialist, College of Communication, Fine Arts and Media
rgmattley@unomaha.edu • 402.554.3216
Our Campus. Otherwise Known as Omaha.
The University of Nebraska does not discriminate based on race, color, ethnicity, national origin, sex, pregnancy, sexual orientation, gender identity, religion, disability, age, genetic information, veteran status, marital status, and/or political affiliation in its programs, activities, or employment. Learn more about Equity, Access and Diversity.
scroll to top of page