Big Mama's Kitchen Serves Up Food for the Soul
Family, faith and delicious food continue to distinguish Big Mama's Kitchen & Catering as one of the crown jewels of Omaha's collection of locally-owned restaurants.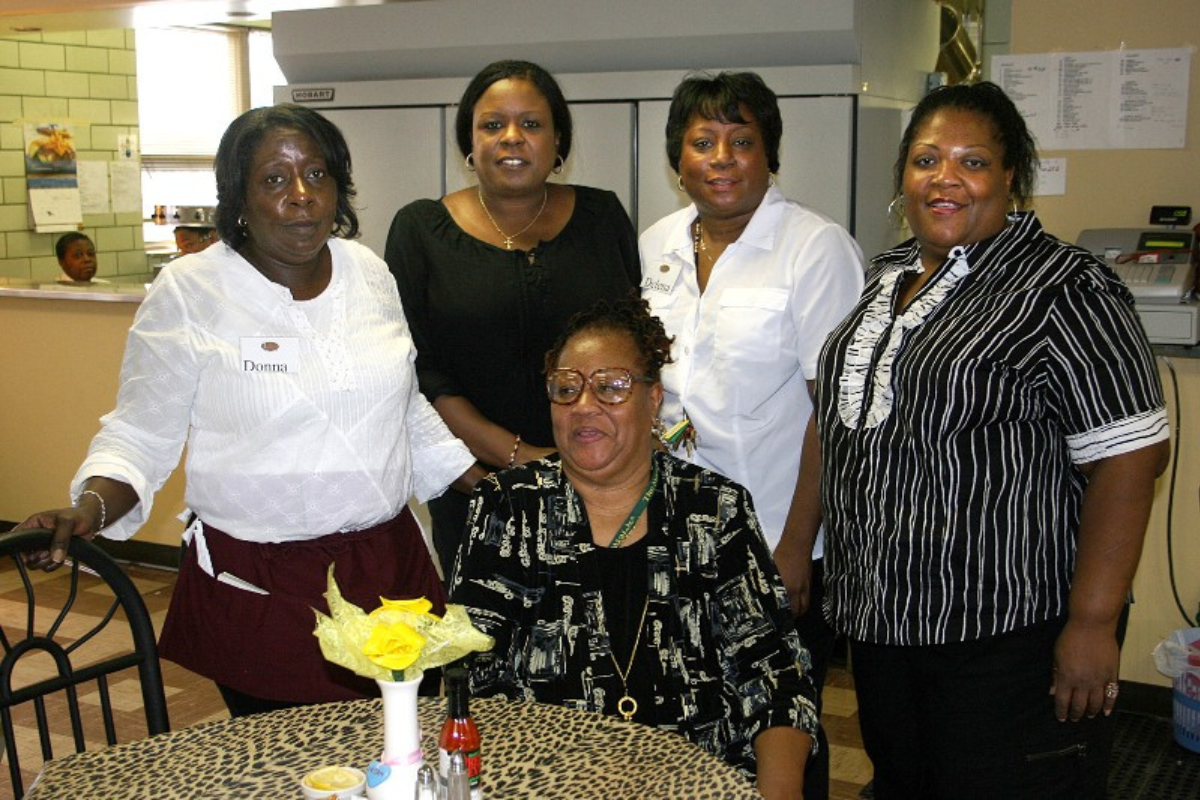 Patricia "Big Mama" Barron with Daughters at the Restaurant Grand Opening
Omaha, Nebraska – Family, faith and delicious food continue to distinguish Big Mama's Kitchen & Catering as one of the crown jewels of Omaha's collection of locally-owned restaurants.
Founded by the late Patricia "Big Mama" Barron, the restaurant is situated at 2112 N. 30th Street in the Highlander Accelerator. It is run by Barron's daughter, Gladys Harrison, with help from Barron's other daughters, Donna Harrison and Debbie Craddock, as well as many of Barron's grandchildren.
Honoring their mother's work ethic and filling her apron are daunting tasks, Harrison says. "Our mother was an amazing woman," she says. "It takes three or four people to do what mom used to do. They don't make people like mom anymore."
Though the post-Covid menu at Big Mama's is smaller, the portions are just as large – and as welcome – as when Barron used to fill the plates. Menu favorites include oven fried chicken, fried catfish, sweet potato pudding and the Afro Burger – ground beef rolled in a fiery blend of spices and simmered in Big Mama's barbeque sauce.
Barron started cooking when she was six years old, standing at a wood stove beside her grandmother, whose recipes are among the many still prepared and served at Big Mama's today – from biscuits to her trademarked sweet potato pie cheesecake and ice cream.
Through the years, Barron held many jobs, a list that became the ingredients of a fascinating life. From serving in the U.S. Navy to working nights for the Northwestern Bell Telephone Co., she had a goal in mind that took decades to realize. Her first step was earning an associate's degree at the Omaha School of Culinary Arts, back before it was Metropolitan Community College.
A master cake decorator who worked out of her home and the basement of her church, North Side Mennonite, Barron always wanted her own restaurant. That dream became reality in 2007, when, at the age of 65, she opened the first Big Mama's Kitchen on the campus of the former Nebraska School for the Deaf, now Abide.
Her skills in the kitchen quickly earned her a loyal following of diners, and national recognition when Big Mama's was featured by chef Guy Fieri on his show, "Diners, Drive-Ins and Dives," along with segments on the Travel Channel and the Sundance Channel.
Barron's faith was as much a part of her life as food, and it carried over into the first Big Mama's, where she made her belief in second chances a keystone of her hiring practices. "When I put the word out, 350 people applied for six jobs," she said in a 2009 interview in New Horizons newspaper. "Most were men between 16 and 30. Nobody would hire them because they'd been in trouble, mostly in their teens. People make foolish mistakes, but haven't we all been given a second chance at some point in our lives?"
Barron died in 2018, but her faith, her determination, and her recipes are a part of her living legacy at Big Mama's, where the street outside the Highland Accelerator bears her name.
"My mom always said, 'Your faith and purpose go hand in hand," Harrison recalls. "When she passed away, we started a culinary scholarship at Metropolitan Community College specifically for people with prior convictions, to carry on her practice of giving second chances to people who need them the most."
Harrison hopes to expand Big Mama's, and is relying on the Nebraska Business Development Center (NBDC) and its consultants to help. "We want to grow the business and the brand," she says, "and the NBDC has been a great resource as we look for new avenues to create revenue."
Patrick Guinotte, NBDC consultant with the APEX Accelerator program, formerly the Procurement Technical Assistance Center (PTAC), has assisted Harrison with Big Mama's System for Awards Management (SAM) registration for government contracting, as well as working through the Woman Owned Small Business Certification and the Historically Underutilized Business (HUB) Zone certification.
Though owning and operating an independent restaurant is difficult, and many days seem never-ending, Harrison says she wouldn't have it any other way.
"The most rewarding thing for me is when someone comes up and tells me how much they liked their meal," she says. "That tells me we're doing our very best to carry on mom's vision."