Fall 2023 Meet the Buyers Conference Provides the Opportunity for Government Contracting Success
The NBDC Fall Meet the Buyers takes place October 17-19 in Scottsbluff, Nebraska. Get registered today for this valuable event. Read more about two local companies who have grown their business from attending this conference.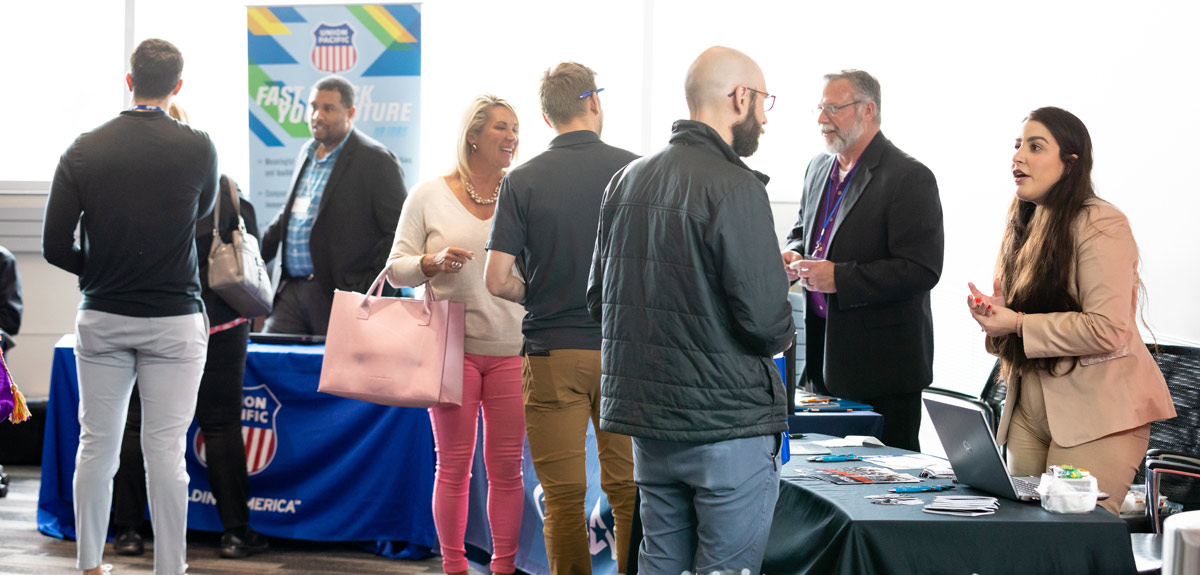 Attendees and participating agencies network at the Spring 2023 Meet the Buyers Conference in Omaha.
For Gladys Harrison, President and Owner of Big Mama's Kitchen & Catering, Inc., the Meet the Buyers Conference has been a place to learn valuable insights and showcase her services.
"It equipped us with the knowledge required to effectively approach and engage with government agencies seeking our services. As a result, we successfully secured our first government contract," Harrison says.
Nebraska Business Development Center (NBDC) APEX Accelerator Consultant Harold Sargus had a similar outcome for one of his clients, saying "A federal buyer asked me about one of my clients in attendance. I introduced the two and they talked about an upcoming solicitation. Fast forward to today and that client has a contract with that buyer."
The biannual Meet the Buyers Conference returns to Scottsbluff for its Fall 2023 iteration. Hosted by the NBDC APEX Accelerator program, the conference will be held at the Hampton Inn & Suites Scottsbluff (301 US-26, Scottsbluff, NE 69361). There is no cost to register. Interested parties can register at https://nbdc.unomaha.edu/mtb
"The Meet the Buyers conference is an invaluable event for small business owners looking to break into the government contracting world," says John Pratt, Senior Business Leader for NDev LLC in Bellevue, Nebraska. "It is a unique gathering where you can connect directly with key decision-makers and procurement officials from various government agencies."
The three-day government contracting conference features a variety of programming, training, and networking opportunities.
October 17th will feature information on large regional government contracting projects like Sentinel (GBSD) and MilCon programs. Key personnel from the U.S. Army Corps of Engineers and the U.S. Air Force will provide updates.
A variety of speakers will facilitate 12 different government contracting topics on October 18th, including an all-day Construction Quality Management (CQM) course and other topic areas like cybersecurity, teaming arrangements, and marketing.
The final day of the conference will feature 12 different federal, state, and local purchasing agencies and a handful of partner organizations. Attendees will have the chance to pitch their products and services to these agencies the afternoon of October 19th.
Agencies include:
Ellsworth Air Force Base
Offutt Air Force Base
Northrop Grumman
Bechtel
U.S. Army Corps of Engineers
National Park Service
U.S. Fish & Wildlife Service
Department of Veterans Affairs
General Services Administration
University of Nebraska
Nebraska Department of Administrative Services
Nebraska Department of Transportation
Sargus also believes there is value in networking with other companies, saying "Another frequent occurrence is that a participant ends up meeting another small business and starts a working relationship.
According to John Pratt, a business relationship took root at last fall's conference. "After discussing our capabilities and mutual interests, we realized that by joining forces, we could more effectively pursue public and private business opportunities together. We've since formalized our partnership and are actively pursuing joint opportunities," says Pratt.
Gladys Harrison encourages participants to "Be ready to seize every chance to deliver your elevator pitch to potential buyers and fellow attendees." The Meet the Buyers Conference provides the perfect stage for businesses to do this.
Attendees uncertain of how they can get the most from the Meet the Buyers conference may contact an NBDC APEX Accelerator consultant in advance to get tips on refining their presentations. To get connected to a consultant, contact Daniel Kuchar at dckuchar@unomaha.edu or call 402-853-3933.