You've Got Mail: Connecting with your Senator
A new exhibit, You've Got Mail, runs through August 26, 2019, on the lower level of Criss Library.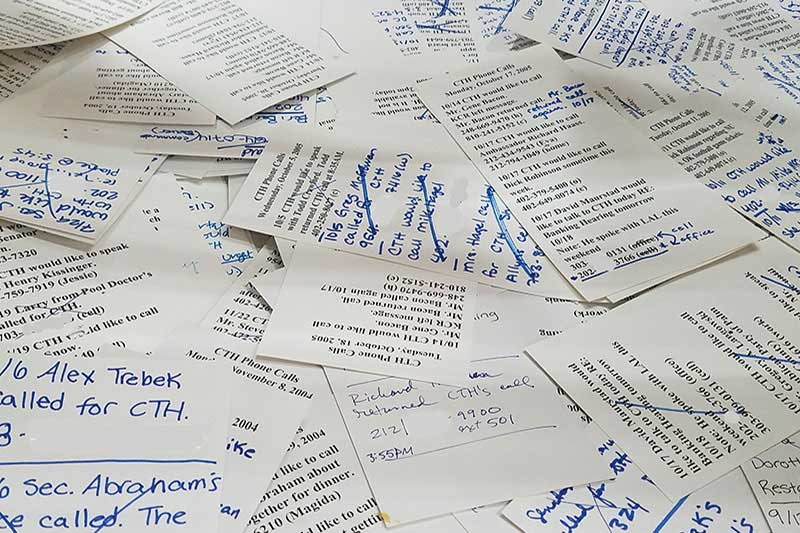 Criss Library first floor – During his twelve years representing Nebraska in the U.S. Senate, Chuck Hagel and his staff received a truly impressive amount of mail, phone calls, and emails. This exhibit explores how and why people in Nebraska and the rest of the U.S. contacted Senator Hagel. In order to process and reply to these contacts, staff members found a way to organize the daily intake, analyze constituent's opinions, and keep track of who was reaching them, how, and for what reason. In addition to sharing views and opinions on current events, constituents sent gifts, requested information and assistance, and sought meetings with Hagel and his staff. These are just some of the many and varied reasons people wrote to Senator Hagel. Have you ever contacted your senator?
The exhibit was curated by Hagel Fellow Abigail Cape. For more information about the U.S. Senator Chuck Hagel Archives, click here. New material from the Hagel Archives is now open for research. Campaign Records include Hagel's campaigns for U.S. Senate in 1996 and 2002, his work on behalf of in-state and national candidates, and his involvement with the National and Nebraska Republican parties. Personal Papers cover Hagel's life before, after, and outside of his official duties in the U.S. Senate and U.S. Department of Defense. They contain biographical information, correspondence, family, board positions, memberships, and book files.

UNO alum Chuck Hagel served as a soldier in Vietnam, a U.S. Senator (NE-R) for twelve years (1997-2009), and a U.S. Secretary of Defense for two (2013-2015). When he left the U.S. Senate, he donated his records to UNO. They became the U.S. Senator Chuck Hagel Archives.


Contact Us
For more information about including events and announcements in the Criss Library News Center, email us at unocrisslibrary@unomaha.edu.
Unless otherwise clearly stated, any views or opinions expressed as part of events, exhibitors, or presenters in the UNO Libraries (Dr. C.C. and Mabel L. Criss Library and the KANEKO-UNO Library) should not be viewed as endorsements by the University of Nebraska at Omaha (UNO) and do not reflect the official position of UNO or the University of Nebraska system.