Hagel in Focus
A new exhibit, Hagel in Focus, runs June 28 to July 31, 2019, in the H. Don and Connie J. Osborne Family Gallery of Criss Library.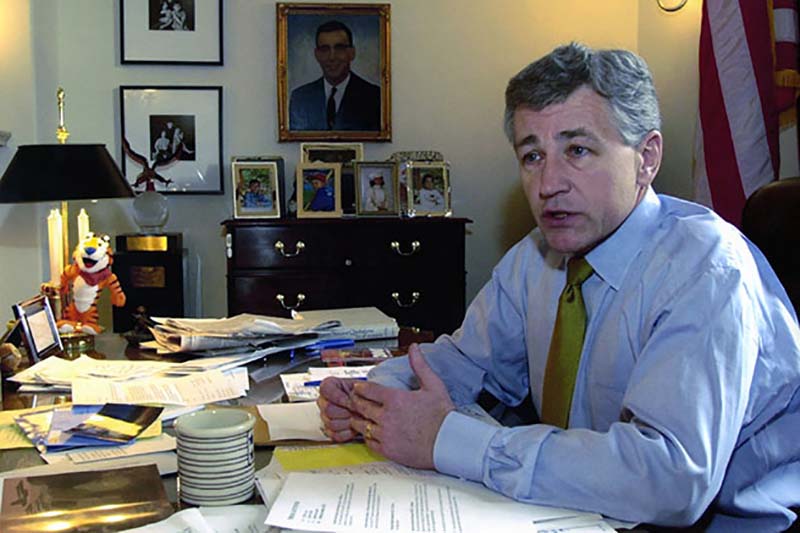 Criss Library second floor – On display in the Osborne Family Gallery through July 31, 2019, are 75 items out of the many hundreds in the U.S. Senator Chuck Hagel Archives artifact Collection. The frames are grouped by topic spanning Hagel's campaigns for the U.S. Senate, political cartoons, Hagel with foreign and U.S.leaders, highlights from his pre-Senate years, and gifts received while in office. A handful of items are on public display for the first time, including a beautiful large fine art calligraphic print from artist Wissam Shawkat, a collection of swords and bladed weapons gifted to Hagel, a delightful large framed photograph of Hagel as an infant celebrating the 4th of July, and other photographs of Hagel in his pre-Senate years.
The exhibit was curated by Hagel Archivist Lori Schwartz, Hagel Fellow Abigail Cape, and Student Assistant Stephen Fogle. For more information about the U.S. Senator Chuck Hagel Archives, click here. New material from the Hagel Archives is now open for research. Campaign Records include Hagel's campaigns for U.S. Senate in 1996 and 2002, his work on behalf of in-state and national candidates, and his involvement with the National and Nebraska Republican parties. Personal Papers cover Hagel's life before, after, and outside of his official duties in the U.S. Senate and U.S. Department of Defense. They contain biographical information, correspondence, family, board positions, memberships, and book files.
UNO alum Chuck Hagel served as a soldier in Vietnam, a U.S. Senator (NE-R) for twelve years (1997-2009), and a U.S. Secretary of Defense for two (2013-2015). When he left the U.S. Senate, he donated his records to UNO. They became the U.S. Senator Chuck Hagel Archives.


Contact Us
For more information about including events and announcements in the Criss Library News Center, email us at unocrisslibrary@unomaha.edu.
Unless otherwise clearly stated, any views or opinions expressed as part of events, exhibitors, or presenters in the UNO Libraries (Dr. C.C. and Mabel L. Criss Library and the KANEKO-UNO Library) should not be viewed as endorsements by the University of Nebraska at Omaha (UNO) and do not reflect the official position of UNO or the University of Nebraska system.