5th Annual Human Library
Individuals with diverse life experiences act as human books, and readers "check out" the human books for 20-30 minutes to learn and ask questions about the human book's personal experiences; April 9.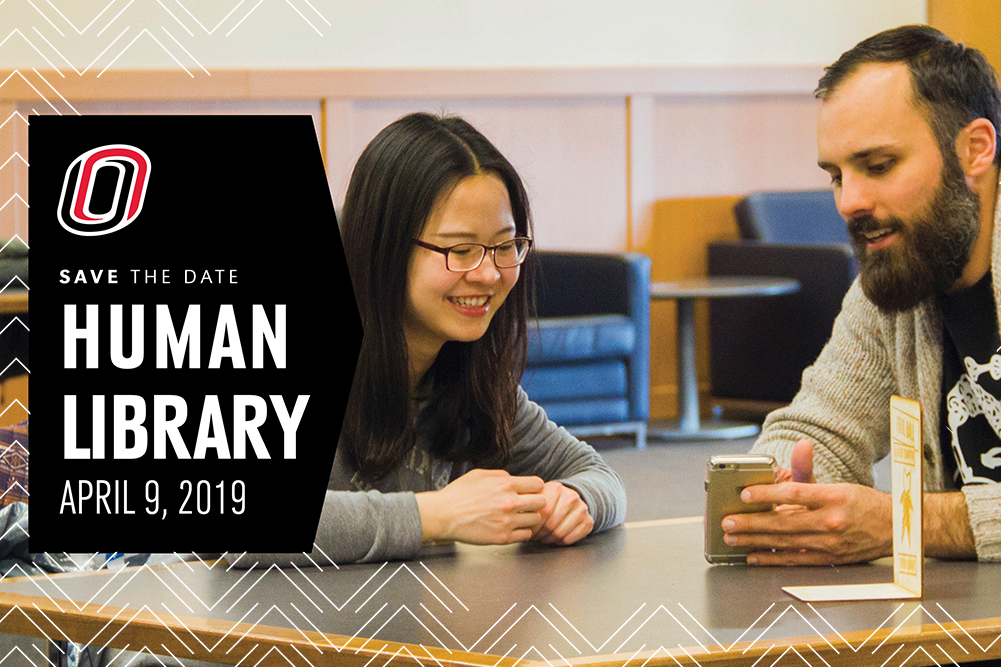 Join us for the fifth-annual UNO Libraries Human Library, on Tuesday, April 9, 2019, from 4 to 7 P.M.
---
What is the Human Library?
The Human Library brings together people who may not have met in different circumstances in order to dismantle prejudices and smash stereotypes. It is an opportunity to have real conversations with real people. Individuals with diverse life experiences act as human books, and readers "check out" the human books for 20-30 minutes to learn and ask questions about the human book's personal experiences.
Here's a
short video
about Human Libraries. Visit our
Criss Library Human Library Guide
to find out more about the Human Library at UNO.
How It Works
You
must
have a reservation to sit down and speak with a Human Book. Up to four people can speak to one Human Book at a time, but only one of you can create the reservation online. Reserve early! If you wait until the day of the event to make a reservation, it's likely you won't get a chance to speak with a Human Book.
When the reservation system at libcal.unomaha.edu opens you can browse the list of titles and select a Human Book.
Reserve your Human Book online.
Come to the library at least 15 minutes prior to your reservation and check in at the table by the main entrance. We'll escort you to your Human Book's table.
Have a one-on-one conversation with your Human Book. Conversations can be up to 30 minutes long. Come with questions! As long as you're respectful and genuinely curious, your Human Book understands that sometimes you can't find "the right" words.
Reserve a Book
Use the link on the
Criss Library Human Library Guide
to make your reservation today.
Volunteer to Help
We need volunteers to help make this event a success! Sign up for an hour, or sign up for the entire event:
http://signup.com/go/UoqUeeq

Book Support Volunteers
will partner with our Human Book volunteers for two purposes
To make sure they're comfortable and to be their assistant throughout the event (get water, food, etc.).
To bring their new readers to them every half hour.
Please consider signing up for all three shifts in order to partner with a single Human Book all evening.
Break Room Monitors will monitor the Human Book volunteer break room and make sure the room is well stocked and welcoming for our Human Books.

Check in Table and Floor Circulation Volunteers will check in readers and circulate around the event space to help with any needs that arise.


---
2019 Human Library Books
Abi Adegboye
| Domestic Violence Survivor
In 1990, Abi came to the United States for school. She did not come to the US with a husband, but met a man here and got married. After her husband began to abuse her, she had to make the tough decision to stay with her husband or strike out on her own. Within her faith and culture this was a taboo situation. She wants to reach other to people who may be in a similar situation, and show them that there is a way out, even if it doesn't seem that way.
Medicine Flower Blue Star
| Marine Corps Veteran and Military Sexual Assault Survivor
Medicine Flower Blue Star is a Marine Corps Veteran and a survivor of military sexual assault. One of the times she was assaulted resulted in the birth of her daughter. Flower has worked hard in the years since her military service making her and her daughter's lives better.
Adam Byers
| Trans Man
When he was a little kid, Adam Byers says, "I wanted to be Aladdin," but it wasn't until two years ago he realized he is trans. As a trans man, he wants to challenge the notions that trans people know they're trans from an early age and all trans masculine people present as masculine 100% of the time. His coming out story is unique, and he wants people to understand that gender is not just about your looks or assigned gender.
Wayne Brekke
| Entrepreneur
Wayne has been able to turn his hobby, table top gaming, into a lucrative business idea. His business Dungeon Crate is a subscription box for table top gaming (similar to Loot Crate). He wants to show people that while working for yourself is hard, there are great things that come from it.
Anna Di Ruocco and Leo
| Chronic and Invisible Illnesses Advocate and Service Dog Handler
Anna was matched with her service dog Leo in 2014 after months of research, fundraising and training. While Leo and Anna have grown and learned together, Anna knows most people don't understand what it really means to have a service dog. Anna and Leo have been using their situation to teach others about service dogs and chronic and invisible illnesses.
Tracy Gilman
| Eating Disorder Survivor
Tracy was forced to examine the pervasive fatphobia that exists in our society while recovering from an eating disorder. She wants people to know that their size, shape, color, gender, and more don't determine their value. She focuses her work around reducing weight stigma, advocating for fat acceptance, and understanding the intersections that impact body image and self-worth.
Maureen Grace
| Organ Donation Advocate
Jude Timothy Grace received the gift of a double lung transplant on March 6, 2016. Jude's mom, Maureen, became an Angel Mom a year and a half later, and feels lucky for every moment she got with Jude. She is a fierce advocate for organ donation—especially pediatric donation.
Gus Gustafson
| Amputee and College Basketball Player
As a child, Gus lost his right arm in a farming accident. While he did not set out to be a motivational speaker, that is where he found his passion. Now, he spends his time teaching people how to "Turn Setbacks Into Comebacks". He is truly "Fully Armed".
Wendy Hamilton, Becky Scherbring, and Moppy
| Disability Rights Activists
Wendy and Becky's mother, Moppy, was diagnosed with an autism spectrum disorder at 58 years old in 2007. While autism spectrum disorders aren't entirely uncommon, adult diagnosis is less common. In fact, the perspective of neuro-typical children and their autistic parent is still incredibly unique. Wendy, Becky, and Moppy are spreading their story with humor, love, and taking things day by day.
Olivia Johnson
| Body Positivity Activist
As someone who identifies as a woman of size and color, Olivia has not always been comfortable with who she is. Five years ago, she had a moment where she looked at herself in the mirror and decided to be comfortable in her own skin. She wants to share her multi-tiered experiences and show people that no matter what shade or size they are everyone deserves respect.
Jerome Kenkel
| Crisis Text Line Volunteer
As a volunteer with Crisis Text line, Jerome has helped many people in crisis guiding them "from a hot moment to a cool calm" as he was trained. As an Event DJ of many years, he has guided the celebrations for the most important days of people's lives. Jerome has centered his life on helping others feel important while rebuilding from life's low moments and celebrating life's high moments.
Judy Kiagiri
| Kenyan Immigrant
Judy moved to the United States from Kenya as a young, single mother in order to go to college. After college, she got an internship opportunity that changed the trajectory of her life. While her journey has not been an easy one, she works tirelessly to show her children and community what immigrants have to offer.
Adriana Montano
| Latin American Refugee
Adriana came from Colombia to seek political asylum. As a woman, person of color and immigrant, she, and her family, have had many obstacles to overcome. With her experience and first-hand knowledge, she wants to bring awareness to the many reasons one might seek refuge in America.
Kim Palmquist
| Domestic Violence Survivor and Marine Corps Veteran
Kim's story is one of working through trauma to strength, resiliency, and opportunity. Kim experienced abuse and trauma as a child. He dealt with this trauma while active in the Marine Corps. Hear how Kim's journey allowed him to forge a path towards advocacy for others as he now works to stop human trafficking.
Doug Paterson
| Political Activist
Raised in a conservative small town, Doug was in college with the Vietnam War broke out in 1965. His experience of dealing with being a graduate student during a time of war and the draft changed helped form his views and political alignment. A political protest at Cornell University in 1972 forced Doug to decide where he stood, politically and morally.
Carissa Stowe
| Caregiver
Carissa's mother and nephew have been affected by leukemia. Carissa wants people to understand how leukemia is different than other cancers and not at all what is portrayed in media. Educating people on leukemia and having an open dialogue about the feelings that cancer brings is one way Carissa honors her nephew's life and mother's fight.