Women in Omaha Project
Oral history interviews from the Women in Omaha exhibit have been added to Omaha Stories project.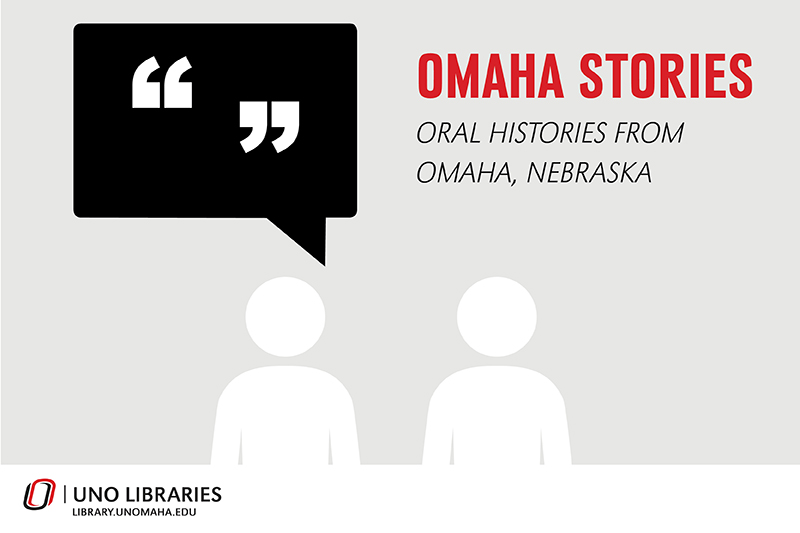 March is Women's History Month and UNO Libraries is pleased to share that the interviews collected for the Women in Omaha exhibit are now available from Omaha Stories.
UNO History professor Dr. Elaine Nelson's students collected oral history interviews in spring 2017 for a course that resulted in the exhibit "Women in Omaha: A Biographical Sketch Through History." The exhibit was on display in January-July 2018 at the Durham Museum in Omaha. Women included in the exhibition were: Dr. Jacqueline St John, Rita Melgares, JD, Ella Jean Rogers, Sarah Joslyn, Octa Keen, MSN, Rose Blumkin, Linda Garcia-Perez, Edwina Justus, Kimi Takechi, Margaret Suchy, Ashleigh Buch, SSGT, and one narrator who has requested anonymity.
The UNO students who collected the interviews were in the course History 4060/8066 : History of Women in America, 1875-1992. The interviews were collected from Omaha women and other people who knew the women such as descendants and others.
A brief summary of the Women in Omaha interviews available online:
Octa Keen discussed her life as a member of the Omaha tribe and woman in the Midwest. Kenn worked as a nurse for many years, including while she was raising her children, and is dedicated to preserving the Omaha language and culture as an active member of the Omaha Tribe.
Lannie McNichols talked about the life of Sarah Joslyn and her family's impact on Omaha.
Mrs. Ella Jean Rogers discussed growing up in Omaha, Nebraska, in the 20th century, participating in the Civil Rights Movement, raising her family, and being a lifelong member of her Baptist Church.
Dr. Jacqueline St John talked about being a feminist and her career as a professor of women's history at the University of Nebraska at Omaha. Sadly, St John passed away while the exhibit was on display at the Durham Museum.
Margaret Suchy spoke about her childhood in Omaha, being a working mother to two children, raising a family, and the social and economic changes in Omaha to date during her lifetime.
Kimi Takechi described her early life, marriage and husband, and stories from their life before and after World War II. Takechi was born to Japanese immigrant parents in Pocatello, Idaho and she and her husband opened a watch, gift, and jewelry store, Takechi's Jewelers, in Omaha after World War II.
UNO Libraries will make other interviews collected by students in Dr. Nelson's course available after consent forms are received from narrators.
Follow UNO Libraries on Twitter for more oral history interviews by women available from UNO Libraries and Omaha Stories.
Do you have interviews conducted with Omahans that you would like to make available to the public through Omaha Stories? Contact Director of Archives & Special Collections Amy Schindler (402.554.6046, acschindler@unomaha.edu) to discuss the project.
Visit the Omaha Oral History Blogs to learn more.