Tommy Young-Dennis
Tommy Young-Dennis interview by Luke Wegener for LGBTQ+ Voices: The Queer Omaha Archives Oral History Project now available in UNO Libraries' Archives and Special Collections.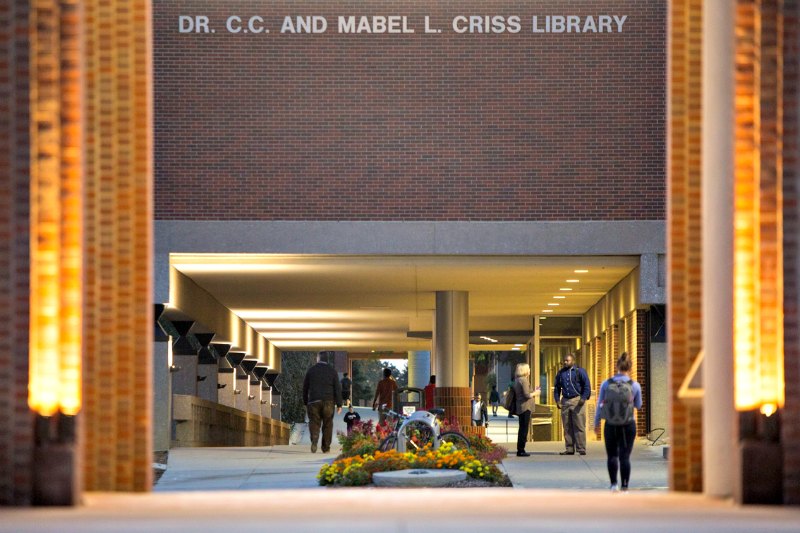 Criss Library
In October 2018, Tommy Young-Dennis was interviewed by Luke Wegener, UNO Libraries Oral History Associate, for LGBTQ+ Voices: The Queer Omaha Archives Oral History Project. The interview is over 1 hour in length.
Mr. Young-Dennis had his first romantic gay experiences in high school, but kept his sexuality under wraps. Shortly after graduating, Young-Dennis's family members discovered he was gay after he accidentally left a gay chat website open on the family computer. Although not the ideal way to come out, Young-Dennis' grandmother and family accepted him as he was. In 2010, Young-Dennis was diagnosed as being HIV+. with the support of his loved ones, he managed to turn his grief into action and a passion to help others with HIV. Within just three months of his diagnosis, he founded an HIV+ support group for young adults, began volunteering at Nebraska AIDS Project, and dedicated his time to supporting and educating others living with the disease. An essential part of Young-Dennis' support network was his good friend (now husband), Desean. Young-Dennis and Desean met while they both worked at First Data Corporation, but his diagnosis brought him closer to Desean, transforming their friendship into a romantic relationship. In 2011, they married in Council Bluffs, Iowa. In 2017, after years of volunteer work and community education on HIV, Young-Dennis joined the Nebraska AIDS Project (NAP) full-time as their Prevention and Outreach Specialist. In this position, he does onsite testing, connects with community partners, and focuses on providing resources and education to the Black MSM community (Men who have sex with men), a population disproportionately affected by HIV. In addition to his work at NAP, Young-Dennis is the co-chair of the North Omaha Community Care Council's Youth and Outreach Committee. He is also a founding member of Kingdom Builders Christian Center, where he sings in the choir and is a former board member. In 2018, Young-Dennis was a recipient of the Young Black and Influential Award, a recognition given to outstanding leaders in Omaha's Black community.
All of this and more was covered in the interview. Young-Dennis's interview is available through the Queer Omaha Archives website or in UNO Libraries' Archives and Special Collections.
This post is part of a series sharing the new oral history interviews gathered as part of LGBTQ+ Voices: The Queer Omaha Archives Oral History Project.
Support Oral Histories
We rely on external funding to conduct oral history interviews, so once we have exhausted our grant funding and private gifts made by community members, collecting new interviews will be paused until we are able to raise additional funding. We need to hear from community members soon to ensure your stories are captured, preserved, and available for future generations to learn from and enjoy. If you have been contacted by the archives and are considering sharing your story, we hope to hear from you!
If you would like to support continuing the collection of and access to oral history interviews, please consider making a donation to the Queer Omaha Archives or contact us to volunteer with the project.
About Oral History and the Queer Omaha Archives
From the first conversations between students, faculty, community members, and archivists about creating the Queer Omaha Archives, there were plans to include an oral history component in the collecting initiative. Oral history has the ability to share the memories of people and communities who lived through those events with the present and future through the voices of people from our communities. LGBTQ+ Voices: The Queer Omaha Archives Oral History Project is currently collecting oral history interviews from members of the greater Omaha LGBTQ+ communities, sharing their wide-ranging experiences with their fellow Nebraskans and the world through the University of Nebraska at Omaha's Queer Omaha Archives website.
About the Queer Omaha Archives
The Queer Omaha Archives is part of UNO Libraries' Archives & Special Collections and officially launched in 2016. The Queer Omaha Archives collects and preserves materials relevant to the LGBTQ+ community in the region. Archives & Special Collections' material is available for the university community and general public at both the Dr. C.C. and Mabel L. Criss Library and online.
Visit the Omaha Oral History Blogs to learn more.