Destiny Sturdivant
Destiny Sturdivant interview by Luke Wegener for LGBTQ+ Voices: The Queer Omaha Archives Oral History Project now available in UNO Libraries' Archives and Special Collections.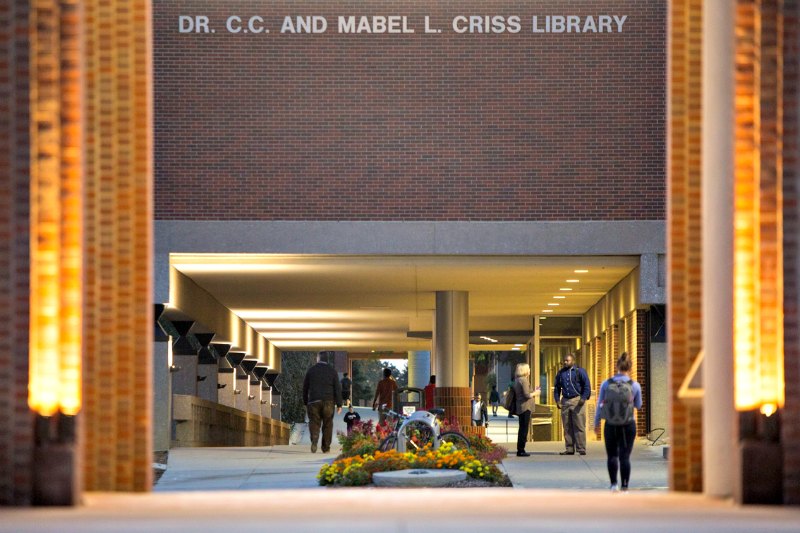 Criss Library
In September 2018, Destiny Sturdivant was interviewed by Luke Wegener, UNO Libraries Oral History Associate, for LGBTQ+ Voices: The Queer Omaha Archives Oral History Project. The interview is over 2 hours in length.
Ms. Destiny Sturdivant, Omaha comedian and LGBTQ+ advocate, was born in Omaha, Nebraska. Sturdivant had crushes on girls as early as second grade, but didn't realize being gay was an option until she saw a gay person on MTV's The Real World at age 13. By the time she was in 8th grade, Sturdivant was out as bisexual to most of her school friends. She remained closeted to her family as they had homophobic views. Sturdivant attended Omaha North High School from 2000-2004, and began connecting online with other LGBTQ+ people through websites like Ourchart (now Autostraddle) and Livejournal. Sturdivant began performing at various local shows along with OK Party Comedy, and became a regular fixture on the Omaha comedy scene. As a queer, disabled woman of color within a scene of mostly straight white men, Sturdivant's clever, subversive humor challenged the status quo of Omaha comedy. Sturdivant discussed topics like feminism, racism, misogyny, life, death, and the absurdity of being alive. In 2012, Sturdivant joined together with Rhea Dowhower to form the Badland Girls, one-part "junk culture" podcast, one-part "whimsical, comedic acoustic pop duo," as described by Hear Nebraska. In their podcast the Badland Girls tackle challenging social issues and deconstruct pop culture, while their musical performances include feminist, irreverently filthy songs inspired by queer icons like John Waters. Sturdivant lives in Papillion-La Vista with her partner, Em.
All of this and more was covered in the interview. Sturdivant's interview is available through the Queer Omaha Archives website or in UNO Libraries' Archives and Special Collections.
This post is part of a series sharing the new oral history interviews gathered as part of LGBTQ+ Voices: The Queer Omaha Archives Oral History Project.
Support Oral Histories
We rely on external funding to conduct oral history interviews, so once we have exhausted our grant funding and private gifts made by community members, collecting new interviews will be paused until we are able to raise additional funding. We need to hear from community members soon to ensure your stories are captured, preserved, and available for future generations to learn from and enjoy. If you have been contacted by the archives and are considering sharing your story, we hope to hear from you!
If you would like to support continuing the collection of and access to oral history interviews, please consider making a donation to the Queer Omaha Archives or contact us to volunteer with the project.
About Oral History and the Queer Omaha Archives
From the first conversations between students, faculty, community members, and archivists about creating the Queer Omaha Archives, there were plans to include an oral history component in the collecting initiative. Oral history has the ability to share the memories of people and communities who lived through those events with the present and future through the voices of people from our communities. LGBTQ+ Voices: The Queer Omaha Archives Oral History Project is currently collecting oral history interviews from members of the greater Omaha LGBTQ+ communities, sharing their wide-ranging experiences with their fellow Nebraskans and the world through the University of Nebraska at Omaha's Queer Omaha Archives website.
About the Queer Omaha Archives
The Queer Omaha Archives is part of UNO Libraries' Archives & Special Collections and officially launched in 2016. The Queer Omaha Archives collects and preserves materials relevant to the LGBTQ+ community in the region. Archives & Special Collections' material is available for the university community and general public at both the Dr. C.C. and Mabel L. Criss Library and online.
Visit the Omaha Oral History Blogs to learn more.