Alanna Faison
Alanna Faison interview by Luke Wegener for LGBTQ+ Voices: The Queer Omaha Archives Oral History Project now available in UNO Libraries' Archives and Special Collections.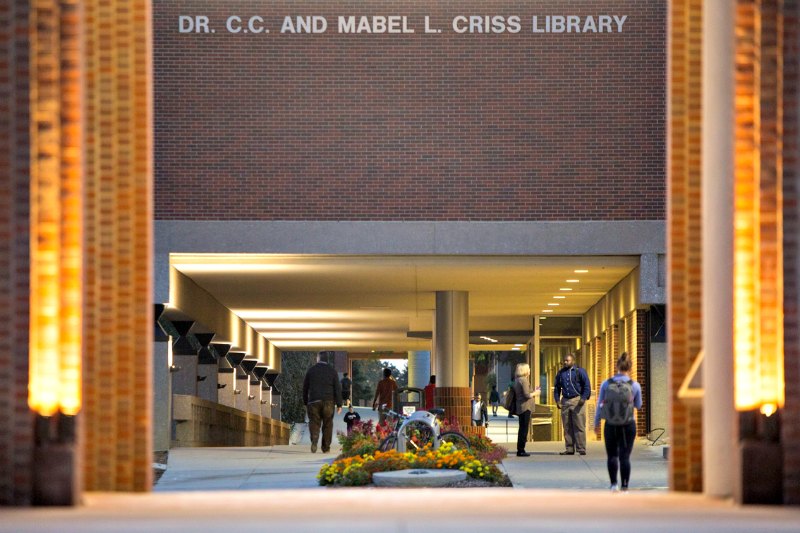 Criss Library
In April 2018, Alanna Faison was interviewed by Luke Wegener, UNO Libraries Oral History Associate, for LGBTQ+ Voices: The Queer Omaha Archives Oral History Project. The interview is 1.5 hours in length.
Ms. Alanna Faison is a science fiction writer and LGBTQ+ advocate from Omaha, Nebraska. Faison attended Omaha North High School where she took honors classes, participated in student council, played on the varsity basketball team, and graduated in the top 10% of her class. During high school Faison was mostly unaware of her sexuality until her friends began pointing out that some of the things she said "were gay" and she came out at age 15. Faison earned her BS in Criminal Justice from UNO, with minors in Psychology and Sociology. During her childhood, Faison dreamt of becoming a police officer or FBI agent, but after a shift in her views of law enforcement, she found her passion in working with at-risk youth as a Juvenile Detention Specialist at the Douglas County Youth Center. After years of writing privately as a hobby, Faison published her first novels, The Unmaking (2014) and Killer Rayne (2015) as part of the Rayne Whitmore series. In 2017, Faison published her third novel, The Edge of Awakening, as part of her new series, Soul Tamer. Faison's books center LGBTQ+ women of color, a distinctly underrepresented group in fantasy and science fiction literature. As of August 2018, Faison lives in North Omaha with her wife, Brittiney.
All of this and more was covered in the interview. Faison's interview is available through the Queer Omaha Archives website or in UNO Libraries' Archives and Special Collections.
This post is part of a series sharing the new oral history interviews gathered as part of LGBTQ+ Voices: The Queer Omaha Archives Oral History Project.
Support Oral Histories
We rely on external funding to conduct oral history interviews, so once we have exhausted our grant funding and private gifts made by community members, collecting new interviews will be paused until we are able to raise additional funding. We need to hear from community members soon to ensure your stories are captured, preserved, and available for future generations to learn from and enjoy. If you have been contacted by the archives and are considering sharing your story, we hope to hear from you!
If you would like to support continuing the collection of and access to oral history interviews, please consider making a donation to the Queer Omaha Archives or contact us to volunteer with the project.
About Oral History and the Queer Omaha Archives
From the first conversations between students, faculty, community members, and archivists about creating the Queer Omaha Archives, there were plans to include an oral history component in the collecting initiative. Oral history has the ability to share the memories of people and communities who lived through those events with the present and future through the voices of people from our communities. LGBTQ+ Voices: The Queer Omaha Archives Oral History Project is currently collecting oral history interviews from members of the greater Omaha LGBTQ+ communities, sharing their wide-ranging experiences with their fellow Nebraskans and the world through the University of Nebraska at Omaha's Queer Omaha Archives website.
About the Queer Omaha Archives
The Queer Omaha Archives is part of UNO Libraries' Archives & Special Collections and officially launched in 2016. The Queer Omaha Archives collects and preserves materials relevant to the LGBTQ+ community in the region. Archives & Special Collections' material is available for the university community and general public at both the Dr. C.C. and Mabel L. Criss Library and online.
Visit the Omaha Oral History Blogs to learn more.