More Interviews Added to Omaha Stories
Dozens of new oral history interviews from 1979-2017 to be added to Omaha Stories project.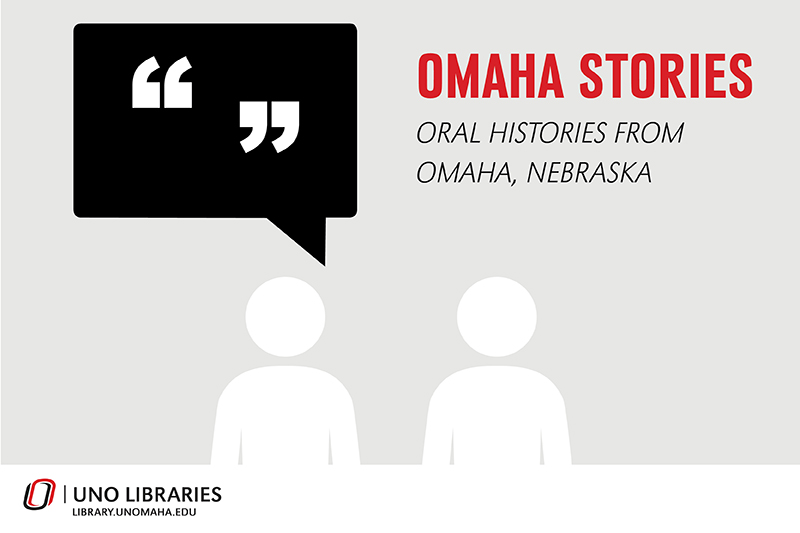 Beginning in 2018, UNO Libraries' Archives and Special Collections began sharing over 220 interviews conducted from 1974 to 2007 as part of the project Omaha Stories: Oral Histories of Omaha, Nebraska funded by Humanities Nebraska (HN) and the Nebraska Cultural Endowment. The audio and video recordings of conversations with people from Omaha are being made available online alongside descriptions of the interviews. We are pleased to share that work with the initial interviews identified for Omaha Stories has been completed by the student employees and library employees working on the project giving us time to complete more interviews to add to Omaha Stories.
The first group of additional oral history interviews added to Omaha Stories have been interviews collected in 2017-2019 for LGBTQ+ Voices: The Queer Omaha Archives Oral History Project. Two interviews collected from LGBTQ+ community members in 2016 have also been added to the website. Upcoming additions to Omaha Stories in early 2019 will include 25 interviews UNO History professor Dr. Orville Menard recorded in 1979-1980 about the Omaha political machine and related topics, interviews with members of the local LGBTQ+ communities conducted by Dr. Jay Irwin's Sociology students, interviews with Omaha women conducted by Dr. Elaine Nelson's History students, and hopefully more! We will continue to update this site as new collections of interviews are made available online.
Do you have interviews conducted with Omahans that you would like to make available to the public through Omaha Stories? Contact Director of Archives & Special Collections Amy Schindler (402.554.6046, acschindler@unomaha.edu) to discuss the project.
The Omaha Stories initiative is part of UNO Libraries' strategic priority to cultivate, share, and preserve digital resources and scholarship. Omaha Stories is funded by Humanities Nebraska (HN) and the Nebraska Cultural Endowment. The UNO Libraries' Eugene S. and Sunny M. Thomas Fund for Innovation provided matching funds.
The Omaha Stories: Oral Histories of Omaha, Nebraska website is one of many grants funded by HN. HN awards more than $257,000 in grants each year.
About Humanities Nebraska and Grant Funding
Created in 1973 as a state affiliate of the National Endowment for the Humanities, HN is an independent, non-profit organization governed by a volunteer board of public and academic members. HN funds programs that explore Nebraska's heritage, build community awareness, and strengthen our ties to cultural traditions at home and abroad. The Nebraska Cultural Endowment is a public/private partnership that designates funds to HN for distribution.
Any non-profit group is eligible to apply for a grant from HN. The HN staff is available for grant consultation and will read proposal drafts. Contact the HN office if you need assistance with a project idea. For a copy of Humanities Nebraska grant guidelines, contact HN at 215 Centennial Mall South, Suite 330, Lincoln, NE 68508, phone 402-474-2131, fax 402-474-4852, or e-mail at info@humanitiesnebraska.org. The entire grant guidelines packet is online at: http://humanitiesnebraska.org/.
Visit the Omaha Oral History Blogs to learn more.