UPDATED DATES - Criss Library De-Stress Fest Events
Take time to take a break; December 5 - 12, 2018.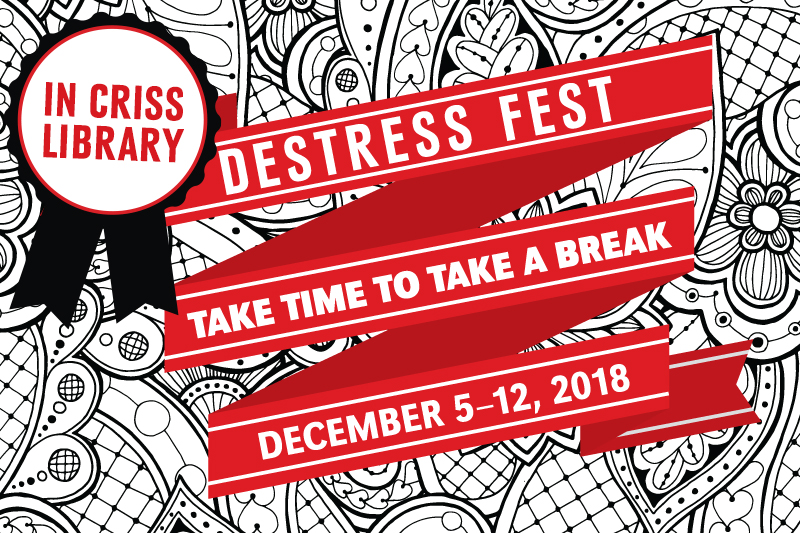 Thursday, December 6
Breakfast for Champions, 8-10 A.M., Main Floor Criss Library
Stop by the main floor of the library to fuel up for finals with coffee and breakfast bars.
Bad Art with Rob Boss, 1-3 P.M., Criss Library Room 249
Channel your inner bad artist with our guest teacher Rob Boss. The Boss will provide (bad) painting tips and all the supplies to complete a (very bad) painting. The worst painting wins a prize! Limited to 25 participants, sign up online: https://libcal.unomaha.edu/event/4838640
Escape Reality with Beat Saber, 3-5 P.M., Main Floor Criss Library
Slash the beats and dance your stress away with virtual reality game Beat Saber.
Friday, December 7
Crafternoon, 1-3 P.M., Main Floor Criss Library
Color away your stress as you make your own pinback button or shrinky dink charm. Bring your coloring mojo; we'll provide all the supplies.
24/7 Activities
These activities are available at any time and located throughout the library.
Stuffed animals for cuddling
Coloring table (outside of CPL)
Puzzles
Mini zen gardening
We also have a popular literature section, located just outside of the single study rooms on the main (second) floor, if you need a literary escape!
---
Click here to view the full list of campus De-Stress Fest activities!
Contact Us
For more information about including events and announcements in the Criss Library News Center, email us at unocrisslibrary@unomaha.edu.
Unless otherwise clearly stated, any views or opinions expressed as part of events, exhibitors, or presenters in the UNO Libraries (Dr. C.C. and Mabel L. Criss Library and the KANEKO-UNO Library) should not be viewed as endorsements by the University of Nebraska at Omaha (UNO) and do not reflect the official position of UNO or the University of Nebraska system.