UNO Libraries Present Oral History Workshop
UNO Libraries will host an oral history workshop led by Jade Rogers on Saturday, November 17th from 10 A.M. to 1 P.M. This presentation is funded by Humanities Nebraska and the Nebraska Cultural Endowment.
date: 11/17/18
time: 10:00 AM - 1:00 PM
location: CL 249 • maps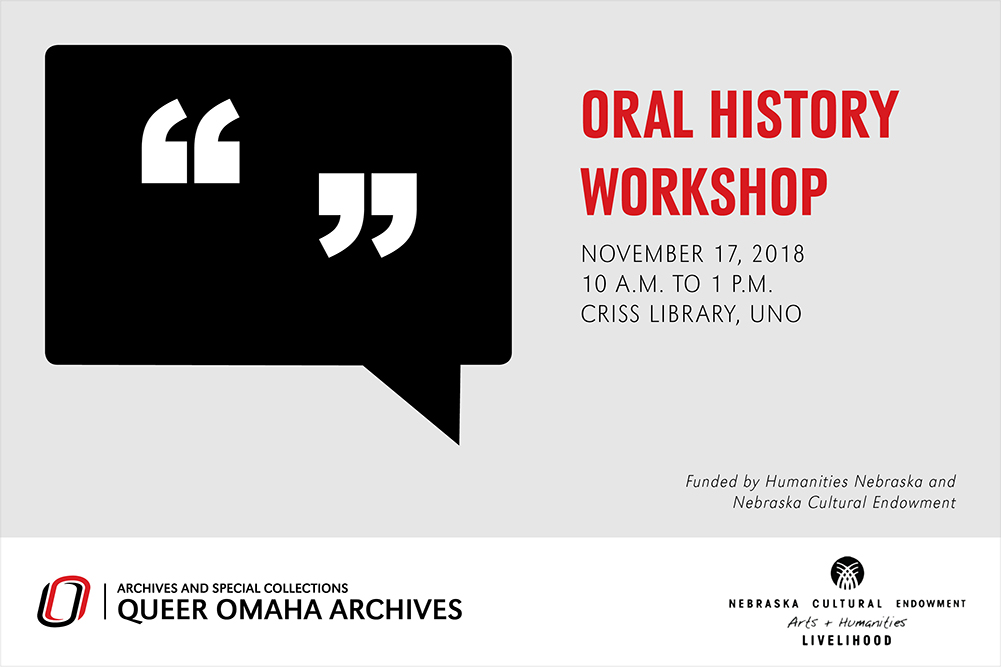 The oral history workshop will offer instruction and guidance on conducting oral history interviews led by educator, historian, and archivist Jade Rogers. The workshop will provide community members with oral history best practices, sample interview agreements, biographical questionnaires, example recording devices, and other tools. Attendees will receive instruction on developing potential projects, questions, and other planning.
The workshop is free and open to the public. No prior experience with oral history interviews is required. A light lunch will be provided. RSVPs are appreciated, but not required. Direct any questions to Amy Schindler, Director of Archives & Special Collections at UNO Libraries, acschindler@unomaha.edu or 402.554.6046.
About This Grant
The oral history workshop is part of UNO Libraries' LGBTQ+ Voices: The Queer Omaha Archives Oral History Project. Oral history has the ability to share the memories of people and communities who lived through those events with the present and future through the voices of people from our communities. LGBTQ+ Voices: The Queer Omaha Archives Oral History Project will collect oral history interviews from members of the greater Omaha and Nebraska LGBTQ+ communities, sharing their wide-ranging experiences with their fellow Nebraskans and the world through the University of Nebraska at Omaha's Queer Omaha Archives website.
LGBTQ+ Voices: The Queer Omaha Archives Oral History Project is one of many grants funded by Humanities Nebraska (HN). HN awards more than $257,000 in grants each year.
About Humanities Nebraska and Grant Funding
Created in 1973 as a state affiliate of the National Endowment for the Humanities, HN is an independent, non-profit organization governed by a volunteer board of public and academic members. HN funds programs that explore Nebraska's heritage, build community awareness, and strengthen our ties to cultural traditions at home and abroad. The Nebraska Cultural Endowment is a public/private partnership that designates funds to HN for distribution.
Any non-profit group is eligible to apply for a grant from HN. The HN staff is available for grant consultation and will read proposal drafts. Contact the HN office if you need assistance with a project idea. For a copy of Humanities Nebraska grant guidelines, contact HN at 215 Centennial Mall South, Suite 330, Lincoln, NE 68508, phone 402-474-2131, fax 402-474-4852, or e-mail at info@humanitiesnebraska.org. The entire grant guidelines packet is online at: http://humanitiesnebraska.org/.
About the Queer Omaha Archives
The Queer Omaha Archives is part of UNO Libraries' Archives & Special Collections and officially launched in 2016. The Queer Omaha Archives collects and preserves materials relevant to the LGBTQ+ community in the region. Archives & Special Collections' material is available for the university community and general public at both the Dr. C.C. and Mabel L. Criss Library and online.