Tammy Story
Tammy Story interview with Luke Wegener for LGBTQ+ Voices: The Queer Omaha Archives Oral History Project now available from UNO Libraries' Archives and Special Collections.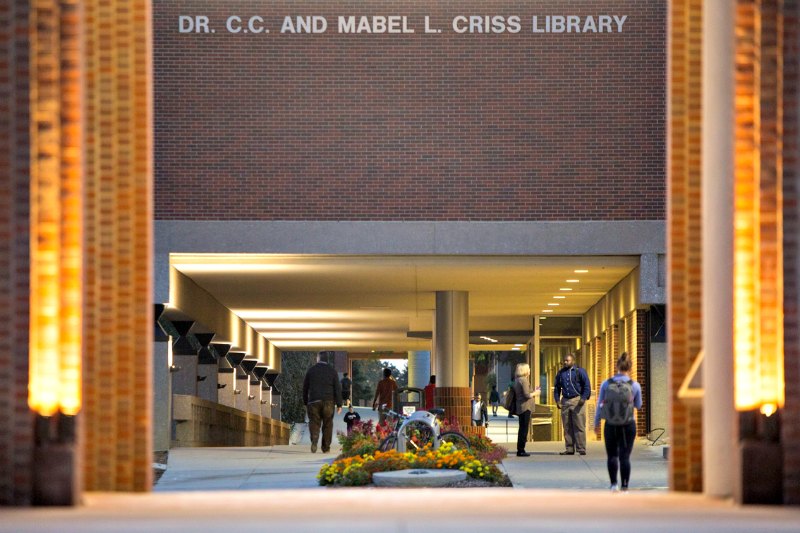 Criss Library
In March 2018, Tammy Story was interviewed by Luke Wegener, UNO Libraries Oral History Associate, for LGBTQ+ Voices: The Queer Omaha Archives Oral History Project. The interview is just over one hour in length.
Ms. Tammy Story, LGBTQ+ advocate and combat veteran, was interviewed by Luke Wegener on March 1, 2018 in Omaha, Nebraska. Story was born in Little Rock, Arkansas to a conservative, Pentecostal family in the early 1960's. As a child, Story's family made it clear to her that she was not to express her true gender identity. Story's hyper-masculine and domineering father disapproved of her femininity, which drove Story to join the U.S. Army in the hopes of making her father happy. During her 18 years of service, Story "buried herself" in the macho, toxic masculinity of the military in order to fit in with her fellow officers, which had devastating consequences for her.

After leaving the Army in 1998, Story began to use the internet to connect with others in the trans community who were coming to terms with their gender identity. Story came out in the early 2000's to her wife, and their marriage dissolved soon after. Determined not to give up, she eventually pushed forward with her medical transition. Unable to find a medical professional or therapist who was familiar with the needs of transgender patients, Story resorted to using the internet black market to find hormones, until she was finally helped out by Omaha's VA Medical Center. Over the years, Story has experienced numerous instances of discrimination, including being blocked for job promotions, receiving death threats while attending Iowa Western Community College, and losing her job at Kwik Shop for pursuing gender-affirming surgery.
Story has served as both Secretary and President of Nebraska's River City Gender Alliance. As of March 2018, Story is employed by K-Mart and resides in Council Bluffs, Iowa.
All of this and more was covered in the interview. Story's interview is available through the Queer Omaha Archives website or in UNO Libraries' Archives and Special Collections.
This post is part of a series sharing previews of the new oral history interviews gathered as part of LGBTQ+ Voices: The Queer Omaha Archives Oral History Project.
Support Oral Histories
We rely on external funding to conduct oral history interviews, so once we have exhausted our grant funding and private gifts made by community members, collecting new interviews will be paused until we are able to raise additional funding. We need to hear from community members soon to ensure your stories are captured, preserved, and available for future generations to learn from and enjoy. If you have been contacted by the archives and are considering sharing your story, we hope to hear from you!
If you would like to support continuing the collection of and access to oral history interviews, please consider making a donation to the Queer Omaha Archives or contact us to volunteer with the project.
About Oral History and the Queer Omaha Archives
From the first conversations between students, faculty, community members, and archivists about creating the Queer Omaha Archives, there were plans to include an oral history component in the collecting initiative. Oral history has the ability to share the memories of people and communities who lived through those events with the present and future through the voices of people from our communities. LGBTQ+ Voices: The Queer Omaha Archives Oral History Project is currently collecting oral history interviews from members of the greater Omaha LGBTQ+ communities, sharing their wide-ranging experiences with their fellow Nebraskans and the world through the University of Nebraska at Omaha's Queer Omaha Archives website.
About the Queer Omaha Archives
The Queer Omaha Archives is part of UNO Libraries' Archives & Special Collections and officially launched in 2016. The Queer Omaha Archives collects and preserves materials relevant to the LGBTQ+ community in the region. Archives & Special Collections' material is available for the university community and general public at both the Dr. C.C. and Mabel L. Criss Library and online.
Visit the Omaha Oral History Blogs to learn more.