Shelton Hendricks
Shelton Hendricks interview now available from UNO Libraries' Archives and Special Collections.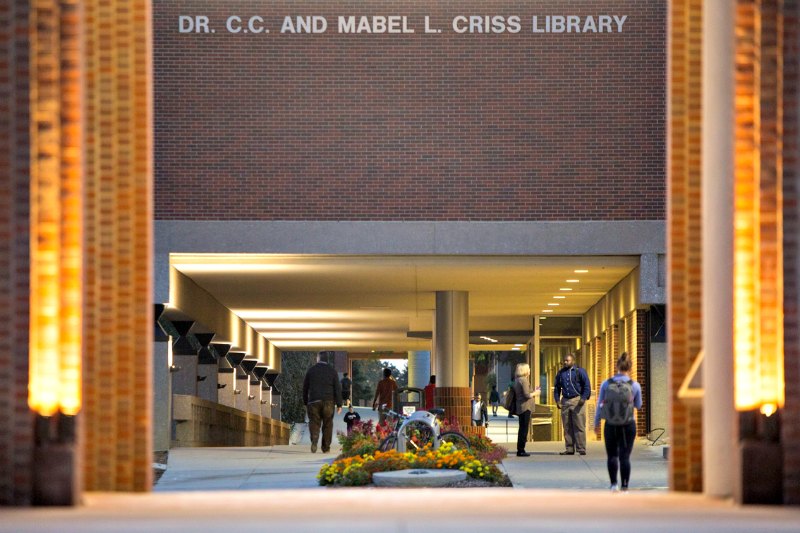 Criss Library
In August 2016, Shelton Hendricks was interviewed by Jay Irwin and Amy Schindler for the Queer Omaha Archives. The interview is just over 1 hour in length.
Dr. Shelton Hendricks, born in New Orleans, Louisiana in the early 1940's, was a white, gay man, longtime Professor of Psychology at the University of Nebraska Omaha, and according to the Omaha World-Herald, an "inspiring teacher and brilliant researcher" in the field of behavioral neuroscience. Hendricks attended Tulane University in New Orleans, where he received both his undergraduate and graduate degrees, culminating in a Ph.D. in behavioral neuroscience. Hendricks married Susan Swan Hendricks (1944-2011) in 1968 and together they had three children.

In 1969, Hendricks accepted a position at UNO, and taught as a Professor of Psychology for 43 years, until his retirement in 2012. During his time at UNO, Hendricks also served as Chair of the Department of Psychology, Dean for Graduate Studies, Associate Vice Chancellor for Research, and Dean of the College of Arts and Sciences. Hendricks was a founding member of the Society for Behavioral Neuroendocrinology (formerly the Conference on Reproductive Behavior) and an active member of the American Association of University Professors, First Unitarian Universalist Church, and Nebraska ACLU.
After his wife Susan's death in 2011, Dr. Hendricks retired, came out as a gay man and in 2015 married partner Andrew Stevenson. In 2014, Dr. Hendricks was diagnosed with metastasized melanoma, and after a long battle with the illness, he passed away in 2016.
All of this and more was covered in the interview.
The interview is available through the Queer Omaha Archives website or in UNO Libraries' Archives and Special Collections.
This post is part of a series sharing previews of the new oral history interviews collected for the Queer Omaha Archives.
Support Oral Histories
We rely on external funding to conduct oral history interviews, so once we have exhausted our grant funding and private gifts made by community members, collecting new interviews will be paused until we are able to raise additional funding. We need to hear from community members soon to ensure your stories are captured, preserved, and available for future generations to learn from and enjoy. If you have been contacted by the archives and are considering sharing your story, we hope to hear from you!
If you would like to support continuing the collection of and access to oral history interviews, please consider making a donation to the Queer Omaha Archives or contact us to volunteer with the project.
About Oral History and the Queer Omaha Archives
From the first conversations between students, faculty, community members, and archivists about creating the Queer Omaha Archives, there were plans to include an oral history component in the collecting initiative. Oral history has the ability to share the memories of people and communities who lived through those events with the present and future through the voices of people from our communities. LGBTQ+ Voices: The Queer Omaha Archives Oral History Project is currently collecting oral history interviews from members of the greater Omaha LGBTQ+ communities, sharing their wide-ranging experiences with their fellow Nebraskans and the world through the University of Nebraska at Omaha's Queer Omaha Archives website.
About the Queer Omaha Archives
The Queer Omaha Archives is part of UNO Libraries' Archives & Special Collections and officially launched in 2016. The Queer Omaha Archives collects and preserves materials relevant to the LGBTQ+ community in the region. Archives & Special Collections' material is available for the university community and general public at both the Dr. C.C. and Mabel L. Criss Library and online.
Visit the Omaha Oral History Blogs to learn more.