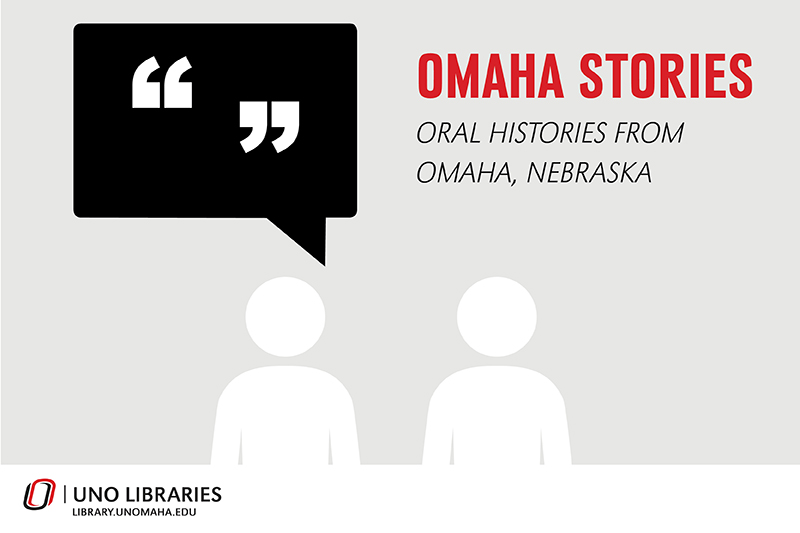 The UNO Libraries announced recently that all the interviews conducted by students of Emeritus Professor Michael Tate from 1970-1980 are available as part of the Omaha Stories: Oral Histories of Omaha, Nebraska project. While the interviews were conducted by several interviewers working on different projects over several years, a number of recurring subjects and themes present themselves in multiple interviews. For example, Sarpy County is mentioned in several interviews with individuals who lived and worked in Bellevue and the county.
The oral history interview of Julia (Inga) Eberhart by UNO student William H. Turner, Jr. on February 2, 1979 is about Bellevue, Nebraska. Eberhart discussed what the city of Bellevue, Nebraska, was like from the 1900s through the 1950s. Eberhard talked about the people, businesses, and buildings in Bellevue and what it was like to grow up in what was then a farming community. Eberhart also talked about her first and second husbands and other families and friends that she knew in Bellevue.
The oral history interview of Willard Kentner conducted by UNO student William H. Turner, Jr. on October 26, 1978 is about his life in Bellevue, Nebraska. Kentner lived in Bellevue from 1913 to 1943. Kentner shared what the town looked like back then, Bellevue businesses, and what it was like to grow up in Bellevue in general. Kentner came from a farming family and was a farmer himself, so he told several stories involving the farm. There were also a few natural disasters in his time in Bellevue, including the flood of 1932 and tornadoes.
UNO student William H. Turner, Jr. interviewed John W. Reickes about his time as a firefighter for the Bellevue Fire Department in Bellevue, Nebraska on September 21, 1978. Reickes worked for the Bellevue Fire Department from the 1940s to the 1970s. The two discussed the changes in the physical building of the fire department, changes in technology, mergers with other fire departments, and Reickes' career including his work for the Works Progress Administration (WPA) during the Great Depression and the Bellevue Water Department. The interview took place on September 21, 1978 after Reickes had been retired from the Fire Department for about five years.
The oral history interview with William Robinson was conducted by UNO student William Turner on November 2, 1978. Robinson shared his remembrances of Bellevue, Nebraska during the early 1900s. Robinson discussed individual people, infrastructure, and development of the city of Bellevue.
These and dozens of other interviews are part of the American Indian Oral History and Omaha Folklore Project Oral History Collection in UNO Libraries' Archives & Special Collections.
Visit the Omaha Oral History Blogs to learn more.
Contact Us
For more information about including events and announcements in the Criss Library News Center, email us at unocrisslibrary@unomaha.edu.
Unless otherwise clearly stated, any views or opinions expressed as part of events, exhibitors, or presenters in the UNO Libraries (Dr. C.C. and Mabel L. Criss Library and the KANEKO-UNO Library) should not be viewed as endorsements by the University of Nebraska at Omaha (UNO) and do not reflect the official position of UNO or the University of Nebraska system.