Borin Chep
Borin Chep interview by Luke Wegener for LGBTQ+ Voices: The Queer Omaha Archives Oral History Project now available in UNO Libraries' Archives and Special Collections.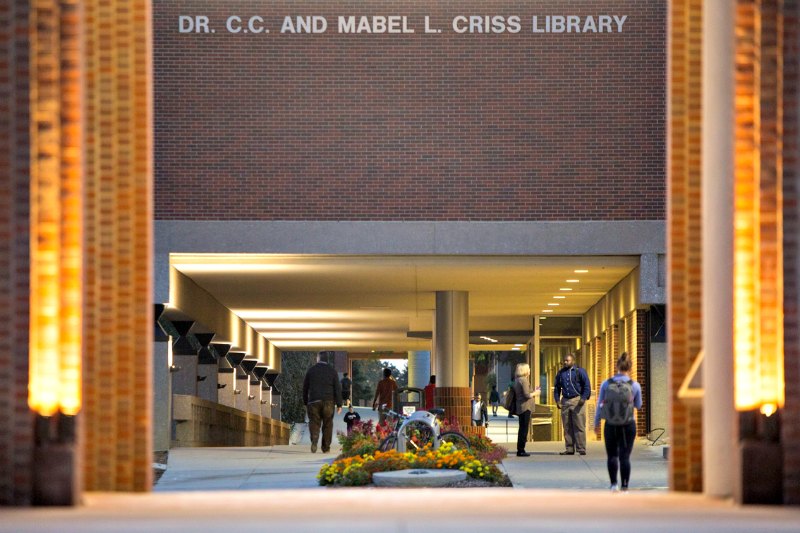 Criss Library
In March 2018, Borin Chep was interviewed by Luke Wegener, UNO Libraries Oral History Associate, for LGBTQ+ Voices: The Queer Omaha Archives Oral History Project. The interview is just over 2 hours in length.
Please note trigger warnings for descriptions of violence, death, and abuse.
Mr. Borin Chep, LGBTQ+ advocate and UNO graduate student, was interviewed by Luke Wegener on March 22, 2018, in Omaha, Nebraska. Chep was born in Columbus, Ohio to refugee parents who fled Cambodia during the Khmer Rouge genocide in the early 1980's. Raised by his mother and not knowing his biological father, Chep's first 10 years were spent in Long Beach, California, in a community made up of Cambodian refugees. Chep's family experienced poverty and homelessness, frequently sleeping on park benches and in cars.
After his mother married, Chep, his mother and four sisters moved into a one-bedroom apartment with a bathroom, which felt like a luxury in comparison to their previous living situation. The family had to sleep on a mattress on the floor away from the windows, as the area they lived in was plagued by gang violence between the Crips and Bloods. Until 3rd grade, Chep could not read or write English, but finally taught himself by playing Final Fantasy video games and learning from the dialog boxes.
When Chep was 10, his family fled to Kansas City, Missouri to escape his abusive stepfather. Overnight, Chep's life in Long Beach was uprooted, possessions left behind, and he had to start over. It turned out the Cambodian refugee community in Kansas City was much smaller, less tight-knit, and Christian, so Chep and his family had to convert to Christianity. No longer surrounded at school by other children of refugees with similar socioeconomic backgrounds, Chep began to understand what it meant to be the child of refugees, and how he was different than his peers. Many of his classmates' parents were doctors, lawyers, or held other prestigious titles. Chep felt ashamed of his background and lied to his peers about his home life and family, hoping they wouldn't find out he was poor.
Shortly after moving to Kansas City, Chep's mother was diagnosed with disorganized schizophrenia, and she became known in the Cambodian community as "Crazy Lady." The stigma attached to his mother's mental illness alienated him from others. When Chep was 10 years old, his mother had a schizophrenic episode and was hospitalized for months. During this time, Chep was forced to fend for himself, using a credit card his mother left behind and getting himself to school. When his mother returned home, her absence was never discussed.
As Chep got older, he "toughened up" and put on a hyper-masculine facade to fit in with his peers and appear "cool." In high school he joined a queer youth group in Kansas City called Passages, where he met and befriended other LGBTQIA+ youth. Coming more into his own as a gay teen, Chep came out to a close friend, who he knew would tell others at school. His classmates found out about his sexuality, but it was a non-issue since Chep was a "cool kid" and had a tough image. Chep later even came out to the members of his rugby team and was met with acceptance and encouragement. Coming out to family for Chep was not as smooth, though, as his mother's reaction to his sexuality was that he would "go to hell" - the response he expected.
Chep moved to Omaha in 2009 to be with his husband, John. In Omaha, Chep began taking classes at Metropolitan Community College where he discovered his love of film, and joined the campus LGBTQ+ support group, Spectrum. Wanting to continue his education, Chep enrolled at UNO, found a good support system, and created the LGBTQIA+ student group Lez Bi Real Queer. Chep eventually went on to become Director of UNO's Gender and Sexual Orientation Student Agency from 2014-2015, where he won Student Organization Director of the Year. Chep earned his BA in Media Studies from UNO in 2015, and is currently a graduate student in UNO's School of Communication, where he won the 2018 Outstanding Graduate Teaching Assistant award. Chep plans to continue his education and pursue a PhD.
All of this and more was covered in the interview. Chep's interview is available through the Queer Omaha Archives website or in UNO Libraries' Archives and Special Collections.
This post is part of a series sharing previews of the new oral history interviews gathered as part of LGBTQ+ Voices: The Queer Omaha Archives Oral History Project.
Support Oral Histories
We rely on external funding to conduct oral history interviews, so once we have exhausted our grant funding and private gifts made by community members, collecting new interviews will be paused until we are able to raise additional funding. We need to hear from community members soon to ensure your stories are captured, preserved, and available for future generations to learn from and enjoy. If you have been contacted by the archives and are considering sharing your story, we hope to hear from you!
If you would like to support continuing the collection of and access to oral history interviews, please consider making a donation to the Queer Omaha Archives or contact us to volunteer with the project.
About Oral History and the Queer Omaha Archives
From the first conversations between students, faculty, community members, and archivists about creating the Queer Omaha Archives, there were plans to include an oral history component in the collecting initiative. Oral history has the ability to share the memories of people and communities who lived through those events with the present and future through the voices of people from our communities. LGBTQ+ Voices: The Queer Omaha Archives Oral History Project is currently collecting oral history interviews from members of the greater Omaha LGBTQ+ communities, sharing their wide-ranging experiences with their fellow Nebraskans and the world through the University of Nebraska at Omaha's Queer Omaha Archives website.
About the Queer Omaha Archives
The Queer Omaha Archives is part of UNO Libraries' Archives & Special Collections and officially launched in 2016. The Queer Omaha Archives collects and preserves materials relevant to the LGBTQ+ community in the region. Archives & Special Collections' material is available for the university community and general public at both the Dr. C.C. and Mabel L. Criss Library and online.
Visit the Omaha Oral History Blogs to learn more.