Sioux Indian Center
Oral history interviews from the 1970s with board members of the Sioux Indian Center of Omaha are available from the Omaha Stories project.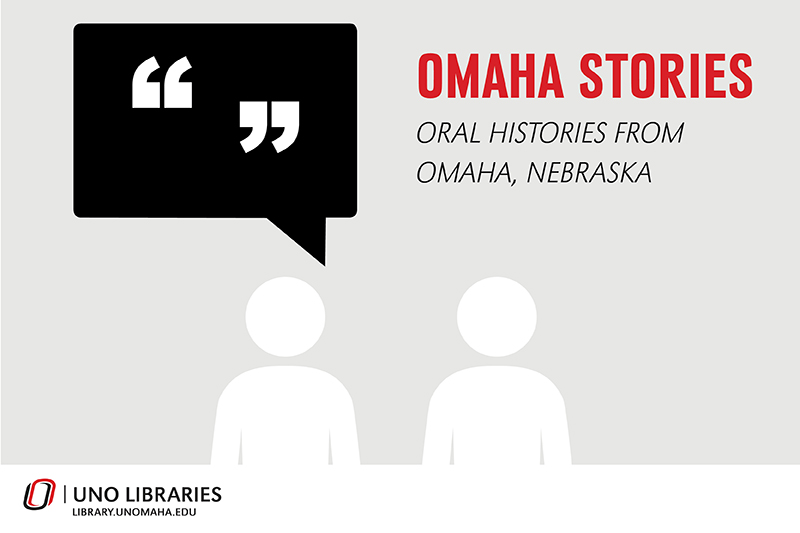 Omaha Stories Oral History Project
The UNO Libraries announced recently that all interviews conducted by students of UNO History Professor Michael Tate from 1970-1980 are available as part of the Omaha Stories: Oral Histories of Omaha, Nebraska project. While the interviews were conducted by multiple individuals on a variety of topics over several years, a number of recurring subjects and themes present themselves in multiple interviews.
The collection of audio interviews includes two recordings with members of the Sioux Indian Center in Omaha from 1975 and 1977. The Sioux Indian Center was located at 4851 Redman Avenue and held its grand opening on October 4, 1975. According to an Omaha World-Herald article, which quoted center volunteer Mrs. Alex (perhaps Margaret?) Lunderman, the grand opening would include an opening mass, speeches by Omaha mayor Ed Zorinksy, Chief Red Cloud of the Oglala Sioux, and Nebraska Indian Commissioner Robert Mackey, as well as prayers by Charles Kills Enemey and Mark Big Road. Lunderman indicated the center would provide food, housing, and transportation for those in need. The center was staffed by volunteers with income from donations and a $6,000 grant from the Catholic Campaign for Human Development.
The first recording features Alex Lunderman, Charles Scutter, Louie Mooncamp, and Steven Greenberg with other unidentified male and female members adding their voices. The board members spoke about the Wounded Knee Trials and their plans to support their fellow American Indians through pow wows and other fundraising efforts. The second part of the recording is a three-part performance of American Indian music with one of the songs performed in honor of a grandson's birthday. The recording was made by UNO student Emmett Hector.
In 1977, Sioux Indian Center board members Jim Hogner, Pat Faircloth, Jim Faircloth, Ike Clunen (uncertain spelling?), and Buddy Young were interviewed about the center and its operations. The men also discussed operations of the Bureau of Indian Affairs, civil rights, Wounded Knee II on the Pine Ridge Reservation in South Dakota, city vs. reservation life, government relocation, tribal traditions including songs and dances, and Nebraska reservations. The board members were interviewed by UNO student Linda Rudloff.
These and dozens of other interviews are part of the American Indian Oral History and Omaha Folklore Project Oral History Collection in UNO Libraries' Archives & Special Collections.
Interested in learning more about Native American history? The library's Native American Studies Research Guide is a good place to start.
Visit the Omaha Oral History Blogs to learn more.