Shari Baumer
Shari Baumer interview by Luke Wegener for LGBTQ+ Voices: The Queer Omaha Archives Oral History Project now available in UNO Libraries' Archives and Special Collections.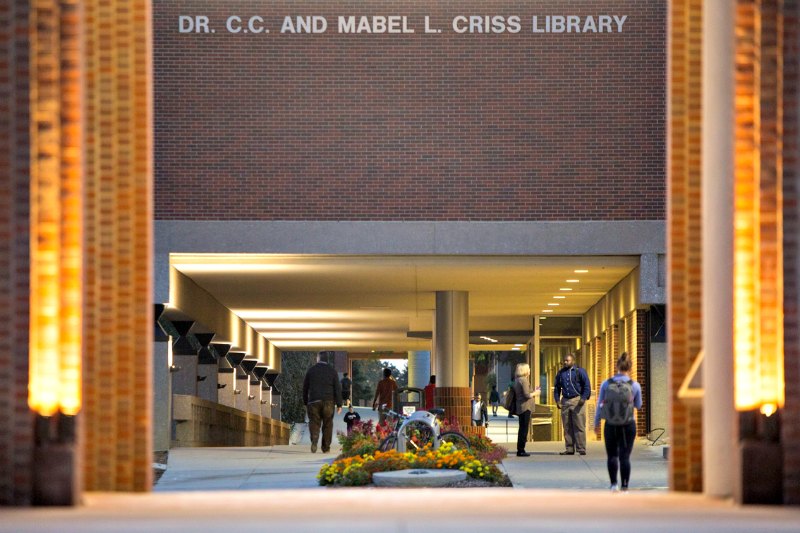 Criss Library
In March 2018, Shari Baumer was interviewed by Luke Wegener, UNO Libraries Oral History Associate, for LGBTQ+ Voices: The Queer Omaha Archives Oral History Project. The interview is just over 2 hours in length.
Please note trigger warnings for domestic violence, sexual abuse, and substance abuse.
Shari Baumer, Omaha LGBTQ+ advocate, was interviewed by Luke Wegener on March 29, 2018 in Omaha, Nebraska. Baumer was born in Milford, Nebraska, in a home for unwed mothers, and spent her first year in an orphanage in Lincoln, Nebraska. After being adopted by an Italian American couple, Baumer moved to Grand Island, where she spent the first 6 years of her childhood before moving to Omaha. Baumer grew up as an only child and her home life was difficult, as her mother was mentally ill, her parents' marriage was broken, and she was regularly shamed for her Mexican and Native American heritage.
After her parents' divorce during Baumer's freshman year at Holy Name High School, she was active in school activities and made a supportive group of friends. Baumer had a brief stint at Creighton University after high school, but was unable to keep up with the work, and was drinking and partying heavily. In 1965, at age 19, Baumer began working at Mutual of Omaha as a File Clerk, working her way up to becoming a Systems Analyst over the next 21 years, until she left the company in 1986. During this time, Baumer was supporting and sharing a home with her abusive mother and binge drinking until her mother's death in 1984 sparked a turning point in her life. Baumer began seeing a therapist, opened up about her mother's abusive behavior, and eventually got sober.
After attending LGBT-specific AA meetings with a friend in 1985, it began to dawn on Baumer that she was gay. In 1986, Baumer met her partner Mary Anne at an AA meeting, and they have been together for 32 years, eventually marrying in Iowa in 2015. In 1996, Baumer began working for CHI Health and retired from the company in 2011. Along with her wife Mary Anne, Baumer is active in supporting organizations like Human Rights Campaign, National Center for Lesbian Rights, Omaha's Second Unitarian Church, and is one of the founding members of Open Arms Trans Social Group (OATS), a support group for trans youth, adults, their friends and families.
In this interview, Baumer also discusses reconnecting with her adoptive father after 20 years, meeting some of her birth family, learning about her Mexican and Native American background, and her relationships with her step-children and step-grandchildren.
All of this and more was covered in the interview. Baumer's interview is available through the Queer Omaha Archives website or in UNO Libraries' Archives and Special Collections.
This post is part of a series sharing previews of the new oral history interviews gathered as part of LGBTQ+ Voices: The Queer Omaha Archives Oral History Project.
Support Oral Histories
We rely on external funding to conduct oral history interviews, so once we have exhausted our grant funding and private gifts made by community members, collecting new interviews will be paused until we are able to raise additional funding. We need to hear from community members soon to ensure your stories are captured, preserved, and available for future generations to learn from and enjoy. If you have been contacted by the archives and are considering sharing your story, we hope to hear from you!
If you would like to support continuing the collection of and access to oral history interviews, please consider making a donation to the Queer Omaha Archives or contact us to volunteer with the project.
About Oral History and the Queer Omaha Archives
From the first conversations between students, faculty, community members, and archivists about creating the Queer Omaha Archives, there were plans to include an oral history component in the collecting initiative. Oral history has the ability to share the memories of people and communities who lived through those events with the present and future through the voices of people from our communities. LGBTQ+ Voices: The Queer Omaha Archives Oral History Project is currently collecting oral history interviews from members of the greater Omaha LGBTQ+ communities, sharing their wide-ranging experiences with their fellow Nebraskans and the world through the University of Nebraska at Omaha's Queer Omaha Archives website.
About the Queer Omaha Archives
The Queer Omaha Archives is part of UNO Libraries' Archives & Special Collections and officially launched in 2016. The Queer Omaha Archives collects and preserves materials relevant to the LGBTQ+ community in the region. Archives & Special Collections' material is available for the university community and general public at both the Dr. C.C. and Mabel L. Criss Library and online.
Visit the Omaha Oral History Blogs to learn more.