Rosebud Sioux Tribe
Interviews about the Rosebud Sioux Tribe are now available from the Omaha Stories: Oral Histories of Omaha, Nebraska project.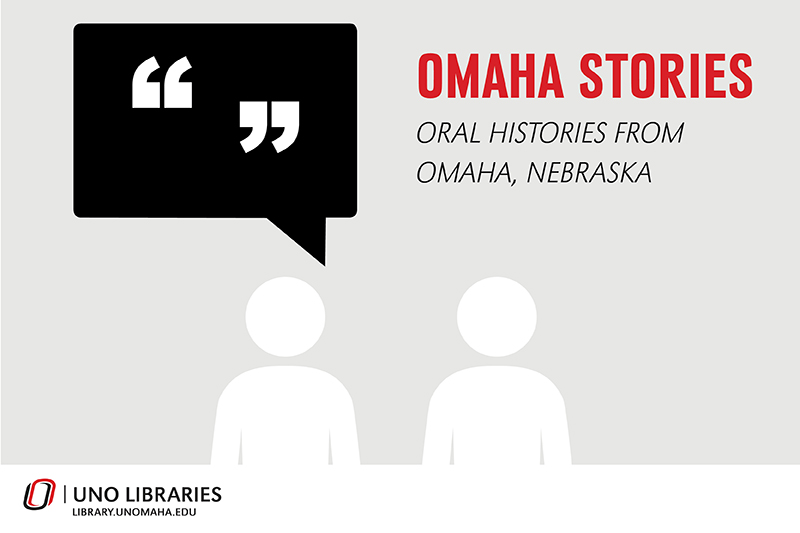 Omaha Stories: Oral History Project
The UNO Libraries announced recently that all the interviews conducted by students of Emeritus Professor Michael Tate from 1970-1980 are available as part of the Omaha Stories: Oral Histories of Omaha, Nebraska project. While the interviews were conducted by several interviewers working on different projects over several years, a number of recurring subjects and themes present themselves in multiple interviews. For example, the Rosebud Sioux Tribe is mentioned in several interviews with individuals and the board of the Omaha Sioux Indian Center.
Al Fast Horse, Brule Sioux, was interviewed by Hugh Riley in 1977. Fast Horse was educated by his grandfather in the traditional way of the Lakota tribes including the skills necessary to become the tribal medicine man. In this interview, Al Fast Horse talked about his vision to find the Medicine Hat Horse, how his vision came to fruition, and how his vision moved on to health care and other needs on the reservations.
In the 1975 oral history interview of the Director of the Sioux Indian Center, Alex Lunderman, Brule Sioux, discussed many things, including current conditions on the Pine Ridge Indian Reservation as well as Wounded Knee, the occupation, and related events. Lunderman grew up on the Rosebud Sioux Reservation. He attended the St. Francis mission school, but also attended the Rosebud boarding school for one year leaving when he could not adapt. He shared his experience with assimilation attempts and the treatment of the children attending the schools.
A 1975 interview with members of the board of the Omaha Sioux Indian Center included Alex Lunderman, Charles Scutter, Louie Mooncamp, Steven Greenberg, and others. The interviewees spoke about the Wounded Knee trials and their plans to support their fellow American Indians during the trials including with pow wows and other fundraising.
James Wilson was a U.S. Magistrate in charge of the Wounded Knee trials. In his 1975 interview, Wilson discussed background on tribal and reservation judicial processes before sharing specific information about the trials from his perspective.
These and dozens of other interviews are part of the American Indian Oral History and Omaha Folklore Project Oral History Collection in UNO Libraries' Archives & Special Collections.
Interested in learning more about events at Wounded Knee or Native American history? The library's Native American Studies Research Guide is a good place to start.
Visit the Omaha Oral History Blogs to learn more.