ProQuest and RefWorks Scheduled Shutdown for Maintenance, Saturday, August 18, 2018
date: 08/18/18 - 08/19/18
time: 11:00 AM - 5:00 AM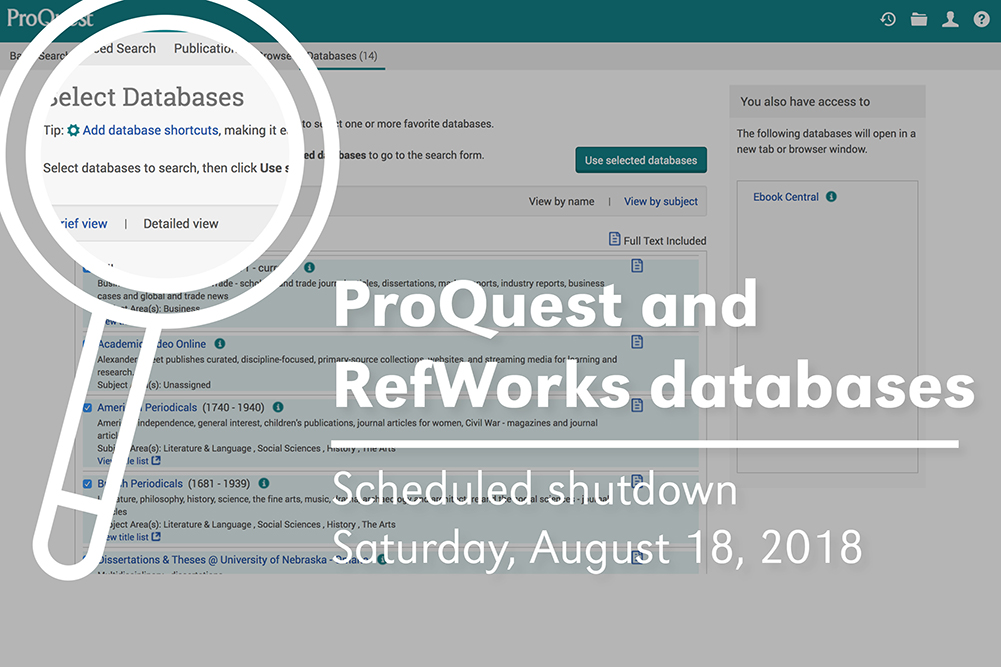 ProQuest database and its platforms will have scheduled downtime on Saturday, August 18th, for maintenance. Ebook Central is scheduled to be down for five hours around 11 A.M. (central time). ProQuest Databases and RefWorks are scheduled to be down for 8 hours starting at 9 P.M. (central time).
---
Message from ProQuest:
Product Maintenance Notification Update
Dear Valued Customer:
To maintain the currency and security of ProQuest platforms, we are performing maintenance on many ProQuest products beginning on August 18, 2018, U.S. Eastern Time. During the maintenance window, the following products will be temporarily unavailable.
Books products: rescheduled to Saturday, August 18 at 12 p.m. U.S. Eastern Time. Maintenance will conclude within 5 hours.
Ebook Central
LibCentral
PubCentral
OASIS
All other products: Saturday, August 18 at 10 p.m. U.S. Eastern Time. Maintenance will conclude within 8 hours.
Research databases
ProQuest platform (search.proquest.com)
ProQuest Congressional (congressional.proquest.com)
ProQuest Dialog (search.proquest.com/professional)
Chadwyck-Healey databases (U.S. customers only)
CultureGrams
eLibrary (all editions)
ProQuest Digital Microfilm
ProQuest Obituaries
ProQuest Research Companion
SIRS (all editions)
Ancestry Library Edition
Digital Sanborn Maps
ProQuest/UMI ETD Administrator
Reference management/Research support tools
Bibliographic and catalog enrichment resources
Books in Print
LibraryThing for Libraries
Resources for College Libraries
ProQuest Syndetic Solutions
Ex-Libris-Workflow Solutions
Contact Us
For more information about including events and announcements in the Criss Library News Center, email us at unocrisslibrary@unomaha.edu.
Unless otherwise clearly stated, any views or opinions expressed as part of events, exhibitors, or presenters in the UNO Libraries (Dr. C.C. and Mabel L. Criss Library and the KANEKO-UNO Library) should not be viewed as endorsements by the University of Nebraska at Omaha (UNO) and do not reflect the official position of UNO or the University of Nebraska system.