Kristi Carter
Kristi Carter interview by Luke Wegener for LGBTQ+ Voices: The Queer Omaha Archives Oral History Project now available in UNO Libraries' Archives and Special Collections.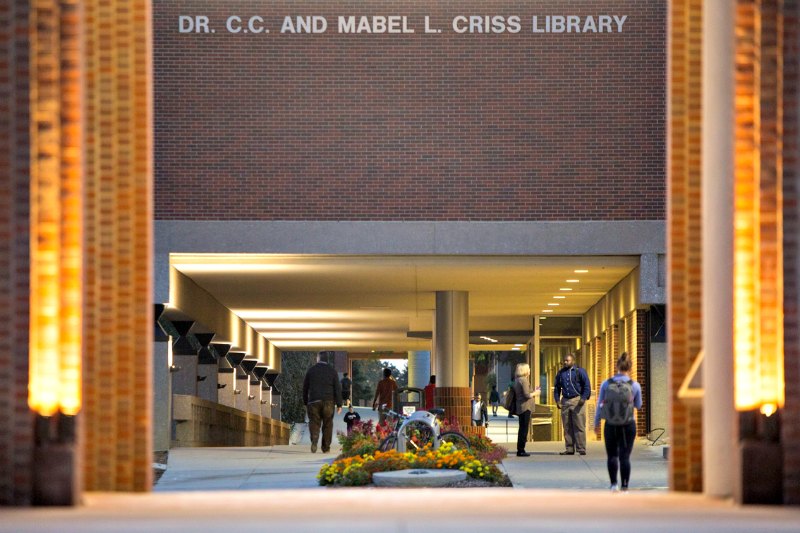 Criss Library
In December 2017, Kristi Carter was interviewed by Luke Wegener, UNO Libraries Oral History Associate, for LGBTQ+ Voices: The Queer Omaha Archives Oral History Project. The interview is over 1.5 hours in length.
Dr. Kristi Carter, poet, author, LGBTQ+ advocate and lecturer of English and Women's and Gender Studies at UNL, was born in rural Stokes County, North Carolina to a conservative, working class family. Growing up with a difficult, unstable mother and disengaged father in a dysfunctional family, Carter learned to escape and survive through art and writing. It was later through this exposure to literature, poetry, and art that Carter began to discover she was queer.
In high school during the early 2000's, Carter began to date girls, but felt her male friends did not take her pansexual identity seriously, while her grandparents believed it was just a phase. She was forced to sneak around with her girlfriend, since both knew there would be serious repercussions if their relationship was discovered outside of school. Finding no support outside of her circle of friends and relationships, and no accessible depictions of LGBTQ+ people in the media she consumed, Carter felt the stress of hiding and constantly being invalidated in her identity.
In 2005, Carter graduated high school and started college at Appalachian State University in Boone, North Carolina. She began to find her voice as a writer and graduated with a BA in Creative Writing in 2009. With encouragement from professors who believed in her talent and vision, Carter went on to earn an MFA in Creative Writing-Poetry from Oklahoma State University (Stillwater, OK) in 2012 and PhD in Creative Writing-Poetry with a concentration in Women's and Gender Studies from University of Nebraska-Lincoln in 2017. Influenced by the complicated and dysfunctional relationship with her mother, Carter's PhD work focused on examining the intersection of gender and intergenerational trauma in 20th century poetics.
While in her MFA program at OSU, Carter struggled to find other LGBTQ+ people for support. In her undergraduate years, she had struggled with dating men who invalidated her identity, but that changed when at the beginning of her MFA, she met her long-term partner, Alan. He embraced his own gender fluidity and queerness in a way she had not experienced with a male partner before. Conversely, Carter has known her sexuality would be "violently rejected and admonished" by her immediate family, and she is no longer in contact with them.
While still presently struggling with feelings of invisibility in the LGBTQ+ community as a pansexual woman with a male partner, Carter has found a good community in Lincoln. With support from mentors such as Stacey Waite, Kwame Dawes, Maureen Honey, and her partner Alan, Carter has continued to evolve in her writing and exploration of identity.
In this interview, Carter also discusses how her pansexual identity influences her teaching, the development of her feminist identity, the impact of the current Trump administration, and reads aloud her poem "Apology, For E" published in literary zine "Alyss" (2017).
All of this and more was covered in the interview. Carter's interview is available through the Queer Omaha Archives website or in UNO Libraries' Archives and Special Collections.
This post is part of a series sharing previews of the new oral history interviews gathered as part of LGBTQ+ Voices: The Queer Omaha Archives Oral History Project.
Support Oral Histories
We rely on external funding to conduct oral history interviews, so once we have exhausted our grant funding and private gifts made by community members, collecting new interviews will be paused until we are able to raise additional funding. We need to hear from community members soon to ensure your stories are captured, preserved, and available for future generations to learn from and enjoy. If you have been contacted by the archives and are considering sharing your story, we hope to hear from you!
If you would like to support continuing the collection of and access to oral history interviews, please consider making a donation to the Queer Omaha Archives or contact us to volunteer with the project.
About Oral History and the Queer Omaha Archives
From the first conversations between students, faculty, community members, and archivists about creating the Queer Omaha Archives, there were plans to include an oral history component in the collecting initiative. Oral history has the ability to share the memories of people and communities who lived through those events with the present and future through the voices of people from our communities. LGBTQ+ Voices: The Queer Omaha Archives Oral History Project is currently collecting oral history interviews from members of the greater Omaha LGBTQ+ communities, sharing their wide-ranging experiences with their fellow Nebraskans and the world through the University of Nebraska at Omaha's Queer Omaha Archives website.
About the Queer Omaha Archives
The Queer Omaha Archives is part of UNO Libraries' Archives & Special Collections and officially launched in 2016. The Queer Omaha Archives collects and preserves materials relevant to the LGBTQ+ community in the region. Archives & Special Collections' material is available for the university community and general public at both the Dr. C.C. and Mabel L. Criss Library and online.
Visit the Omaha Oral History Blogs to learn more.