George Wolf
George Wolf interview by Luke Wegener for LGBTQ+ Voices: The Queer Omaha Archives Oral History Project now available in UNO Libraries' Archives and Special Collections.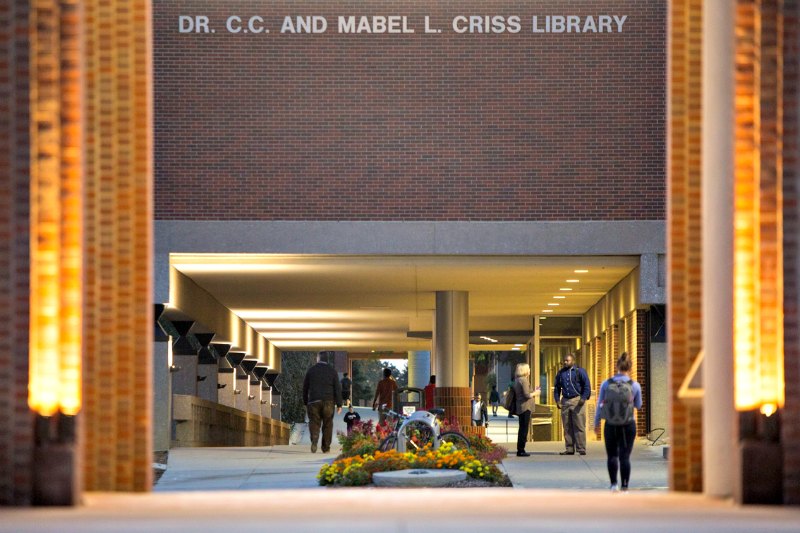 Criss Library
In December 2017, George Wolf was interviewed by Luke Wegener, UNO Libraries Oral History Associate, for LGBTQ+ Voices: The Queer Omaha Archives Oral History Project. The interview is just over 3.5 hours in length.
Dr. George Wolf, retired UNL Associate English Professor and LGBTQ+ activist, was interviewed by Luke Wegener on December 1, 2017 in Lincoln, Nebraska. Wolf was born in Brooklyn, New York to George and Frances Wolf and grew up in a working-class, Presbyterian family. As a child, Wolf struggled with his father's mental illness, angry outbursts, and frequent psychiatric hospitalizations. Intellectually gifted and more mature than his peers, Wolf enjoyed sharing his knowledge with classmates, reading about world events and politics. Growing up in the 1940's, Wolf was aware of his same-sex attraction and had physical relationships with other boys, but knew his desires were considered immoral. With no role models or guidance to help him process his sexuality, he felt alone and lost.
Longing to escape Brooklyn after graduating with his BA in English from Brooklyn College in 1961, Wolf went on to earn his PhD in English from the University of Connecticut in 1971. Before graduate school, Wolf sought out psychotherapy to "cure" himself of homosexuality, but his attempts proved unsuccessful. After marrying Nancy Connors in 1962 and moving to Lincoln, Nebraska in 1966, Wolf began his decades-long career at the University of Nebraska-Lincoln's English department (1966-2003). In 1973, Wolf's marriage to Nancy ended and he began to come to terms with his sexuality with the aid and mentorship of gay colleagues, including author and queer scholar, Dr. Louis Crompton.
In 1973, Wolf met his partner, John G. Taylor at a dance in a church basement. Sensing he was gentle and kind, Wolf and Taylor began a relationship that would span four decades until John's death in 2014. Taylor, like Wolf, was a community activist and passionate about social justice.
Early on in his career at UNL, Wolf discovered the book "Freedom to Learn" by Carl Rogers, which spoke against the conventions of traditional teaching methods and encouraged a more collaborative, less hierarchical approach. This drastically changed Wolf's perspective on teaching and he began using more innovative teaching methods in his classroom. These methods had a positive impact on his students for decades, and taught them to connect and engage with literature in new and exciting ways. Even after retirement, Wolf still runs into former students who share with him the impact he had on their lives.
All of this and more was covered in the interview. Wolf's interview is available through the Queer Omaha Archives website or in UNO Libraries' Archives and Special Collections.
This post is part of a series sharing previews of the new oral history interviews gathered as part of LGBTQ+ Voices: The Queer Omaha Archives Oral History Project.
Support Oral Histories
We rely on external funding to conduct oral history interviews, so once we have exhausted our grant funding and private gifts made by community members, collecting new interviews will be paused until we are able to raise additional funding. We need to hear from community members soon to ensure your stories are captured, preserved, and available for future generations to learn from and enjoy. If you have been contacted by the archives and are considering sharing your story, we hope to hear from you!
If you would like to support continuing the collection of and access to oral history interviews, please consider making a donation to the Queer Omaha Archives or contact us to volunteer with the project.
About Oral History and the Queer Omaha Archives
From the first conversations between students, faculty, community members, and archivists about creating the Queer Omaha Archives, there were plans to include an oral history component in the collecting initiative. Oral history has the ability to share the memories of people and communities who lived through those events with the present and future through the voices of people from our communities. LGBTQ+ Voices: The Queer Omaha Archives Oral History Project is currently collecting oral history interviews from members of the greater Omaha LGBTQ+ communities, sharing their wide-ranging experiences with their fellow Nebraskans and the world through the University of Nebraska at Omaha's Queer Omaha Archives website.
About the Queer Omaha Archives
The Queer Omaha Archives is part of UNO Libraries' Archives & Special Collections and officially launched in 2016. The Queer Omaha Archives collects and preserves materials relevant to the LGBTQ+ community in the region. Archives & Special Collections' material is available for the university community and general public at both the Dr. C.C. and Mabel L. Criss Library and online.
Visit the Omaha Oral History Blogs to learn more.