Gary Emenitove
Gary Emenitove interview by Luke Wegener for LGBTQ+ Voices: The Queer Omaha Archives Oral History Project now available in UNO Libraries' Archives and Special Collections.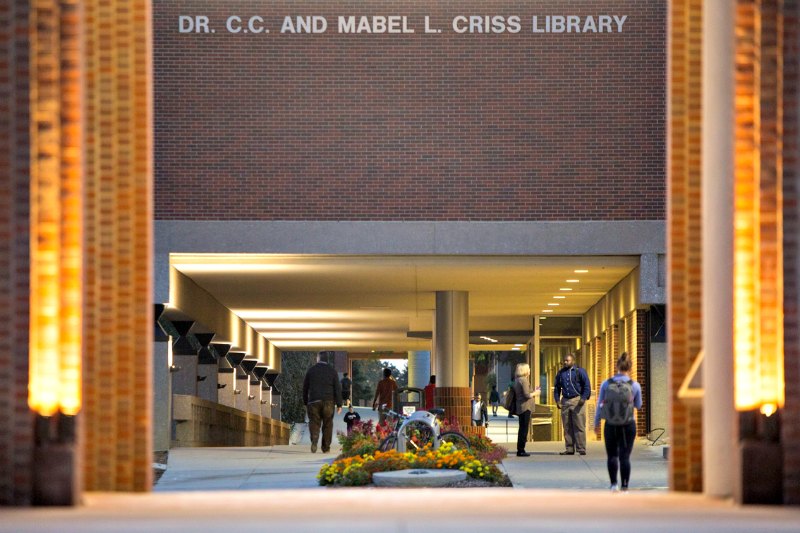 Criss Library
In February 2018, Gary Emenitove was interviewed by Luke Wegener, UNO Libraries Oral History Associate, for LGBTQ+ Voices: The Queer Omaha Archives Oral History Project. The interview is over one hour long.
Mr. Gary Emenitove was born in Kansas City, Missouri as the only child of Karl and Helena Emenitove. When Emenitove was young, the family moved from Missouri to Council Bluffs, where they bought and operated a small business. The store was a significant, time-consuming part of Emenitove's parent's lives, and they spent most of their time tending to the store.
Emenitove enjoyed music, singing, radio broadcasting, and listening to the news from a young age. He worked odd jobs at a radio station as a child and was always a member of the school chorus. Growing up in Council Bluffs in the 1960's, Emenitove was aware of his same-sex attraction, but did not openly discuss or act on his feelings.
Emenitove moved to Omaha in 1983 and worked at the Sweet 98 radio station, his first job at a large and popular station. After a road trip with friends to Des Moines for a Twin Cities Men's Chorus concert, Emenitove and friends formed the Mid City Chorus in Omaha, which eventually led the creation of the River City Mixed Chorus. Music and chorus have been Emenitove's lifelong passions.
Emenitove later joined a gay discussion group at Metropolitan Community Church of Omaha (MCC), and found an environment that was comfortable and accepting of his sexuality. Never having outright denied his sexuality, but also not fully coming out to those in his life outside the discussion group, Emenitove credits Pastor Jan Kross at MCC with helping him finally open up about his sexuality in his 30's. Emenitove currently resides in Omaha with his husband, Michael.
In this interview, Emenitove also discusses working against Nebraska Initiative 416, the great changes in radio technology and equipment over the course of his career, and his views on the Trump administration.
All of this and more was covered in the interview. Emenitove's interview is available through the Queer Omaha Archives website or in UNO Libraries' Archives and Special Collections.
This post is part of a series sharing previews of the new oral history interviews gathered as part of LGBTQ+ Voices: The Queer Omaha Archives Oral History Project.
Support Oral Histories
We rely on external funding to conduct oral history interviews, so once we have exhausted our grant funding and private gifts made by community members, collecting new interviews will be paused until we are able to raise additional funding. We need to hear from community members soon to ensure your stories are captured, preserved, and available for future generations to learn from and enjoy. If you have been contacted by the archives and are considering sharing your story, we hope to hear from you!
If you would like to support continuing the collection of and access to oral history interviews, please consider making a donation to the Queer Omaha Archives or contact us to volunteer with the project.
About Oral History and the Queer Omaha Archives
From the first conversations between students, faculty, community members, and archivists about creating the Queer Omaha Archives, there were plans to include an oral history component in the collecting initiative. Oral history has the ability to share the memories of people and communities who lived through those events with the present and future through the voices of people from our communities. LGBTQ+ Voices: The Queer Omaha Archives Oral History Project is currently collecting oral history interviews from members of the greater Omaha LGBTQ+ communities, sharing their wide-ranging experiences with their fellow Nebraskans and the world through the University of Nebraska at Omaha's Queer Omaha Archives website.
About the Queer Omaha Archives
The Queer Omaha Archives is part of UNO Libraries' Archives & Special Collections and officially launched in 2016. The Queer Omaha Archives collects and preserves materials relevant to the LGBTQ+ community in the region. Archives & Special Collections' material is available for the university community and general public at both the Dr. C.C. and Mabel L. Criss Library and online.
Visit the Omaha Oral History Blogs to learn more.