Cei Loofe Interview
Cei Loofe interview by Luke Wegener for LGBTQ+ Voices: The Queer Omaha Archives Oral History Project now available in UNO Libraries' Archives and Special Collections.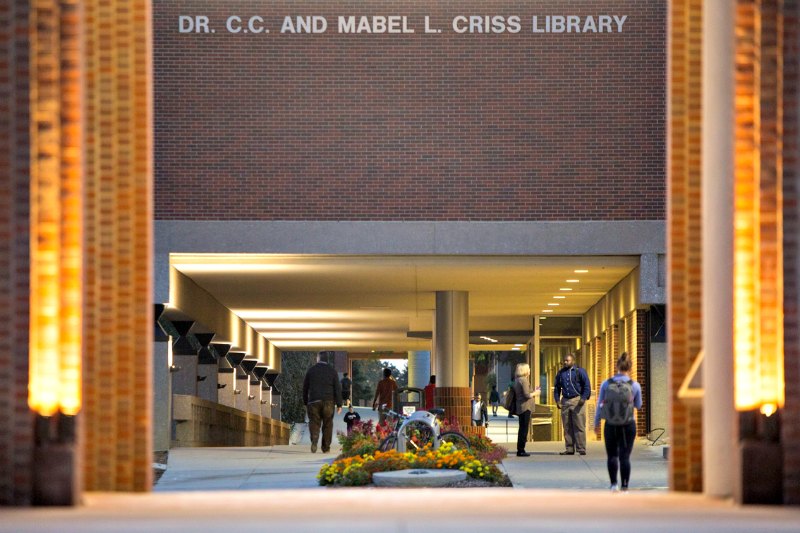 Criss Library
In January 2018, Cei Loofe was interviewed by Luke Wegener, UNO Libraries Oral History Associate, for LGBTQ+ Voices: The Queer Omaha Archives Oral History Project. The interview spans nearly 2 hours.
Mr. Loofe was born in Lincoln, Nebraska to a working-class family and grew up with one sister, Leane. His parents struggled to make ends meet and pay bills, and they often moved throughout Nebraska small towns. Loofe's mother's mental health and struggle with lupus worsened over time, leading to her suicide at age 52. As a child, Loofe was aware of his trans identity and was "one of the other boys." When he compared himself to his male friends, he thought he just hadn't developed yet. Devastated by being forced to wear a catholic girls' uniform, he was spanked often at home for rebelling. In high school, Loofe was gifted and active in many extracurricular activities, such as drama and forensics, but struggled with abusing drugs and alcohol.
Loofe attempted, at various ages, to come out as trans to his friends, but was laughed off and rejected each time. As part of the lesbian community, Loofe's lesbian friends believed if he transitioned, he would be "betraying" his womanhood. Eventually, Loofe became sober and stopped communication with friends who would not accept him. In 2004, he was involved in a car accident, suffered a brain injury and developed debilitating epilepsy. After reaching a breaking point, Loofe came out as transgender in 2014 and began his medical transition, which led to the dissolution of his marriage. Currently, Loofe spends his time volunteering as the Men's Midtown District Leader for the Soka Gakkai International Nichiren Buddhism network and performing at slam poetry events.
All of this and more was covered in the interview. Loofe's interview is available through the Queer Omaha Archives website or in UNO Libraries' Archives and Special Collections.
This post is part of a series sharing previews of the new oral history interviews gathered as part of LGBTQ+ Voices: The Queer Omaha Archives Oral History Project.
Support Oral Histories
We rely on external funding to conduct oral history interviews, so once we have exhausted our grant funding and private gifts made by community members, collecting new interviews will be paused until we are able to raise additional funding. We need to hear from community members soon to ensure your stories are captured, preserved, and available for future generations to learn from and enjoy. If you have been contacted by the archives and are considering sharing your story, we hope to hear from you!
If you would like to support continuing the collection of and access to oral history interviews, please consider making a donation to the Queer Omaha Archives or contact us to volunteer with the project.
About Oral History and the Queer Omaha Archives
From the first conversations between students, faculty, community members, and archivists about creating the Queer Omaha Archives, there were plans to include an oral history component in the collecting initiative. Oral history has the ability to share the memories of people and communities who lived through those events with the present and future through the voices of people from our communities. LGBTQ+ Voices: The Queer Omaha Archives Oral History Project is currently collecting oral history interviews from members of the greater Omaha LGBTQ+ communities, sharing their wide-ranging experiences with their fellow Nebraskans and the world through the University of Nebraska at Omaha's Queer Omaha Archives website.
About the Queer Omaha Archives
The Queer Omaha Archives is part of UNO Libraries' Archives & Special Collections and officially launched in 2016. The Queer Omaha Archives collects and preserves materials relevant to the LGBTQ+ community in the region. Archives & Special Collections' material is available for the university community and general public at both the Dr. C.C. and Mabel L. Criss Library and online.
Visit the Omaha Oral History Blogs to learn more.