Rev. Dr. E. Scott Jones Interview
Rev. Dr. E. Scott Jones interview by Luke Wegener for LGBTQ+ Voices: The Queer Omaha Archives Oral History Project now available in UNO Libraries' Archives and Special Collections.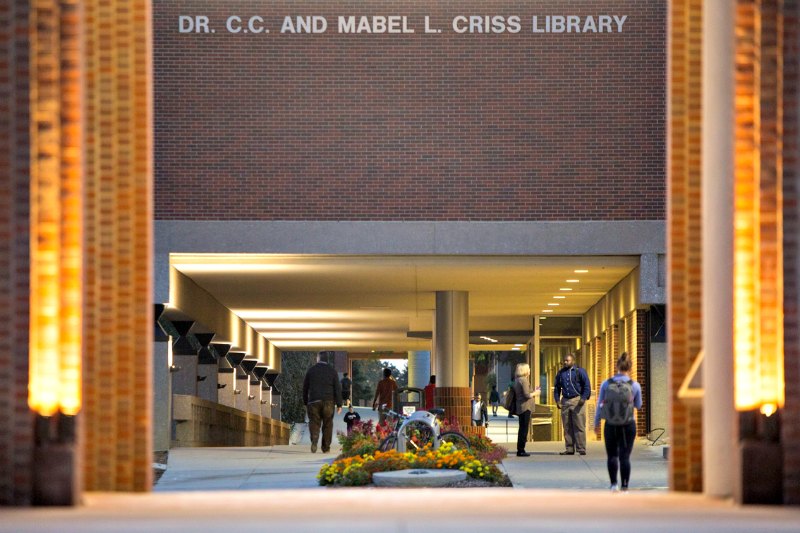 Criss Library
In February 2018, Rev. Dr. E. Scott Jones was interviewed by Luke Wegener, UNO Libraries Oral History Associate, for LGBTQ+ Voices: The Queer Omaha Archives Oral History Project. The interview spans nearly 2 hours and 30 minutes.
Rev. Dr. Jones was born in Miami, Oklahoma and grew up in a Southern Baptist family. As a child, Rev. Dr. Jones was a studious, "nerdy" kid who devoted himself to school and church, and he knew at a young age his calling was to become a minister. While aware of his same-sex attraction, Rev. Dr. Jones had no guidance, information or validation of his sexuality as a child and adolescent, and remained closeted. At age 16, his father suffered a heart attack and passed away, which caused Rev. Dr. Jones to question some of his philosophical stances. During his undergraduate years at Oklahoma Baptist University in the 1990s, Rev. Dr. Jones's religious and philosophical stances were challenged even further by his professors and coursework, which pushed him further to the left in his political leanings. As he began to meet more LGBT people in college, Rev. Dr. Jones perspective on homosexuality began to change. In his sophomore year at OBU, one of his peers was outed as being gay and sent to reparative therapy by the university, which Rev. Dr. Jones believed was wrong and defended him.
While in graduate school at the University of Oklahoma, Rev. Dr. Jones became more open to exploring his sexuality and continued to meet gay men who were active in the church, which showed him that his faith and sexuality didn't have to be mutually exclusive. Rev. Dr. Jones experienced a breaking point while serving as Pastor at Royal Lane Church in Dallas, Texas. He decided to acknowledge his sexuality and come out to his crush, John, as a result of watching the HBO miniseries Angels in America. Their relationship was short-lived, but Rev. Dr. Jones began to come out in other areas of his life and move into his identity as a gay man.
Knowing he could not work long-term in the Baptist church as an openly gay man, Rev. Dr. Jones moved to Oklahoma City to work as Minister at Cathedral of Hope, a progressive, LGBTQ+ affirming congregation of the United Church of Christ. Within a relatively short period of time, Rev. Dr. Jones went from being closeted to very publicly out as the openly gay minister of a progressive congregation. He went on to become a central figure in the fight for LGBTQ+ rights in Oklahoma, debating anti-LGBT politician Sally Kern on live television. Rev. Dr. Jones faced significant media attention when he was the first openly gay Chaplain for a day for the Oklahoma House of Representatives, which landed him on the cover of the Daily Oklahoman and inspired rallies in support of the LGBTQ+ community.
In 2006, Rev. Dr. Jones met Michael Cich, who would later become his husband. The two moved to Omaha and Rev. Dr. Jones began his ministry at First Central Congregational Church, a congregation that has embraced and accepted him. Wasting no time before diving into LGBTQ+ politics in Nebraska, Rev. Dr. Jones worked as part of the Equal Omaha Coalition, which lobbied successfully in 2012 for the passage of Omaha's LGBT Equal Employment Ordinance. As a member of Heartland Clergy for Inclusion, Rev. Dr. Jones coordinated the #ReadyToMarry campaign, and co-authored the Heartland Proclamation, a statement published by local clergy members affirming and welcoming LGBTQ+ individuals into their ministry. Dr. Jones has received the Torch Award from Cimarron Alliance Foundation and the PFLAG Flag Bearer Award.
After a long and arduous process of trying to adopt a child, Rev. Dr. Jones and his husband adopted their son, Sebastian, in 2015. The three currently reside in Omaha. Rev. Dr. Jones' forthcoming book, Open: A Memoir of Faith, Family and Sexuality in the Heartland comes out in August 2018.
All of this and more was covered in his oral history interview. Rev. Dr. Jones' interview is available on the Queer Omaha Archives website and in UNO Libraries' Archives and Special Collections.
This post is part of a series sharing previews of the new oral history interviews gathered as part of LGBTQ+ Voices: The Queer Omaha Archives Oral History Project.
Support Oral Histories
We rely on external funding to conduct oral history interviews, so once we have exhausted our grant funding and private gifts made by community members, collecting new interviews will be paused until we are able to raise additional funding. We need to hear from community members soon to ensure your stories are captured, preserved, and available for future generations to learn from and enjoy. If you have been contacted by the archives and are considering sharing your story, we hope to hear from you!
If you would like to support continuing the collection of and access to oral history interviews, please consider making a donation to the Queer Omaha Archives or contact us to volunteer with the project.
About Oral History and the Queer Omaha Archives
From the first conversations between students, faculty, community members, and archivists about creating the Queer Omaha Archives, there were plans to include an oral history component in the collecting initiative. Oral history has the ability to share the memories of people and communities who lived through those events with the present and future through the voices of people from our communities. LGBTQ+ Voices: The Queer Omaha Archives Oral History Project is currently collecting oral history interviews from members of the greater Omaha LGBTQ+ communities, sharing their wide-ranging experiences with their fellow Nebraskans and the world through the University of Nebraska at Omaha's Queer Omaha Archives website.
About the Queer Omaha Archives
The Queer Omaha Archives is part of UNO Libraries' Archives & Special Collections and officially launched in 2016. The Queer Omaha Archives collects and preserves materials relevant to the LGBTQ+ community in the region. Archives & Special Collections' material is available for the university community and general public at both the Dr. C.C. and Mabel L. Criss Library and online.
Visit the Omaha Oral History Blogs to learn more.