Marcy Bieler Interview
Marcy Bieler interview by Luke Wegener for LGBTQ+ Voices: The Queer Omaha Archives Oral History Project now available in UNO Libraries' Archives and Special Collections.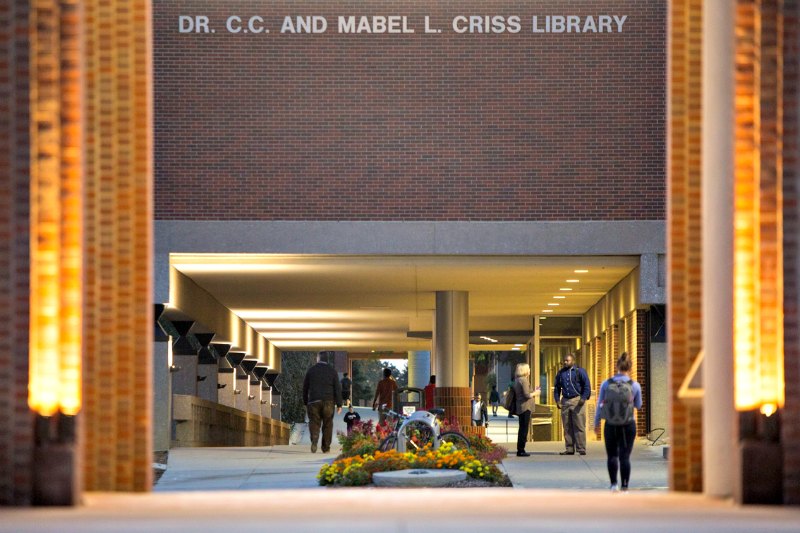 Criss Library
In December 2017, Marcy Bieler, LGBTQ+ advocate, was interviewed by Luke Wegener, UNO Libraries Oral History Associate, for LGBTQ+ Voices: The Queer Omaha Archives Oral History Project.
Marcy Bieler was born in Leadville, Colorado to Edith and Henry Bieler and grew up in a working-class family as one of six children. At a young age, Marcy knew she was a girl, but was not in an environment where she could safely express her identity. Sporting long hair as a child, strangers would see Marcy as a little girl, which infuriated her father and he forced her to cut it. Marcy was often called "fag" or "gay" by other kids during her childhood and adolescence, and frequently got in fights with other students.
In 2002, Marcy married her girlfriend and together they had one daughter. Marcy eventually came out to her wife, and though she took it well at the time, it became clear to Marcy that her wife was punishing her for being transgender. She was eventually outed by her wife to her entire community without her consent and lost her home. Living in rural Iowa, Marcy struggled with employment due to discrimination against transgender individuals. She has also faced inappropriate treatment while receiving medical care.
Falling into serious depression and seeing no way out, Marcy contemplated suicide. After hitting rock bottom, Marcy sought out a therapist to help her regain control of her life and accept her identity. With therapy to help her recover her life, Marcy joined River City Gender Alliance, an Omaha-based support group for Transgender individuals. There she found a thriving community of trans women to offer her support and began to rebuild her life.
In this interview, Ms. Bieler also discusses her dream job, changing her legal documents, her daughters, and her ideas for making the LGBTQ+ community more inclusive.
Marcy Bieler's interview is available on the Queer Omaha Archives website and in UNO Libraries' Archives and Special Collections.
This post is part of a series sharing previews of the new oral history interviews gathered as part of LGBTQ+ Voices: The Queer Omaha Archives Oral History Project.
Support Oral Histories
We rely on external funding to conduct oral history interviews, so once we have exhausted our grant funding and private gifts made by community members, collecting new interviews will be paused until we are able to raise additional funding. We need to hear from community members soon to ensure your stories are captured, preserved, and available for future generations to learn from and enjoy. If you have been contacted by the archives and are considering sharing your story, we hope to hear from you!
If you would like to support continuing the collection of and access to oral history interviews, please consider making a donation to the Queer Omaha Archives or contact us to volunteer with the project.
About Oral History and the Queer Omaha Archives
From the first conversations between students, faculty, community members, and archivists about creating the Queer Omaha Archives, there were plans to include an oral history component in the collecting initiative. Oral history has the ability to share the memories of people and communities who lived through those events with the present and future through the voices of people from our communities. LGBTQ+ Voices: The Queer Omaha Archives Oral History Project is currently collecting oral history interviews from members of the greater Omaha LGBTQ+ communities, sharing their wide-ranging experiences with their fellow Nebraskans and the world through the University of Nebraska at Omaha's Queer Omaha Archives website.
About the Queer Omaha Archives
The Queer Omaha Archives is part of UNO Libraries' Archives & Special Collections and officially launched in 2016. The Queer Omaha Archives collects and preserves materials relevant to the LGBTQ+ community in the region. Archives & Special Collections' material is available for the university community and general public at both the Dr. C.C. and Mabel L. Criss Library and online.
Visit the Omaha Oral History Blogs to learn more.