The Stories of Panoramic Photographs
Conserving and sharing UNO's visual history. Featuring speakers: Hilary LeFevere, Paper Conservator, Nebraska State Historical Society, Gerald R. Ford Conservation Center; and Les Valentine, University Archivist, UNO Libraries; April17.
date: 04/17/18
time: 3:00 PM - 4:00 PM
location: Criss Library 249 • maps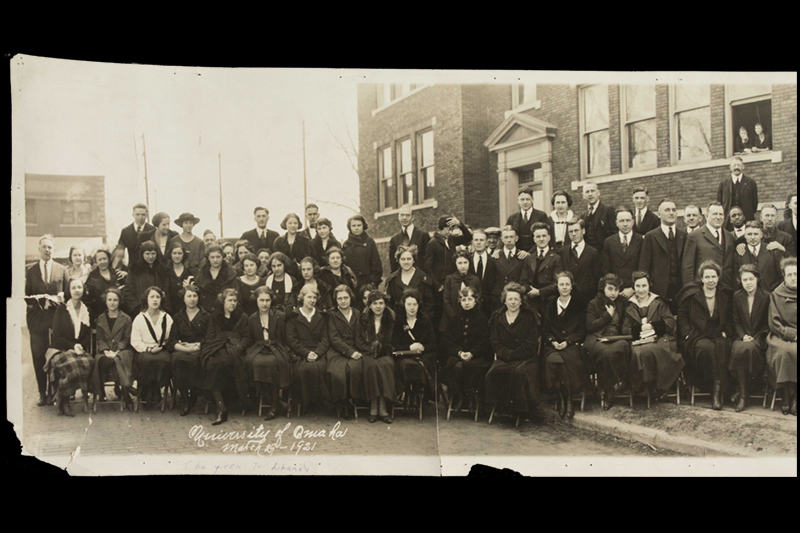 This talk will cover the science of conserving early 20th century UNO panoramic photos as well as uncovering and sharing the stories of people in one UNO panoramic photo.
On display will be selected panoramic photographs from UNO's early 20th century history along with tools used by conservators in their labs.
For more information contact UNO Libraries' Director of Archives & Special Collections Amy Schindler by email at unoasc@unomaha.edu or by phone at 402-554-6046.
Contact Us
For more information about including events and announcements in the Criss Library News Center, email us at unocrisslibrary@unomaha.edu.
Unless otherwise clearly stated, any views or opinions expressed as part of events, exhibitors, or presenters in the UNO Libraries (Dr. C.C. and Mabel L. Criss Library and the KANEKO-UNO Library) should not be viewed as endorsements by the University of Nebraska at Omaha (UNO) and do not reflect the official position of UNO or the University of Nebraska system.