ISSUED: (Friday, March 13, 2020 17:00 PM)
CAMPUS ANNOUNCEMENT
UNO campus remains open; classes moving to remote learning mode March 30.
More Information
CLOSE

X
Volunteer Deputy Registrar Training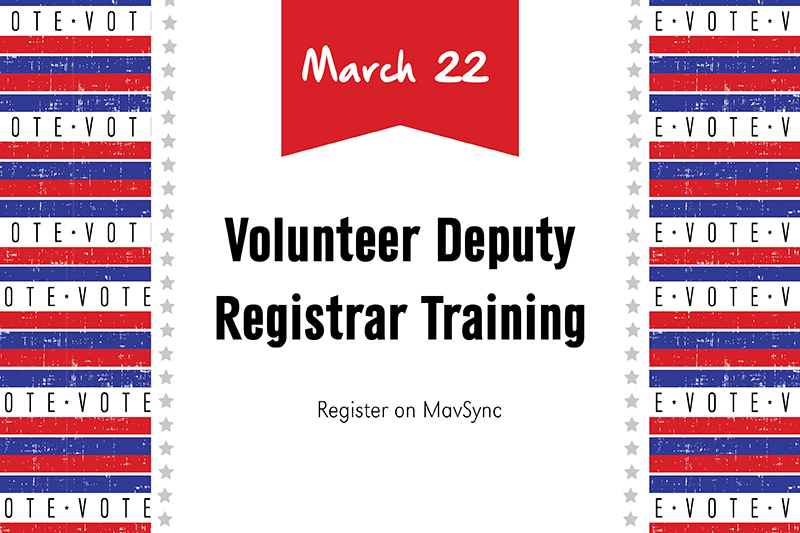 Deputy registrars work as agents of the Election Commission to register voters throughout the county. In order to become an official deputy registrar, you must complete a training class conducted by the Election Commission. After completion, you will be certified by the Election Commission to conduct voter registration drives anywhere in Nebraska. 
Qualifications
In order to be an official deputy registrar, you must meet the following requirements:
Must be a registered voter in the State of Nebraska (you may register to vote at the deputy registrar training session, if not already registered to vote in Nebraska).
Must sign up for the deputy registrar training session on or before the business day prior to the training date.
Must attend a deputy registrar training session conducted by the Election Commission.
This workshop is open to the public. Space is limited - participants are required to register (link below). Parking is open on campus March 22 due to Spring Break.
Contact Us
For more information about including events and announcements in the Criss Library News Center, email us at unocrisslibrary@unomaha.edu.
Unless otherwise clearly stated, any views or opinions expressed as part of events, exhibitors, or presenters in the UNO Libraries (Dr. C.C. and Mabel L. Criss Library and the KANEKO-UNO Library) should not be viewed as endorsements by the University of Nebraska at Omaha (UNO) and do not reflect the official position of UNO or the University of Nebraska system.