Oral History Supporters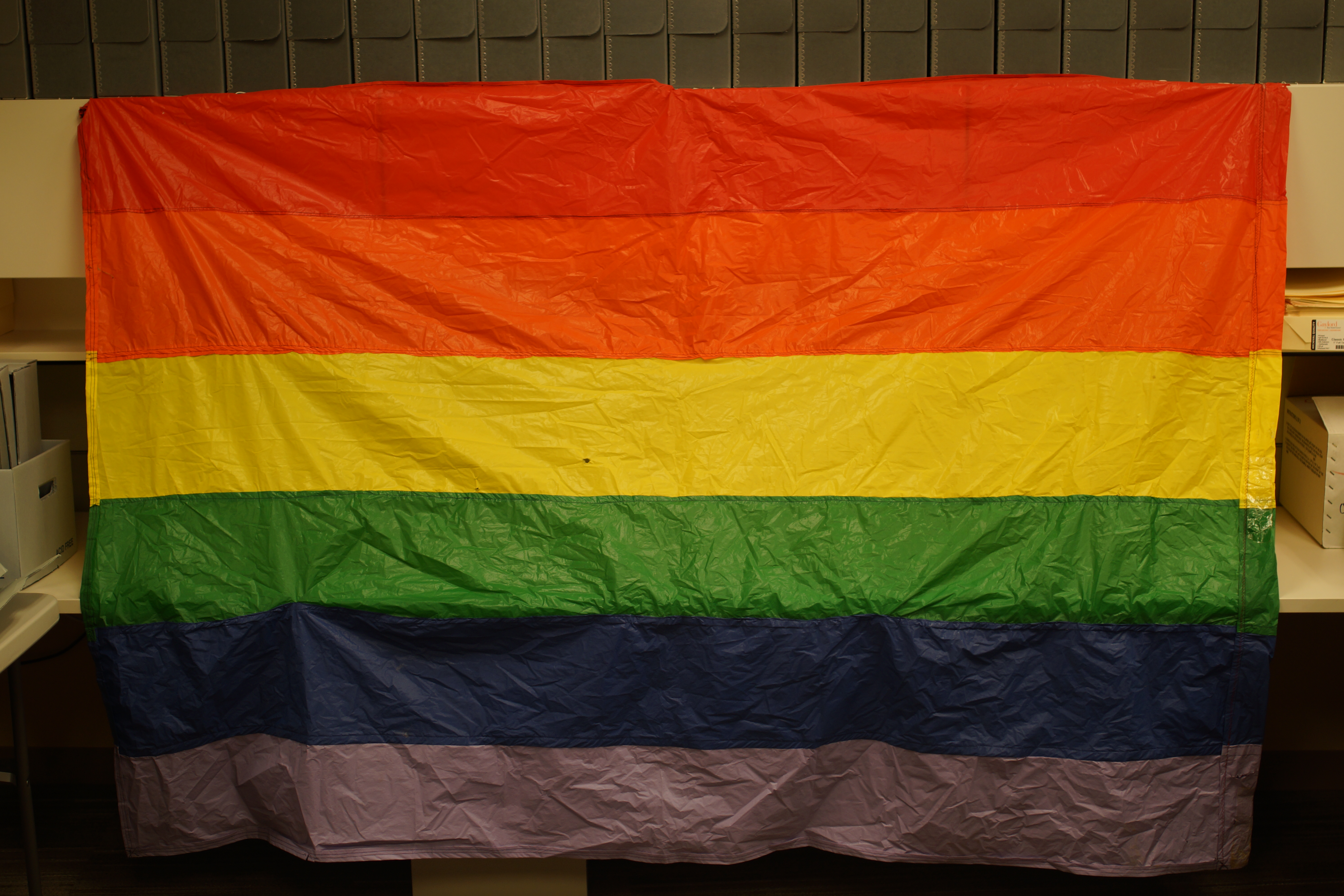 "Loud and Proud" Rainbow Pride flag made by Terry Sweeney and Pat Phalen of Omaha around 1990
Our last post shared the work done in 2016 to begin our collecting of oral history interviews. The work of Dr. Jay Irwin and his students provided a wonderful beginning to the LGBTQ+ Oral History Collection in UNO Libraries' Archives and Special Collections. The Queer Omaha Archives is excited to continue these efforts thanks to a grant from Humanities Nebraska and the Nebraska Cultural Endowment along with the gifts of several individuals and organizations.
Thank you to: Terry Sweeney, Gerry Sullivan, the Imperial Court of Nebraska (ICON) Foundation, David Richards, Amy Schindler, an anonymous donor, and the Metro Omaha Prime Timers. The Metro Omaha Prime Timers made their gift to the Queer Omaha Archives in honor of Dino Andrade who sadly passed away in August 2017.
Support Oral Histories
We rely on external funding to conduct oral history interviews, so once we have exhausted our grant funding and private gifts made by community members, collecting new interviews will be paused until we are able to raise additional funding. We need to hear from community members soon to ensure your stories are captured, preserved, and available for future generations to learn from and enjoy. If you have been contacted by the archives and are considering sharing your story, we hope to hear from you!
If you would like to support continuing the collection of and access to oral history interviews, please consider making a donation to the Queer Omaha Archives or contact us to volunteer with the project.
About Oral History and the Queer Omaha Archives
From the first conversations between students, faculty, community members, and archivists about creating the Queer Omaha Archives, there were plans to include an oral history component in the collecting initiative. Oral history has the ability to share the memories of people and communities who lived through those events with the present and future through the voices of people from our communities. LGBTQ+ Voices: The Queer Omaha Archives Oral History Project is currently collecting oral history interviews from members of the greater Omaha LGBTQ+ communities, sharing their wide-ranging experiences with their fellow Nebraskans and the world through the University of Nebraska at Omaha's Queer Omaha Archives website.
About the Queer Omaha Archives
The Queer Omaha Archives is part of UNO Libraries' Archives & Special Collections and officially launched in 2016. The Queer Omaha Archives collects and preserves materials relevant to the LGBTQ+ community in the region. Archives & Special Collections' material is available for the university community and general public at both the Dr. C.C. and Mabel L. Criss Library and online.
Visit the Omaha Oral History Blogs to learn more.