Do You Know? | Blog post
The project Omaha Stories: Oral Histories of Omaha, Nebraska shares the stories of the people of Omaha through oral history interviews.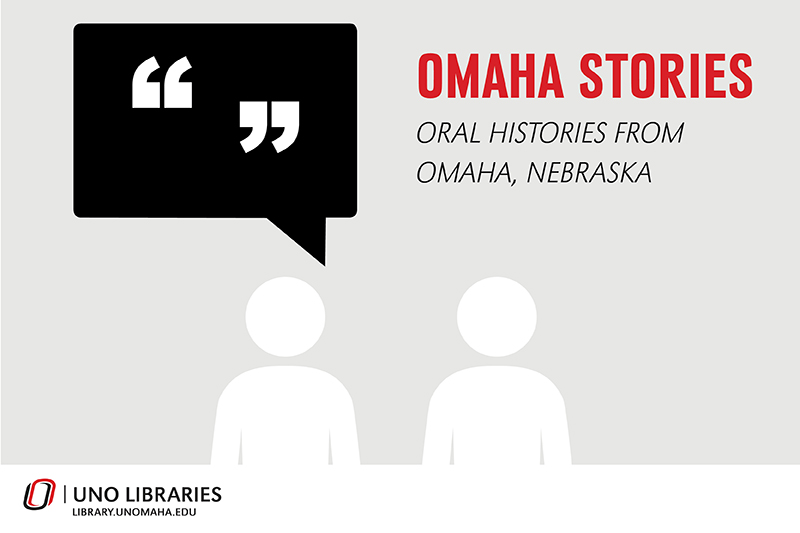 Omaha Stories: Oral Histories from Omaha, Nebraska
Welcome to the blog for the UNO Libraries' Archives and Special Collections project Omaha Stories: Oral Histories of Omaha, Nebraska. Omaha Stories is sharing over 220 interviews conducted from 1974 to 2007 as part of the new grant project Omaha Stories: Oral Histories of Omaha, Nebraska. The audio and video recordings of conversations with people from Omaha will be available online, alongside biographical sketches of each interviewee and detailed interview descriptions.
On this blog we will share some of the stories found in the interviews as well as updates about how the recordings are begin reconnected to their interviewee and their family members. We also hope to share a bit about how people's stories are being used by researchers.
The oral history interviews in Omaha Stories will showcase the experiences of many Omahans including:
Native Americans discussing topics such as, traditional songs and dances; boarding schools and education; health care; and the occupation of Wounded Knee
European immigrants who moved to Nebraska pre and post-World War II
Veterans of the Vietnam War
UNO alumni, faculty, and administrators
and many other Nebraskans.
One part of the oral history interviews were those conducted by University of Nebraska at Omaha History students taking courses with Prof. Michael Tate in the 1970s. We want to reunite these narrators or their family members with the audio recordings of their oral history interviews that share their personal stories. UNO Libraries' Archives & Special Collections has digitized the audio cassettes and is in the process of describing each interview to enable access to the audio recordings online.
Many of the people interviewed were living in Omaha at the time of their interview, but we are now learning that others were also visiting Omaha when their stories were recorded. We know that many of the people interviewed are Native American, some are immigrants, and we have more to learn about all of these individuals.
A complete list of people interviewed in the 1970s who we are searching for is available on the Omaha Stories website. Do you know someone on our list? Contact Director of Archives & Special Collections Amy Schindler (402.554.6046, acschindler@unomaha.edu). We have already heard from one interviewee and family members of two other interviewees and look forward to connecting with more folks.
The Omaha Stories initiative is part of UNO Libraries' strategic priority to cultivate, share, and preserve digital resources and scholarship. Omaha Stories is funded by Humanities Nebraska (HN) and the Nebraska Cultural Endowment.
The Omaha Stories: Oral Histories of Omaha, Nebraska website is one of many grants funded by HN. HN awards more than $257,000 in grants each year.
About Humanities Nebraska and Grant Funding
Created in 1973 as a state affiliate of the National Endowment for the Humanities, HN is an independent, non-profit organization governed by a volunteer board of public and academic members. HN funds programs that explore Nebraska's heritage, build community awareness, and strengthen our ties to cultural traditions at home and abroad. The Nebraska Cultural Endowment is a public/private partnership that designates funds to HN for distribution.
Any non-profit group is eligible to apply for a grant from HN. The HN staff is available for grant consultation and will read proposal drafts. Contact the HN office if you need assistance with a project idea. For a copy of Humanities Nebraska grant guidelines, contact HN at 215 Centennial Mall South, Suite 330, Lincoln, NE 68508, phone 402-474-2131, fax 402-474-4852, or e-mail at info@humanitiesnebraska.org. The entire grant guidelines packet is online at: http://humanitiesnebraska.org/.
Visit the Omaha Oral History Blogs to learn more.