Human Library Call for Proposals
UNO Libraries is looking for new books to fill the Human Library on Thursday, April 12, 2018.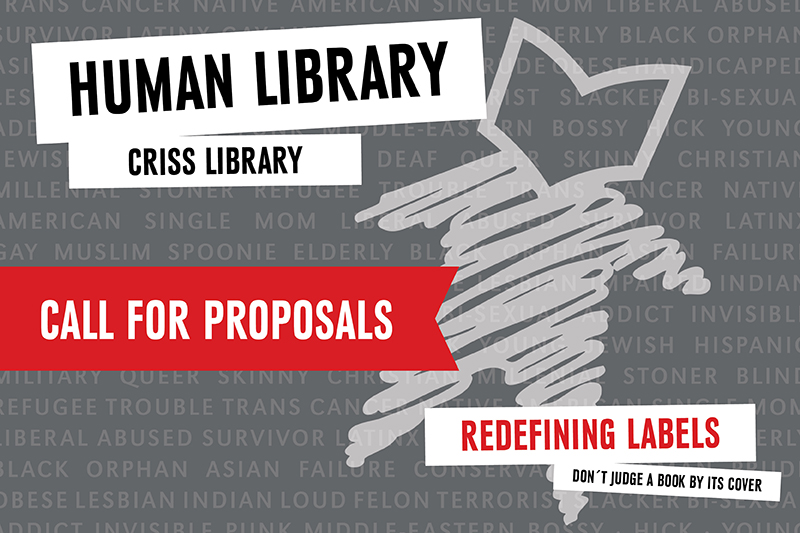 What is the Human Library? The Human Library is an event full of meaningful conversations that break through the expectations and labels we place on others. Instead of getting information from a printed book, attendees are invited to have one-on-one conversations with real people ("Human Books") with a variety of backgrounds and experiences to learn more about people and ideas different from their own.
We are currently accepting proposals for Human Books. Is your life a compelling story? Has something interesting happened to you? Do you want to smash a stereotype? UNO students, faculty, staff, and community members are welcome to apply! We are especially seeking proposals from people with strong ties to organizations and groups on the UNO campus. Submit a proposal for yourself or nominate someone you know.

Book Criteria
Comfortable speaking in front of people
Willingness to discuss your life's experiences and those similar to yours
Open to meaningful, heartfelt conversations with strangers
Timeline
January 22, 2018 - Deadline for proposals
February 1, 2018 - Selected books will be notified (interviews to help shape your story for the event will be scheduled throughout the month of February)
April 12, 2018 - Human Library in Criss Library from 4 to 7 P.M. (books are asked to attend a training session, which begins at 3 P.M.)
Disclaimer
Treat the Human Books with care and respect! You are responsible for preserving the condition of the book. Do not damage, tear out or bend pages, or hurt its dignity in any way. 
Contact Us
For more information about including events and announcements in the Criss Library News Center, email us at unocrisslibrary@unomaha.edu.
Unless otherwise clearly stated, any views or opinions expressed as part of events, exhibitors, or presenters in the UNO Libraries (Dr. C.C. and Mabel L. Criss Library and the KANEKO-UNO Library) should not be viewed as endorsements by the University of Nebraska at Omaha (UNO) and do not reflect the official position of UNO or the University of Nebraska system.
Our Campus. Otherwise Known as Omaha.
The University of Nebraska does not discriminate based on race, color, ethnicity, national origin, sex, pregnancy, sexual orientation, gender identity, religion, disability, age, genetic information, veteran status, marital status, and/or political affiliation in its programs, activities, or employment. Learn more about Equity, Access and Diversity.
scroll to top of page