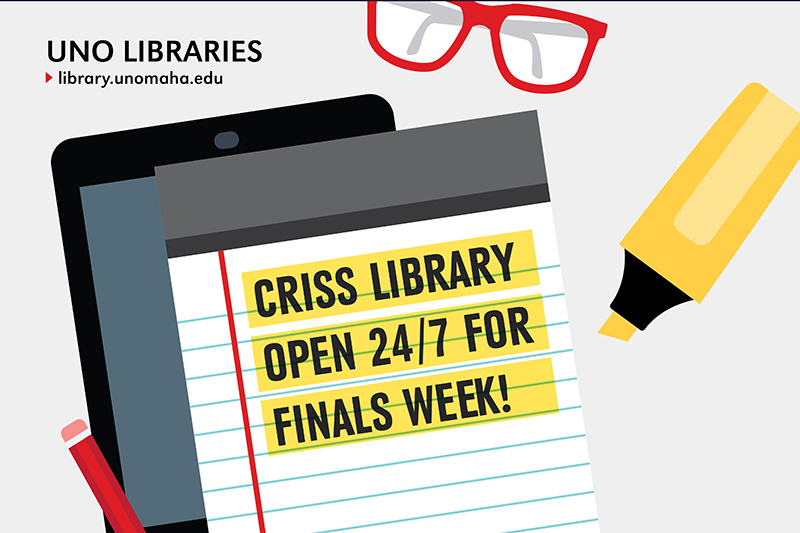 Starting Sunday, December 3 Criss Library will be open special hours for prep week through the end of finals week, Thursday, December 13. During designated times, the library will be open 24/7.
The library's hours vary depending on the day. Please familiarize yourself with the special hours and plan accordingly.
Prep Week
Open Sunday, December 3 at 12:00 P.M., close at 1 A.M. on Monday, December 4
Open Monday, December 4 at 7:00 A.M., close at 1 A.M. on Tuesday, December 5
Open Tuesday, December 5 at 7:00 A.M., close at 1 A.M. on Wednesday, December 6
Open Wednesday, December 6 at 7 A.M., close at 1 A.M. on Thursday, December 7
Open Thursday, December 7 at 7 A.M. through Saturday, Dcember 9 at 12 A.M. (24/7 on Friday, 12/8)
Open Saturday, December 9 at 9 A.M., close at 12 A.M. on Sunday, December 10
Finals Week
Open Sunday, December 10 at 10:00 A.M. through Thursday, December 14 at 1 A.M. (24/7 Sun. 12/10 thru Thurs. 12/14)
Regular hours resume: open Thursday, December 14 at 7 A.M., close at 12 A.M. on Friday, December 15 
---
Regular hours resume December 13 at 7:00 A.M. Check the website for regular library schedule. Click to view hours.
Contact Us
For more information about including events and announcements in the Criss Library News Center, email us at unocrisslibrary@unomaha.edu.
Unless otherwise clearly stated, any views or opinions expressed as part of events, exhibitors, or presenters in the UNO Libraries (Dr. C.C. and Mabel L. Criss Library and the KANEKO-UNO Library) should not be viewed as endorsements by the University of Nebraska at Omaha (UNO) and do not reflect the official position of UNO or the University of Nebraska system.
Our Campus. Otherwise Known as Omaha.
The University of Nebraska does not discriminate based on race, color, ethnicity, national origin, sex, pregnancy, sexual orientation, gender identity, religion, disability, age, genetic information, veteran status, marital status, and/or political affiliation in its programs, activities, or employment. Learn more about Equity, Access and Diversity.
scroll to top of page