Banned Books Week Book Readout, Tuesday, 9/26
Banned Books week is part of a national coalition celebrating the freedom to read. The week draws awareness for banned and challenged books in schools, bookstores, and libraries.
date: 09/26/17
time: 12:00 PM - 3:00 PM
add
09/26/2017 12:00 PM
09/26/2017 3:00 PM
America/Chicago
Banned Books Week Book Readout, Tuesday, 9/26
Banned Books week is part of a national coalition celebrating the freedom to read. The week draws awareness for banned and challenged books in schools, bookstores, and libraries.
false
MM/DD/YYYY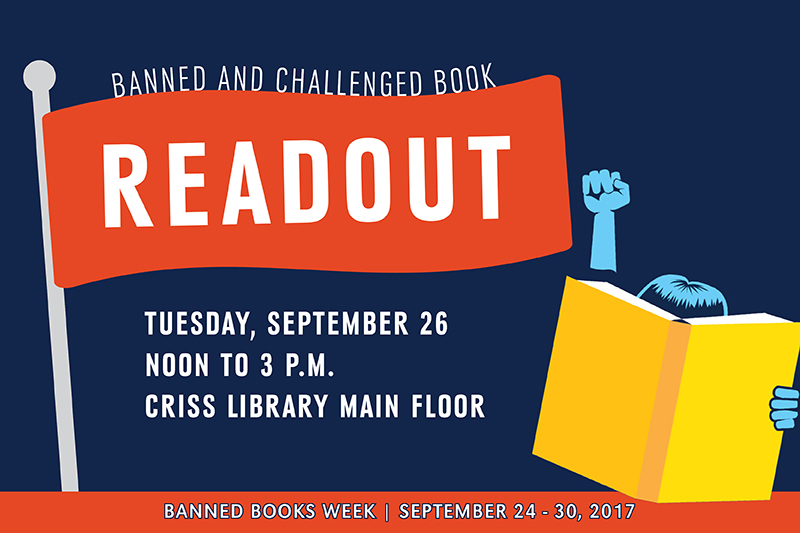 Criss Library is hosting a Banned and Challenged Book Readout Tuesday, September 26, 2017, featuring Dean of Library Services, Dave Richards, library faculty, and UNO theater students.
The readout will include selections from:
I Am Jazz by Jessica Herthel & Jazz Jennings: This is a children's book about a transgender child struggling with coming to terms with their gender identity. It is one of the top challenged books for 2016. At Mount Horeb Primary Center in Wisconsin, I Am Jazz was challenged because it was said to be "inaccurate", "unsuited to the age group" and because it deals with issues surrounding "sex education and homosexuality".
Fifty Shades of Grey by E.L. James: This book probably needs little introduction, and has been challenged or banned across the country since it was first published. At the Billings Public Library, the book was challenged because it is "poor literature; very, very erotic" with "all kinds of sex, sex sadism and masochism".
The Absolutely True Diary of a Part-Time Indian by Sherman Alexie: Based on the author's own experiences, this is a funny and heartbreaking story of a young man growing up on a reservation. It has been challenged and banned because of "some very sensitive material in the book including excerpts on masturbation amongst other explicit sexual references, encouraging pornography, racism, religious irreverence, and strong language (including the f-word)".
The Kite Runner by Khaled Hosseini: This is a tragic story of two young boys growing up in Afghanistan during a crucial time of change. It was challenged at Freedom High School in North Carolina in 2009 because it "depicts a sodomy rape in graphic detail & uses vulgar language".
The Grapes of Wrath by John Steinbeck: When Grapes of Wrath was originally published, it was banned and challenged for "obscene language and disillusionment of the American Dream. Steinbeck was also frequently accused of promoting a "socialist agenda", and some were concerned that his books would lead to a working class revolution.
Bless Me, Ultima by Rudolfo Anaya: This is the story of a South America boy who moves to New Mexicao to live with family in New Mexico. The book has been challenged and banned for its anti-Catholic overtones, adult language, and sexual references. Some schools have also cited pagan content as a reason for challenging the book.
The Autobiography of Malcolm X by Malcolm X: This book tells the story of activist Malcolm X as told to Alex Haley. Malcolm X was born here in Omaha, NE, and after many tragic experiences became a prominent leader in the fight for Civil Rights. The book was challenged and banned in the era of the Black Panther and Civil Rights movements, because it promoted ideas of achieving black equality and power with violence.
The Chocolate War by Robert Cormier: This is a story of a high school student who refuses to take part in a school fundraiser selling chocolates. This sets off a chain of events that reveals a world of intimidation and gang violence. The book was challenged in 2006 by West Hartford, Conn schools because of "vulgar and sexually explicit language" which they felt was unsuitable for the age group.
---
Visit bannedbooksweek.org to learn more about the coalition's efforts.
For more information on banned and challenged books, visit the American Library Association (ALA) online.
Contact Us
For more information about including events and announcements in the Criss Library News Center, email us at unocrisslibrary@unomaha.edu.
Unless otherwise clearly stated, any views or opinions expressed as part of events, exhibitors, or presenters in the UNO Libraries (Dr. C.C. and Mabel L. Criss Library and the KANEKO-UNO Library) should not be viewed as endorsements by the University of Nebraska at Omaha (UNO) and do not reflect the official position of UNO or the University of Nebraska system.
Our Campus. Otherwise Known as Omaha.
The University of Nebraska does not discriminate based on race, color, ethnicity, national origin, sex, pregnancy, sexual orientation, gender identity, religion, disability, age, genetic information, veteran status, marital status, and/or political affiliation in its programs, activities, or employment. Learn more about Equity, Access and Diversity.
scroll to top of page