University System Libraries Team to Increase Buying Power, Access
contact: John Keenan, UNMC public relations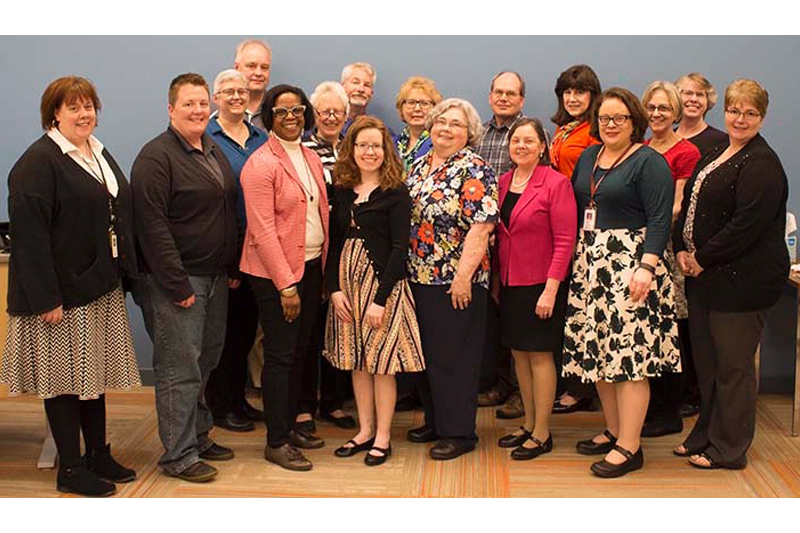 In April, UNMC hosted a meeting of the University of Nebraska Consortium on Libraries (UNCL).
The group, featuring library staff from UNMC, the University of Nebraska-Lincoln, the University of Nebraska at Omaha and the University of Nebraska at Kearney, was created to pool resources and leverage buying power for cost savings, said Emily McElroy, director of the McGoogan Library of Medicine.
University of Nebraska President Hank Bounds, Ph.D., has had leaders of UNCL speak to the Council of Academic Officers and the Board of Regents to explain how the group helps faculty and students across the four campuses.
The advantages to the consortium include seamless access to electronic collections to all the faculty and students across the four campuses, McElroy said.
"We were starting to run into issues where someone is a faculty member at UNO, but they might be teaching a class here at UNMC, and they couldn't access the same resources."
In addition, the consortium has allowed UNMC to beef up its catalog without a great deal of expense.
"Since we're purchasing resources together, then the pull we have just goes much farther," she said. "For example, just for two big publishers in science, technology and medicine -- Taylor & Francis and Wiley -- before UNCL was formed, we only had access to 12 titles from Taylor & Francis, and now we have 2,100. With Wiley, we only had 40 titles, and now we have 1,500."
The group also has created different working groups to look at cross-training and sharing expertise between libraries, whether with special collections and archives or education and research, there's a lot more interaction. There are plans for a common portal for all four campuses.
"We would have a collective landing site where people could get reports, special collections, archival materials, electronic theses and dissertations, although we're still working out that piece," McElroy said.
In last week's meeting, UNMC and UNK turned to UNL and UNO for lessons learned from their recent library renovations. The group also could pool their special collections.
"We could have a collective exhibit on 'Women in Nebraska,' and UNMC could offer information on women in health care," McElroy said.
"It's great for library faculty to work more closely with their colleagues across the state. It raises their professionalism."
Contact Us
For more information about including events and announcements in the Criss Library News Center, email us at unocrisslibrary@unomaha.edu.
Unless otherwise clearly stated, any views or opinions expressed as part of events, exhibitors, or presenters in the UNO Libraries (Dr. C.C. and Mabel L. Criss Library and the KANEKO-UNO Library) should not be viewed as endorsements by the University of Nebraska at Omaha (UNO) and do not reflect the official position of UNO or the University of Nebraska system.