Gifts and Diplomacy (1997-2009) exhibit now on display in the Hagel Archives
The exhibit runs from May 22 through August 25, 2017 on the first floor of Criss Library.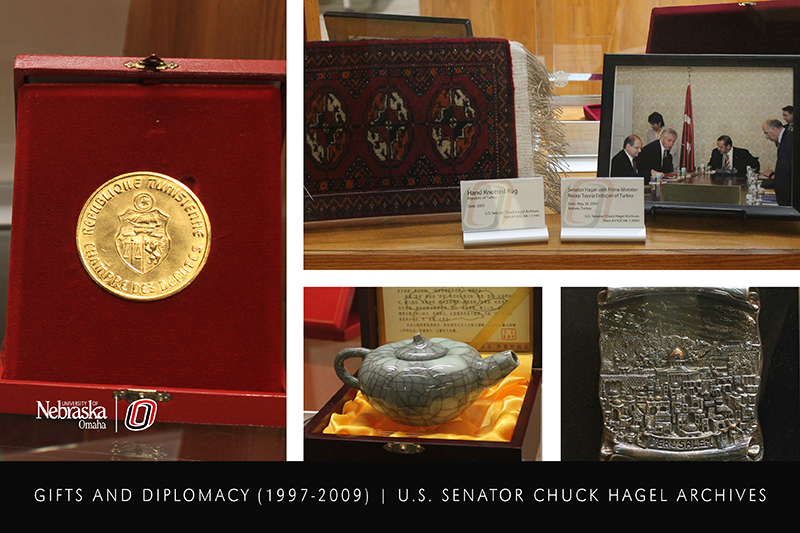 Kings, prime ministers, ministers of defense, generals, presidents, mayors, ambassadors, and chairmen, Chuck Hagel visited with them all in his time as a U.S. Senator from Nebraska from 1997-2009. During such diplomatic visits, it is customary for host and guest to exchange gifts that capture the essence of the nation and demonstrate pride in its unique culture and people. The U.S. Senator Chuck Hagel Archives presents an exhibit of some of the gifts Senator Hagel received during his Senate tenure.  
From miners to missiles to stags, the gifts vary in size and value, but all demonstrate the importance of gifts and diplomacy in international statecraft. The exhibit combines photographs and artifacts to represent the gift givers and the nations they represent. Among them are General Pervez Musharraf, President of Pakistan, and his gift of an engraved silver bowl, and His Majesty King Abdullah bin Abdul Aziz Al Saud, King of Saudi Arabia, and the gift of a gilded plate with Arabic calligraphy.
All of the artifacts in the Hagel Archives are available for visitors and researchers to see in person. For more information, visit the archives online.
---
UNO alum Chuck Hagel served as a soldier in Vietnam, a U.S. Senator (NE-R) for twelve years (1997-2009), and a U.S. Secretary of Defense for two (2013-2015). When he left the U.S. Senate, he donated his records to UNO. They became the U.S. Senator Chuck Hagel Archives. 
Contact Us
For more information about including events and announcements in the Criss Library News Center, email us at unocrisslibrary@unomaha.edu.
Unless otherwise clearly stated, any views or opinions expressed as part of events, exhibitors, or presenters in the UNO Libraries (Dr. C.C. and Mabel L. Criss Library and the KANEKO-UNO Library) should not be viewed as endorsements by the University of Nebraska at Omaha (UNO) and do not reflect the official position of UNO or the University of Nebraska system.
Our Campus. Otherwise Known as Omaha.
The University of Nebraska does not discriminate based on race, color, ethnicity, national origin, sex, pregnancy, sexual orientation, gender identity, religion, disability, age, genetic information, veteran status, marital status, and/or political affiliation in its programs, activities, or employment. Learn more about Equity, Access and Diversity.
scroll to top of page